New Plains store equips rock hounds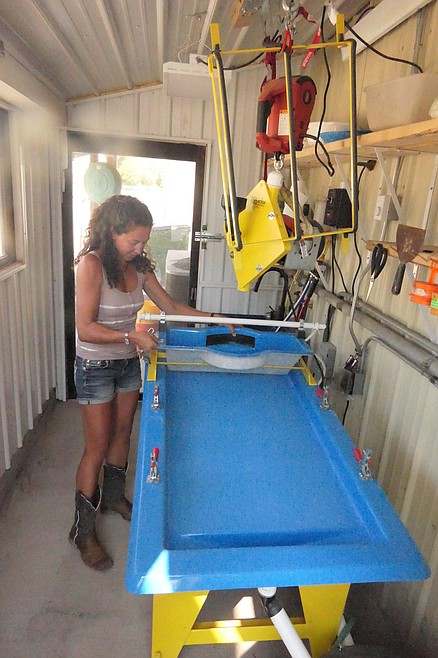 Action Mining Services co-owner Jessica Pullen shows a "shaker table" used in mineral separation. Such equipment and other mining related gear can be purchased at the store in Plains. (Chuck Bandel/VP-MI)
by
CHUCK BANDEL
Valley Press
|
August 3, 2022 12:00 AM
Mining is a whole lot of knowledge mixed with a helping of persistence and topped off, often, by good old fashioned luck.
Not everyone can be a successful miner and many people would not even think about giving it a try.
But for those who work in the industry or have an interest in trying to find "gold in them thar hills," there is a store in Plains that can help them out.
Action Mining Services, Inc., located in the building which once housed a local deli near Town Pump, the unique business is the result of a father's knowledge and a daughter who grew up in a mining household.
"I've always been a rock hunter," said co-owner Jessica Pullen, who along with her husband Darren opened the business shortly after moving to Plains in 2019. "I've been around this business since I was a young girl. This kind of business was my Mom and Dad's baby."
Over the years, Pullen said, she learned more and more about the business while living in places like Oregon, Alaska and the Las Vegas area. When her Mom, who knew "everything" about operating such a business died, her Dad decided it was time to retire and go fishing in Florida.
"I used to walk home from school when I was in fourth grade, grab a bucket and help my Dad at the mine where he worked. I just kept learning more and more about the business. When Mom died and Dad wanted to retire it was time for me to keep it going."
As a result, the Pullen's put down roots in Plains and opened Action Mining, which supplies miners of all experience levels with everything from mineral sorting tables to old fashioned prospecting pans. If you have a mine or want to get started, AMS is the place to get what you need.
"We feature 'shaking tables' to separate the minerals as opposed to the old way of using chemicals like cyanide, which can be very harmful to the environment," she said. "We are always looking into ecological ways to extract gold, silver and other minerals without harming the environment."
The shaking tables, or gravity separation tables, extract metals which are heavier than the dirt where they were found. Flowing water washes the earthen mixture and heavier metals such as gold settles in the bottom of the mixture and is extracted without the use of chemicals.
The business also sells "fire assay" equipment, which is used to test ore samples to determine the concentration of the target minerals. Their catalog also lists smelting equipment and a wide variety of extraction and processing equipment. They also sell "how to" books and have presented seminars about mining along the way.
"The fire assay part of mining is extremely critical to success," she said. "It can determine if there is enough gold and silver, among other minerals, present to make proceeding worth doing."
Pullen said her parents have always had a hard-rock mine (underground) which has produced gold, silver and other precious metals over the years.
Pullen said they ended up in Plains partly because her husband had always wanted to live in Montana.
"We found this town on a visit", she said. "We love it here and love the history of mining in this state. We saw it and loved it."
Always a cyclical business, mining is currently in a slow period, she said. Co-vid and other factors made moving to Plains and establishing the business a good move at the right time.
"We've lived through the ups and downs of the business," she said. "We just felt like this slow time was a perfect time to move to Montana. You have to be able to weather the storms this business has. We've been through the boom times like 2011 and feel good about the future of mining in this part of the country."
Customers who frequented their business in other parts of the country, stay in touch and continue to purchase supplies and equipment from the Plains store, which ships the items throughout the country.
There is also a growing interest in small-scale mining, including among Plains area residents who want to give it a try.
"We have local property owners who come in and see what it takes to try to find valuable minerals on their land. We always do our best to help them. Minerals can be hard to find, but there are better odds in mining than in gambling."
As to the future of the industry and the store in Plains, Pullen is optimistic.
"It's good, this is what I want to do," she said. "We will see where this takes us. I definitely feel it is an industry that will never go away. A lot of things in people's lives depend on successful mining."
Recent Headlines
---