Sail racing Flathead Lake is a friendly competition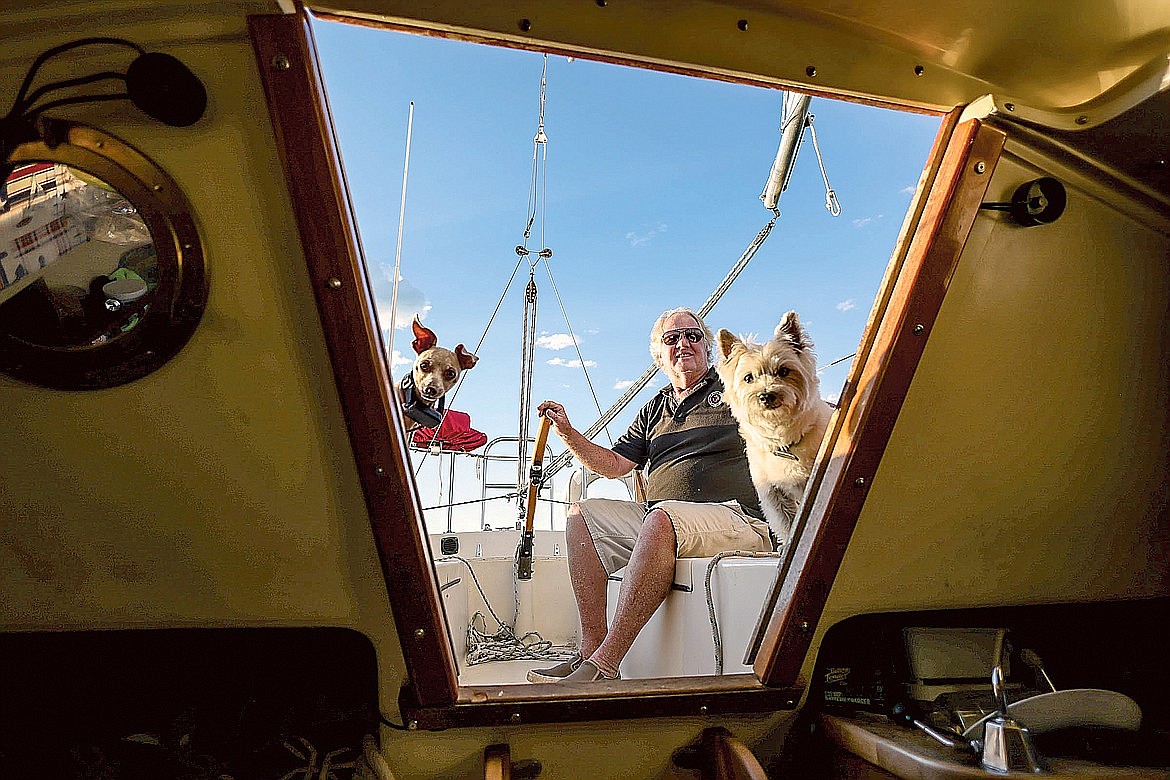 Norm Art sails with some salty dogs in a friendly sailing race. (JP Edge photo)
by
JP Edge Hungry Horse News
|
August 3, 2022 12:00 AM
The legacy of sail racing carries on with the 45th annual Montana Cup Championship Aug. 6 and 7 this year by the North Flathead Yacht Club in Somers, as well as the upcoming 77th Thistles Nationals planned for next year, with a large turnout of small boats planned to sail the prestigious waters of Flathead Lake.
The Montana Cup is a club regatta hosted again this year by the NFYC, and will bring in teams from Big Arm, Canyon Ferry, as well as Idaho and Washington yacht clubs who hope to take home the title. The Montana Cup traces its humble beginnings back to Somers, with its first race in 1977, and is the Montana championship sailing race that pits yacht clubs against each other, as well as individual awards among each team of boats.
Next year's 77th annual Thistle Class Nationals Championship will also be hosted by the NFYC. The race has captured national attention, as other yacht clubs pulled their bid when they heard the NFYC might be hosting the race, as NFYC is known for its fun and well put together races on a lake that typically bolsters excellent racing conditions. The club hopes to reignite the sport of small boat racing on Flathead Lake as racers from clubs nationwide travel to Montana for the individual title. The last NFYC hosted Thistles Nationals was in 1988.
Along with the busy Montana Cup this August, NFYC is an association of Montanans dedicated to the love of sailing, without the blue blazer attitude notorious with other yachting clubs. While applying for a membership includes an extensive waitlist of applicants vying for lakefront property, nonmembers are invited to participate in the weekly races that host four types of fleets for sailboats. A spirit of friendly competition comes alive at the warning horn of every race as boats negotiate for the competitive edge at the startline. It is often the chaotic start of these races that determines the winners.
There are also kids courses on learning to sail offered by the club, and a summer program for adults through Flathead Valley Community College. The club has encouraged anyone interested in sailing to visit, and races are held Tuesday and Fridays around 7 p.m., depending on the evening thermal.
To learn more about the Montana Cup and Thistle Nationals and find race results, visit www.NFYC.org or search for the North Flathead Yacht Club Facebook Page.
Recent Headlines
---