Plains' Mikiah Cook leads state 4-H Ambassador Team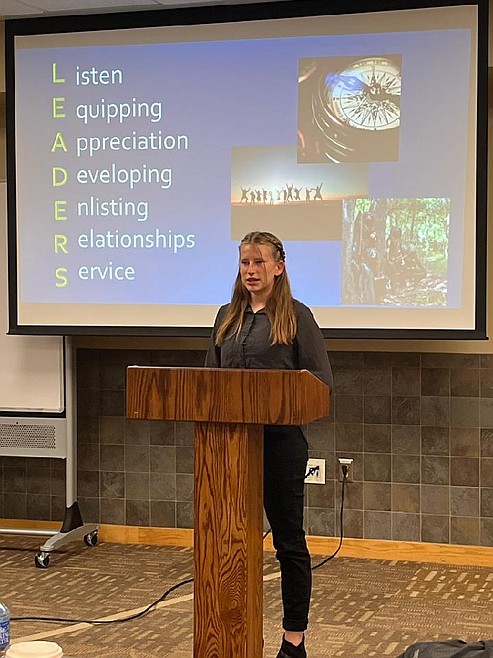 Plains teenager Mikiah Cook delivers an impromptu address to delegates at a statewide 4-H meeting as part of her selection process to be state President of the group. (Photo courtesy of the Cook family)
by
CHUCK BANDEL
Valley Press
|
August 10, 2022 12:00 AM
Mikiah Cook is not your average "politician."
For one thing, the Plains-area teenager is a home-schooled junior.
But perhaps most glaring and unusual these days is the affable young lady is articulate, ambitious and goal-oriented in a way most folks of all ages could only wish they were.
Ask her a question and you get a straight-forward answer without the chatter most elected officials sew into their conversations.
So for those who think the future is doomed, Mikiah represents a breath of fresh air and hope for the years ahead.
She was recently selected as President of the State of Montana 4-H Ambassador Team. She attained the position via hard work and determination, filling out intense application materials, gathering the support of her mentors and peers within the local 4-H club and community.
Along the way she participated in an intense two-day interview process that included giving an impromptu speech to those who were charged with selecting a new President.
"Montana 4-H is committed to ensuring the Ambassador program, which includes 4-H members from throughout the state, is represented by an officer team of youth who are exceptional in their leadership and service skills and can professionally represent the entire Montana 4-H Youth Development Program," said a press release describing in part why she was chosen from among a field of several hundred applicants. "This is a great honor" the statement added.
And she wasn't sure at first whether or not 4-H was for her.
"When I first joined I wasn't sure this type of thing was suited for me or not," she said of her assent through the organization's ranks. "My mom wanted me to join. Two years ago, I started loving 4-H, particularly the life skills and citizenship it teaches".
Last month she attended a 4H Congress meeting in Bozeman where she participated in several seminars and workshops that enhance the 4-H concept of pledging "my head to clearer thinking, my heart to greater loyalty, my hands to larger service and my health for better living for me, my family, my club, my community and my country."
The Bozeman gathering featured 4-Hers from throughout the state and it became a goal to become a key participant it what she truly believes is a worthy organization. She applied for a leadership role and the interview and screening process began in earnest.
"I wanted to be part of community leadership," she said. "I had experience leading local 4-H groups for about four years and was a camp counselor. I really like being part of this group of great other 4-H members, it attracts good kids.
After talking with Mikiah for just a few minutes, it was obvious why she did so well in the challenging interview process. And nearby, Mrs. Cook beamed with pride over her daughter's accomplishments.
"She had to get up and give a speech to the whole Montana Congress (4-H)," Mrs. Cook said. "That is not something everyone can do. I've always read that many people fear speaking in front of a group more than death."
That ability to speak to others is a key motivating factor in why she pursued the office she now holds.
"Public speaking has helped me the most," she said. "I want to be a good example for the other 4-H members and to be a good representative for my local club and the small town in which I live."
The Plains area 4-H has grown from approximately 20 members to nearly 60 in the last several years.
"So many of these kids say self confidence they get from 4-H activities are a big reason why they are more likely to say no to peer pressure," Mrs. Cook added.
In the coming year Mikiah's role as President of the organization will include a trip to observe the Montana Legislature in session in Helena, a chance, she said, "to get to see what that looks like."
As to a future career, she said she would like to become a police officer working with a K-9 unit.
With the leadership head start on fulfilling life goals, that is a purpose within her reach.
Recent Headlines
---