Top Dawgs: Kids shows skills at moto races
Rowdy White catches air at the Top Dawg motocross races. (Tracy Scott/Valley Press)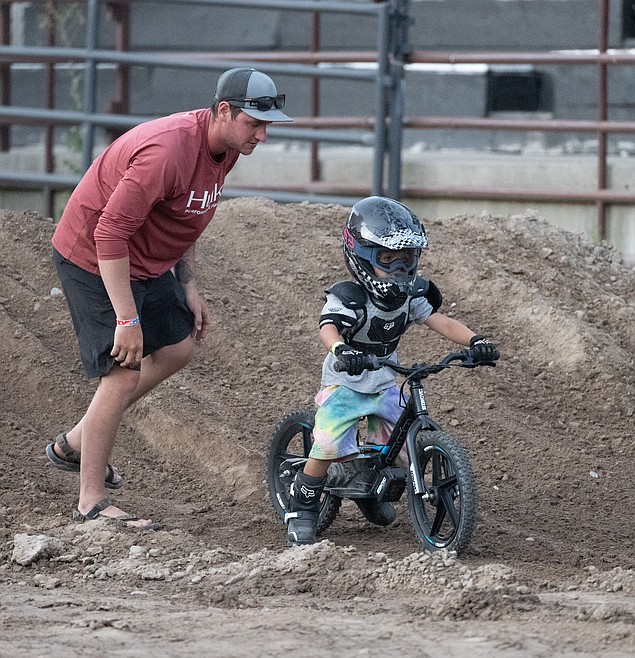 Electric bikers take to the course at the Top Dawg races. (Tracy Scott/Valley Press)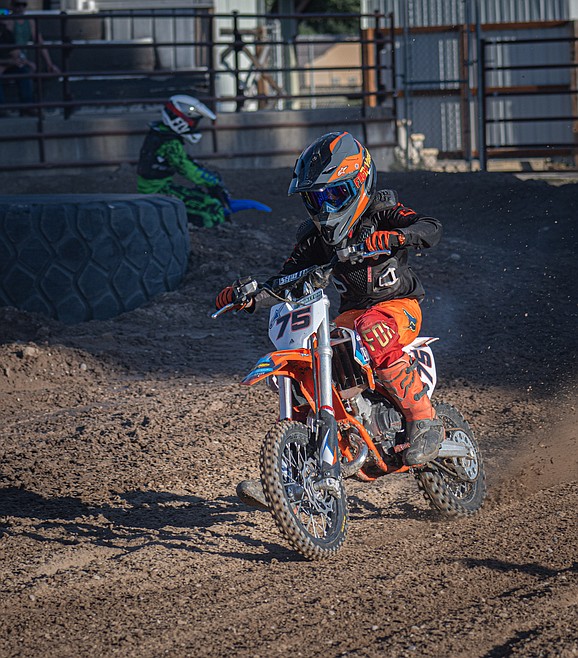 Izaak Walton 65cc open race placing third overall. (Tracy Scott/Valley Press)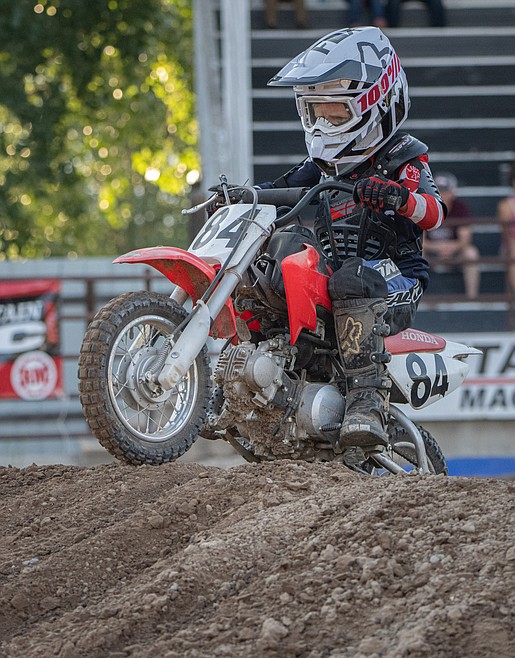 Corey Morris hitting in the 50cc open race. (Tracy Scott/Valley Press)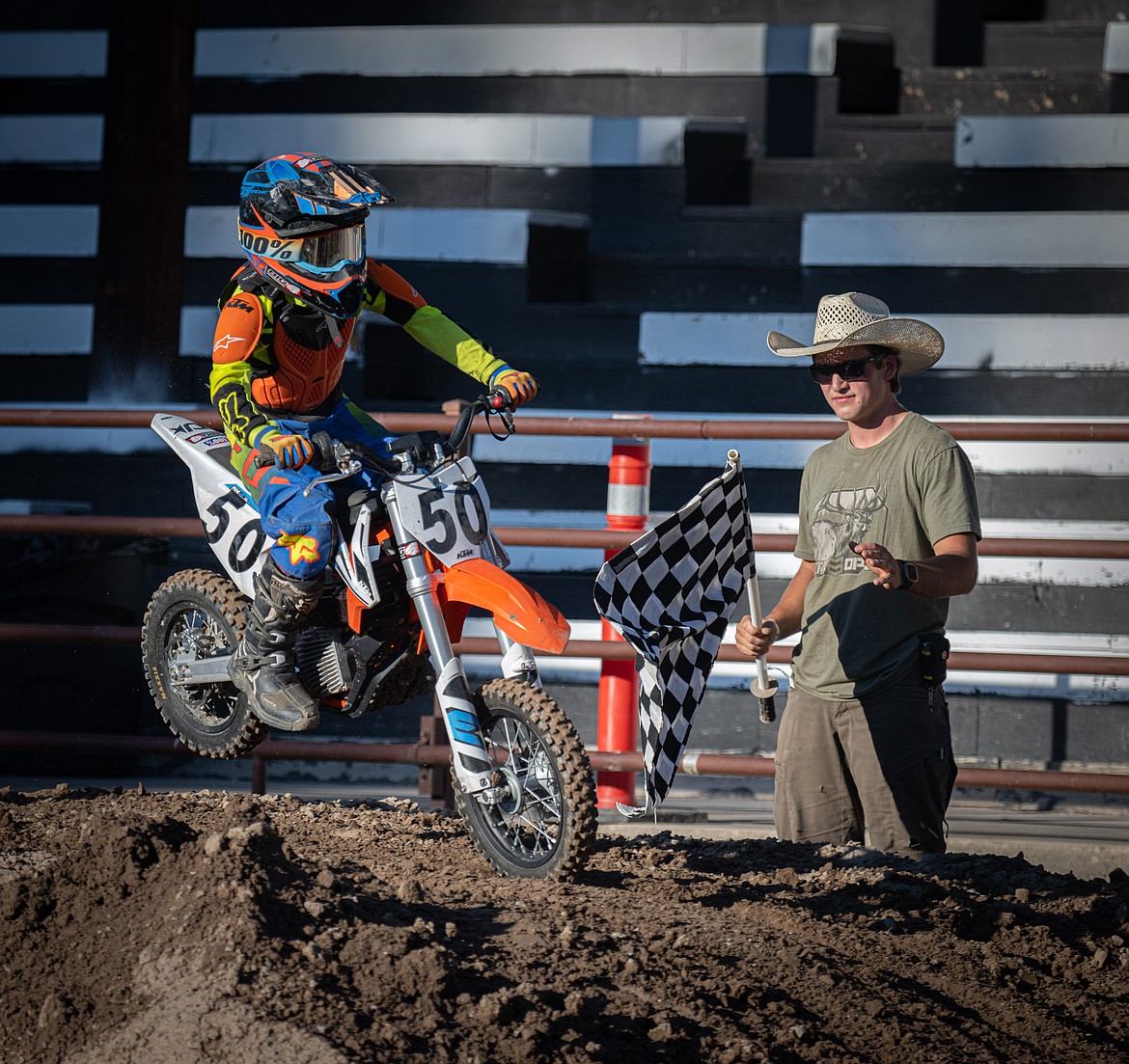 Brixton Turrell taking the checkered flag. (Tracy Scott/Valley Press)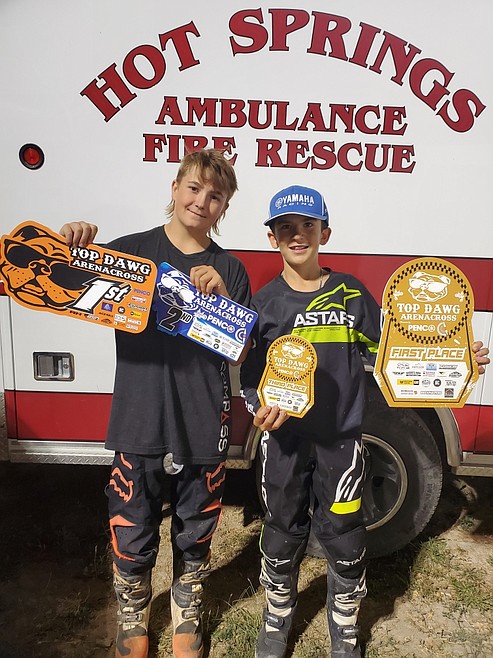 Ryder Larsen and Jayten Erikson with awards at the Top Dawg races. (Tracy Scott/Valley Press)
Previous
Next
|
August 10, 2022 12:00 AM
The roar of motocross motorcycles filled the air around the Plains Fairgrounds on Friday and Saturday evening for the second annual Top Dawg Arena Cross motorcycle event.
Motocross racers from all over the northwest came to Plains to test their riding skills with riders ranging from the 4 to 6-years-old class to the professional level.

Plains is one of four locations in western Montana that organizer Jamie Larsen from Kalispell has scheduled this year, ranging from Kalispell to Eureka.

Racing started with the 50cc pee wee class for the 4–6-year-olds with Noxon Turrell #96 taking first place overall.
In the 50cc 7 to 8-year-old class, Cooper VanBemmel #515, took first place and also took first place in the open 50cc race.
In the 65cc class, Terry Kinney #504, took 1st place in both the 65cc and 65cc open races.

Keaton Simkins #106, took top honors in the 85cc class while Jayten Erickson #108, won overall in the supermini class.
In the women's 85cc and up races, Sidney Clemons #314, passed the checkered flag as the 1st place winner. Clemons also won in the girls/junior girls' race.
In the 250cc beginner class race, Micah Nield #137 came in 1st with Ryan Ovitt # 969, of Plains, taking the top spot in the 250cc junior. class and the 250cc open race.
In the 250cc class Ryan Larsen #3 won the beginner level, Austin Nelson #243, won the intermediate level and James Morrison # 315, won the intermediate open class.
The 30-plus class race was won by Darin Anders #468.
Cash Prizes were awarded in the Pro level races and trophies awarded to the winners of their perspective races. Organizer Jamie Larsen was excited with the increase attendance levels and with the increase of the number of racers

Recent Headlines
---