Organic veggies and flowers in full bloom on Alberton farm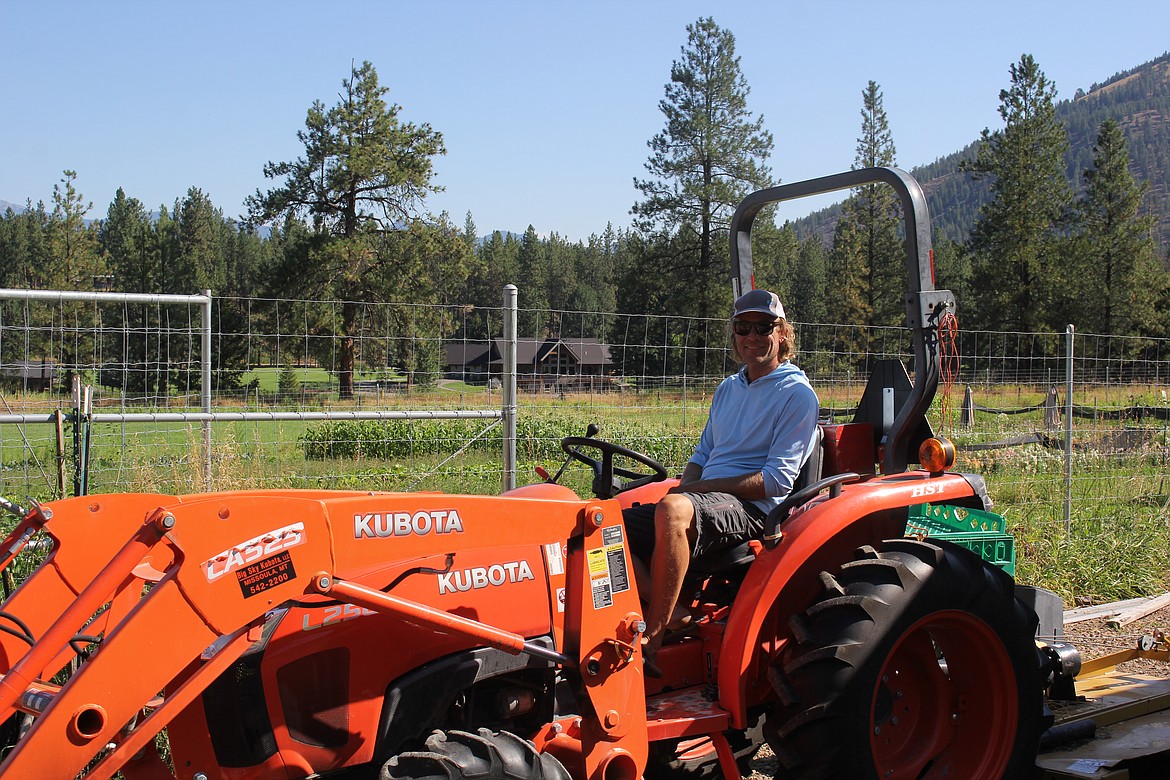 "Buy local. Shop local. Support your local business that are here to take care of you," is a strong motto that Michael Davidsons believes in. Davidson is the Owner-Farmer of the Crescent Ridge Farm on the Southside Road in Alberton. (Monte Turner/Mineral Independent)
by
MONTE TURNER
Mineral Independent
|
August 24, 2022 12:00 AM
Michael Davidson, owner-farmer of Crescent Ridge Farm in Alberton, is one with the soil, and his 23 acres is his testament.
Over 30 different vegetables and 40 types of flowers, and then there is his hay.
"We presell all our hay to friends as they come out and pick up the bales. I don't pick a single bale anymore so I give them a massive discount. I'm not here to make money on hay. I'm here to take good care of this land," he smiles.
Originally from Seattle, Davidson was a fisheries biologist for over 10 years in Alaska working three months on and then three months off, spending it all in Montana. When the 2008 recession came knocking, he was working on the Blackfoot River in his profession which was mostly grant-driven, and the funding dried up.
"FWP's focus was megafauna, wildlife, not fisheries so a lot of techs had to leave. A friend of mine who lives in the Mission Valley that owns a farm said, 'Come up here. Give it a shot and run my farm for me.' So that's what I did. My trial and error went from basically a small backyard garden to making it a little bigger and doing vegetable CSA's with a few friends."
A CSA is Community Supported Agriculture. Customers buy into the farm and receive a box of vegetables (or bouquet of flowers) each week during the growing season.
"They're taking the risk of the farmer. They are putting their confidence into the farmer and fronting all of the money to help with all of our costs, which were astronomical this year," Davidson explained.
The cost of seed and the diesel for his equipment has shot up but fertilizer wasn't an issue as Crescent Ridge Farms is all organic.
This working capital gets their season off to a wonderful start each year not having to worry about big upcoming invoices. For their investors, the payoff comes about the middle of May when every Tuesday they receive a box of freshly harvested organic vegetables.
It's seasonal and right now beans, potatoes and carrots are the stars of the show. The local CSA's know to come by the farm after 3 p.m. and take the box with their name on it.
"We pony up our flower bouquets for the week and the vegetables and they meet me at a location on Wednesdays," he said of his Missoula customers.
Davidson shared that he is comfortable with the amount of CSA's that he is servicing. He does supply a few grocery stores with fresh produce, but for anyone who wants his vegetables, he recommends attending the Alberton Farmers Market on Thursday evenings beginning at 5 p.m. That's where any surplus is taken and if it sells out, he invites you to the farm Friday as he always has just a little excess, of the excess.
Flowers for weddings is another unique department.
"All of these ladies you see here, they are getting ready for a wedding," as he points to a shed bustling with women who are laughing with each other. "They're doing a you-pick where they pick the flowers themselves. They rent our space and tables for making arrangements and centerpieces. They use our walk-in cooler for storage until they come back and pick them up Sunday morning for their wedding event. We're booked out every weekend for the rest of the season, all of the way through September for the flower you-picks. We work with a lot of wedding designers in Missoula where we do quite a bit of wholesale and there is some retail at a few locations."

His wife is a huge help with the flower-side of the farm and more so on the bouquets along with the design and the arrangement. Excess, and some flowers that are grown purposely for later in the season, are dried and stored.
"We try to have zero waste," Davidson said. "We pared back our vegetable side of the farm this year because last year we were composting more than I wanted to. And we're very close to where I want us to be in that area now."
The seed-trays begin in February and ramp up in March in the high tunnel, which is his big greenhouse. The other greenhouses are considered caterpillar tunnels or hoop houses but all serve the same purpose. He actually has lettuce seed trays that will be planted when it gets cooler and be harvestable by the end of September.
At the end of October, the holiday Season begins where Christmas wreaths, centerpieces and garland are made for a holiday market at the farm and many local vendors will be in the big yurt next door that his neighbor owns.
This is year 18 for Davidson and his love and pride for the area and people hasn't dimmed a bit.
Recent Headlines
---