Keg Bowl gridders brave frigid temps, snow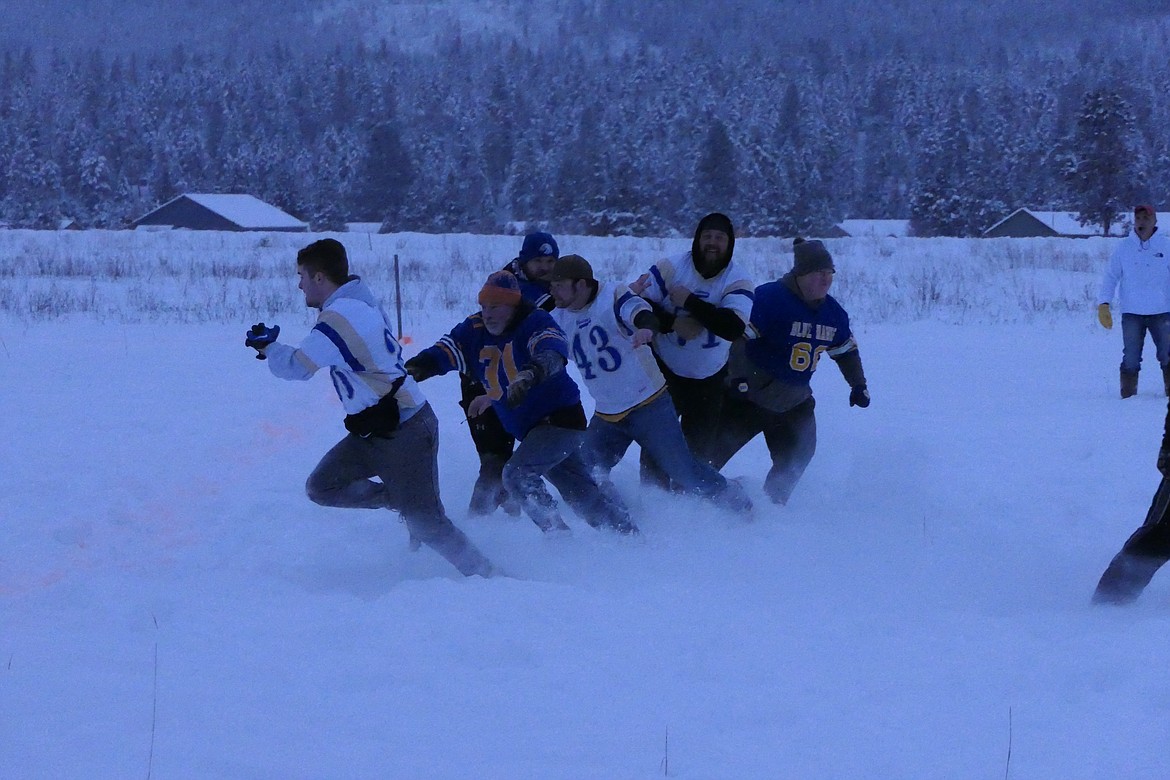 The Big Boys on both office lines kick up snow as they rush the passer during the Keg Bowl's first half. (Chuck Bandel/Valley Press).
by
CHUCK BANDEL
Valley Press
|
January 5, 2022 12:00 AM
One potential participant, surveying the snow and wind-swept frozen "tundra" east of Thompson Falls, summed up why he was not going to be taking part in the two-hour game this year.
"Just looking at the snow and the field and all these young guys makes my knees hurt," he said as he headed toward the nearby beer keg for some liquid courage.
Steadily falling snow, an even steadier wind and temperatures in the low teens could not totally deter or even slow participation Friday afternoon in the annual Keg Bowl fund-raiser hosted by the Blue Hawk Gridiron Club in Thompson Falls.
More than 100 folks braved the frozen conditions to come out and participate by playing in the ankle deep snow or cheering heartily from the relative safety of the nearby burn barrels and aforementioned keg.
For many of the players, the game has become an annual event, not to be missed and weather be damned.
Murmurs of "these guys are nuts" that drifted through the shivering crowd told the other side of the event, which raises funds that this year were marked for donation to the Cancer Network of Sanders County. Players and others were encouraged to make a $5 per person donation as the crowd swelled in anticipation of the annual game.
"We do this every year and it's always for a good cause," said one of the event's organizers, Doug Willhite of Thompson Falls. "We play on a 95-yard long by 40-yard wide field here, which is bigger than past years because we needed more room. And this year we will be playing 'touch' football because we didn't bring enough yellow flags for flag football".
Willhite, who has played in several of the games in years past, said he was no longer an active player for several reasons.
"We play two, one-hour halves", he said, indicating with a laugh the game has passed him by.
This year's game, Willhite said, appeared to have attracted mostly locals, including several recent high school graduates from the Thompson Falls area. In most years, he said, players have come from throughout the region to take part but he speculated the harsher than usual weather conditions Friday may have kept travel to a minimum.
One active player who was on hand to participate for the 20th year in a row was current T Falls high school football coach Jared Koskela, who was recently named Montana 8-man Coach of the Year on the heels of this Blue Hawks team winning a state championship this year.
"It's good to keep the alumni going to events like this he said," I haven't missed a game since 2002 and it's good to see the former players again".
And, Koskela said, it was good to see a steadily deepening layer of snow building up on the field, which sits about a mile east of the Elks Club.
"I like it better when it is snowing," Koskela said. "It's a lot easier to land in than without snow".
Following the game, the frozen spectators and players were invited to the Elks Club for a $5 banquet dinner and a New Year's Eve Party, with proceeds also going to the charitable cause.
For one new Thompson Falls resident, Joe Maurer, the Keg Bowl seemed like a good way to get out and meet some people in his new town.
"This is a good idea," he said. "This is my first time playing here, but I did play in some of these type games when I lived in Alaska before moving here.
"One year up there we played on snowshoes in about four feet of snow. That was fun and a good workout".
Recent Headlines
---