New owners take over historic Bellevue Hotel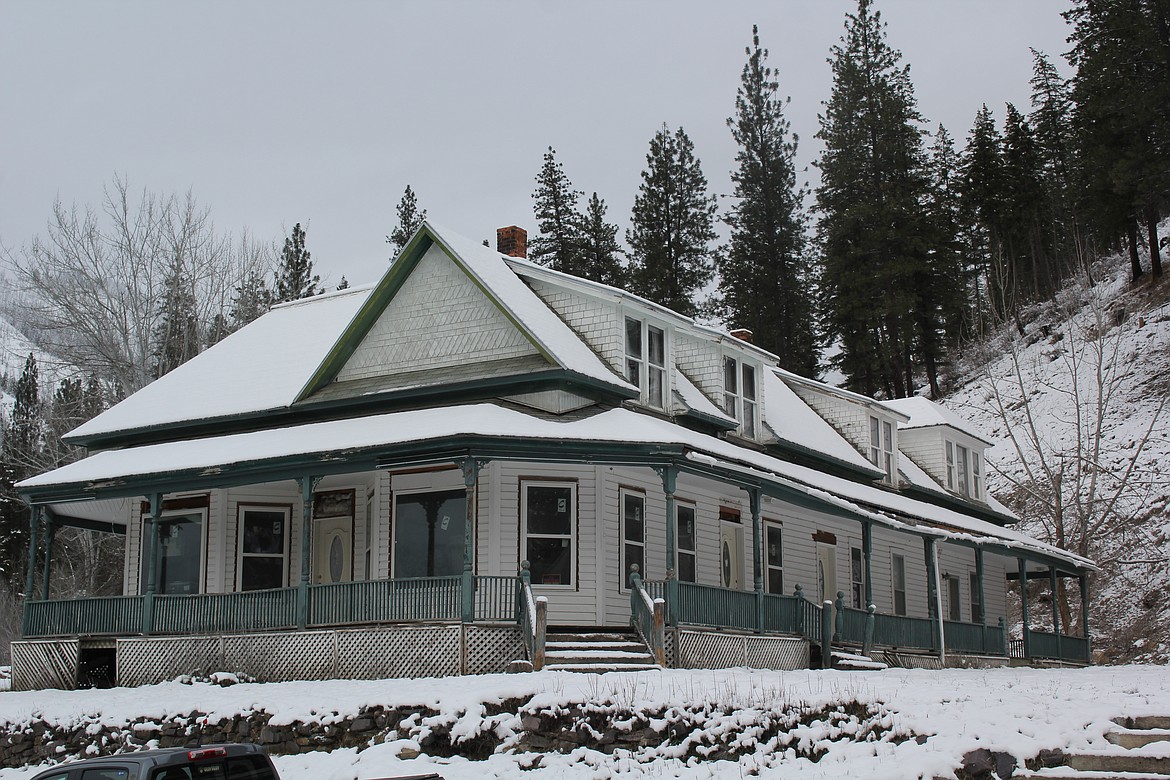 The Bellevue Hotel at 110 Mullan Road West in Superior. (Monte Turner/Mineral Independent)
by
MONTE TURNER
Mineral Independent
|
January 5, 2022 12:00 AM
If you are a native of Mineral County or have lived here any time after 1908, you've driven by or perhaps even been a guest at the Bellevue Hotel at 110 Mullan Road West in Superior.
In its heyday, it was considered the centerpiece of the town with its Victorian charm and elegant interior. It has had multiple owners with some family members still living in this area who resided there. It's a guess, but it might be that the last customer was over 20 years ago.
"There was a Reader's Digest from August 2001 on a desk in a room and when I removed it, the color of wood was at least six shades darker. To me, that indicated it had been covered for a very long time so that is when I believe it was last used," shared Isaiah McGuffey with Homestead Management, who is the new owner.
"In the upstairs rooms, the beds were still made from 20 years ago," he said.
It was purchased from Sydney Chase with the initial plans of making the complex into workforce housing several months ago but with the closure of Idaho Forest Group mill in St. Regis, a backup plan was devised.
"We decided that this would be the best route for short-term lodging, now, as it's pretty tough getting people to share bathrooms anymore", said McGuffey.
It has 16 bedrooms and 8 bathrooms which will make it a perfect family reunion complex with the large living room and kitchen. A wedding venue with the amenities for the wedding party and family. Even a corporate retreat where stressed out executives could hike, float and fish at the end of each day. McGuffey said that restoring it back to its original appearance would be cost prohibitive, so a combination of Beatrice Potter and Victorian is what to expect.
"If there is a crack in the plaster and it's still structurally sound, then we might paint a vine coming out of it".
Actually, vines will play a major part in the new appearance as they will be planted and trained to cover the porch pillars and walls over the years.
The remodel will take some time, but the roof is the priority. This will be done in a piece-meal process and with this time of year, progress will be even slower. The plan is to take the shingles off one of the dormers at a time.
Inspect and repair as needed and replace those shingles with a steel roof. Next month they will do the same thing spreading out repairs costs until the building has a new roof paid for rather than dishing out over $40,000 all at once.
"We've been trying to meet the needs of the community", he said. "We have been purchasing buildings that are not utilized and getting them spruced up for rent payment. We're here to stay. This isn't a flip project."
It's difficult for McGuffey to say when they will be open for business due to their remodeling schedule but hopefully late this coming summer.
Recent Headlines
---