Charlo girls earn victory at Hot Springs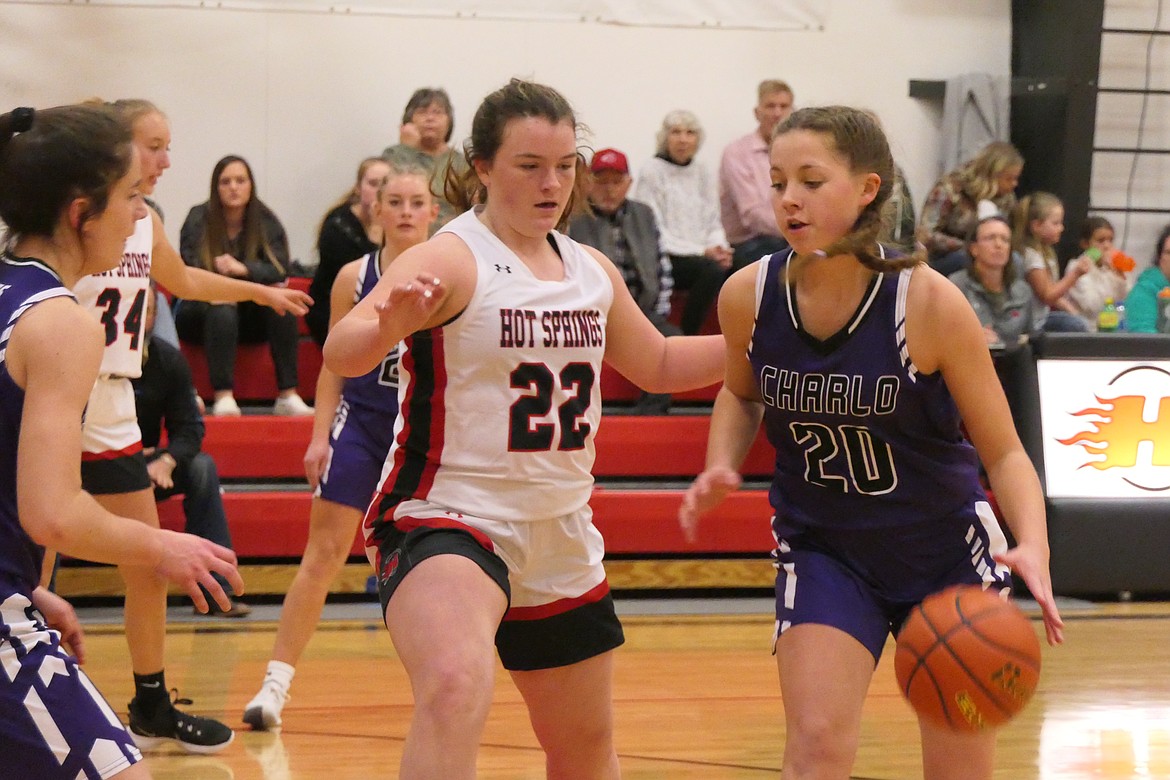 Hot Springs' Brooke Jackson guards Charlo's Seeley McDonald during Saturday night's game in Hot Springs. (Chuck Bandel/Valley Press)
by
CHUCK BANDEL
Valley Press
|
January 19, 2022 12:00 AM
Sometimes, sports are purveyors of "ifs".
As in, if the first half of Saturday night's Montana high school girls basketball game between Charlo and host Hot Springs had been like the second half things would have been different.
In this case, it probably wouldn't have mattered as Charlo's Lady Vikings came to town and routed the Lady Savage Heat 50-17 in a game that was essentially over after the first quarter.
Charlo came in with a sparkling 8-1 overall record and a 3-0 mark in Western 14C conference play. They improved on that before they left.
With their experienced, relatively tall and athletic squad, the Lady Vikings jumped out to a big lead early and never looked back.
By the end of the first eight minutes of play, Charlo was ahead 19-1. Hot Springs' lone point came on a free throw by senior forward Katelyn Christensen, who will be taking her ample talents to Carroll College next year where she will continue her basketball career.
At home, Christensen can only hope the young and inexperienced core of players that make up this year's Lady Savage Heat team will develop before the year is out.
The second quarter was nearly a carbon copy of the first, with Charlo scoring at will on their way to a 19-3 advantage and a dominating 38-4 lead at halftime.
And in quarter number two, Christensen, who sat out most of last year with a knee injury, scored half her team's points while fighting a Charlo double-team most of the game.
Things changed somewhat in the second half as Charlo reserves got valuable playing time. The Lady Vikings outscored Hot Springs 6-4, with half of the Lady Savage Heat Points coming from Katelyn, and the other half from her younger sister Kara, a promising eighth grader.
Hot Springs would actually outscore perennial powerhouse Charlo 9-6 over the final eight minutes of play as Katelyn Christensen dropped in seven points, including a long-distance three. Christensen finished the game with a team high 12 points.
Slick Charlo forward Mila Hawk, who spent most of the game shadowing Christensen, scored a game-high 20 points to lead the Lady Vikings, who improved to 9-1 on the year and 4-0 in Western 14C play.
Hot Springs next action is tonight (Tuesday) against St. Regis on the Lady Tigers home court. They will then travel to Noxon for a game against the Lady Red Devils this Friday.
Recent Headlines
---