Charlo trips Hot Springs in hoops thriller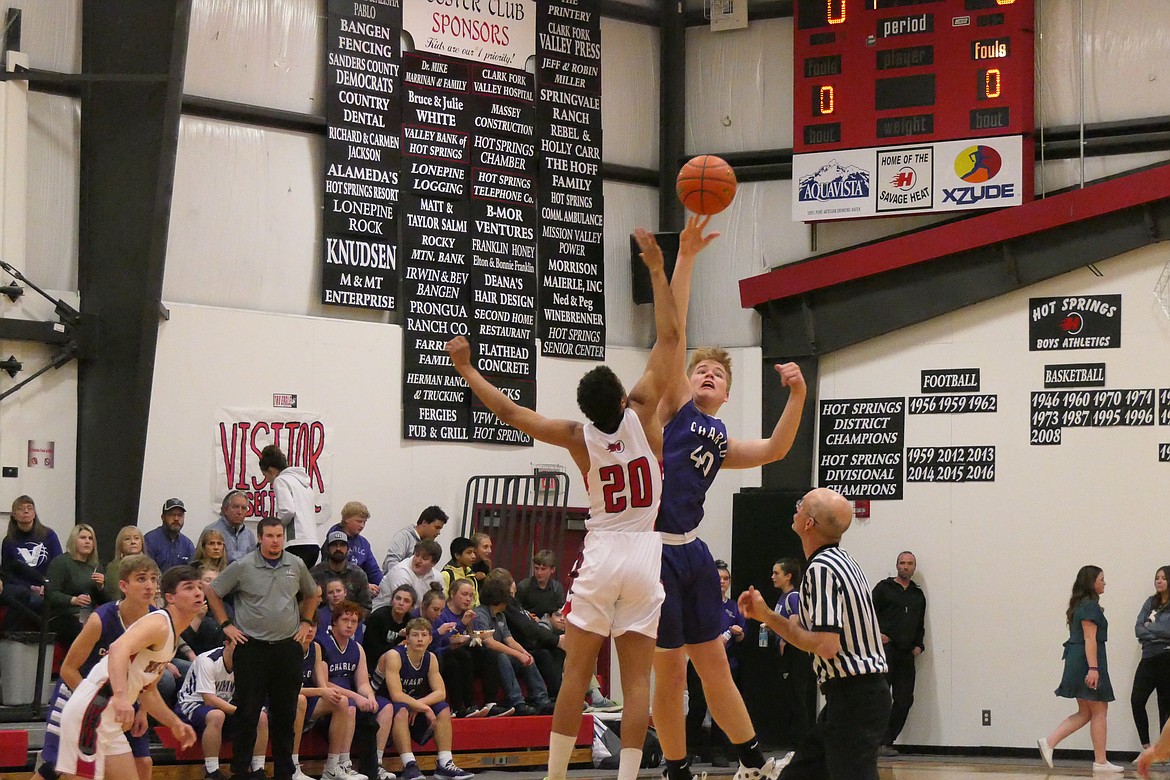 Charlo's Wesley Anderson out-jumps Hot Springs forward Nathan Lawhead (20) during the opening tip for Saturday night's last second win by Charlo. (Chuck Bandel/Valley Press).
by
CHUCK BANDEL
Valley Press
|
January 19, 2022 12:00 AM
The ball rotated slowly on its way to break dozens of hearts, as if it were part of an old-time movie.
Some screamed, some fell hush as the spinning orb split the cords of the visiting team net, giving the Charlo boys a hard-fought 58-57 win over the home town Hot Springs Savage Heat.
You could hear the air hiss out of more than half the crowd in mourning for their home town heroes. The rest were sounds of glee for the victorious Vikings after the shot by junior guard Tucker Love tickled the twines.
Then, in unison, the crowd broke into applause for the awesome evening of basketball to which they had just been treated.
In the end, Love's shot will appear as a minor part of a box score or as a "W" in the standings column for Montana's Western 14C play.
But for many in attendance and on the court, it will be a memory.
The two teams had battled back and forth throughout the game, with the Savage Heat emerging from the first quarter with a razor-thin 21-20 lead. And as was the case with the game-ender, that lead came courtesty of a buzzer beating three-point bomb cast skyward by Hot Springs senior Vania Afonin, a newcomer to the diminutive Montana town know for, of course, its hot springs.
Perhaps Afonin's shot was a harbinger of things to come on this Saturday night.
That Savage Heat lead lasted less time than the between quarter pause thanks to a turn-around, put-back jumper from underneath the hoop by Charlo's 6-5 post player Wesley Anderson.
With both defenses making bringing the ball up court a movie-like adventure, Charlo managed to expand their one-point advantage to three. It would remain that way for a few tense moments until Savage Heat senior forward Jack McAllister got Hot Springs on track with a three-point bomb from the side.
McAllister then stole the in-bounds pass and dumped in a lay-up that in the blink of an eye had the home town boys leading 29-28. Charlo regained the lead on their next possession as the first half came to an end with the Viking's clinging to a 31-29 lead.
The second half opened on another rebound basket by Anderson, a solid-looking sophomore who shows promise of making life miserable for opposing players in the next few years.
But Anderson also picked up his third foul with more than six minutes to play in the third quarter, sending him to the bench as a precaution against fouling out of the game.
Anderson had just settled into his role as a reluctant spectator when Hot Springs junior Nathan Lawhead tied the game at 33 with a two-pointer of his own from underneath the net. That was followed by a Charlo turnover and a McAllister two-pointer, giving Hot Springs the lead with 6:12 to play in the third eight minute quarter.
Hot Springs boosted their lead to a four points on their next possession when senior forward Kyle Lawson calmly sank a pair of free throws to put the host team ahead 37-33.
The Savage Heat would hold onto that margin throughout the remainder of quarter three, as Lawhead and 6-3 junior Garth Parker scored from inside. Charlo's Anderson would pick up his fourth foul just before the end of the third quarter, which fittingly for this night and this game came to a conclusion when a shot that rolled around the rim turned out to be just a "lip hanger".
Heading into the final eight minutes of play, and with players from both sides showing signs of the huge amounts of energy they had burned during the basketball battle, Hot Springs clung to a 41-39 lead.
Following a series of put-back baskets by Parker, Hot Springs had actually built it's biggest lead of the night, 47-42, with just over five minutes to play.
But, as was the case all game long, that lead did not hold up.
And along the way, Parker picked up his fourth foul of the game, joining Anderson in some extended bench time as the clock ticked on.
With four minutes to go, Anderson picked up foul number five and became a permanent spectator. Unfortunately for Hot Springs, Parker did likewise and was forced to the pines with just under four minutes.
The two teams traded baskets over the next three minutes until Charlo's Keaton Piedalue sank a free throw that tied the score at 55 with one minute to play.
Lawhead put Hot Springs back up by two, 57-55 and Lawson was fouled with ten seconds to play, a potentially game-clinching pair of free throws in the making.
But Lawson's first shot missed it's mark and the visiting Vikings got the ball out of bound under their own basket with 9.3 seconds left.
Enter Love, who was about to etch his name in Charlo basketball legend with the relatively flat but true three-pointer that floated out of his hands and into the net.
Game, set, match.
As the crowd erupted in applause for the effort they had just witnessed by both teams, the players trudged off the court, seemingly stunned by what they had just been part of.
The loss, which comes ahead of tonight's (Tuesday) crucial Western 14C game between Hot Springs and conference leader St. Regis, dropped the Savage Heat to 6-2 on the year and 3-2 in conference play. Charlo moved into a tie with St. Regis, both at 3-1 in the conference.
Parker led the Savage Heat with 15 points for the game and shared game-high honors with Piedalue, who also had 15.
McAllister, 12 points, and Lawhead, 11 points, joined Parker in double-figure points. Anderson chipped in 13 for Charlo.
Recent Headlines
---