Dog training service opens in Superior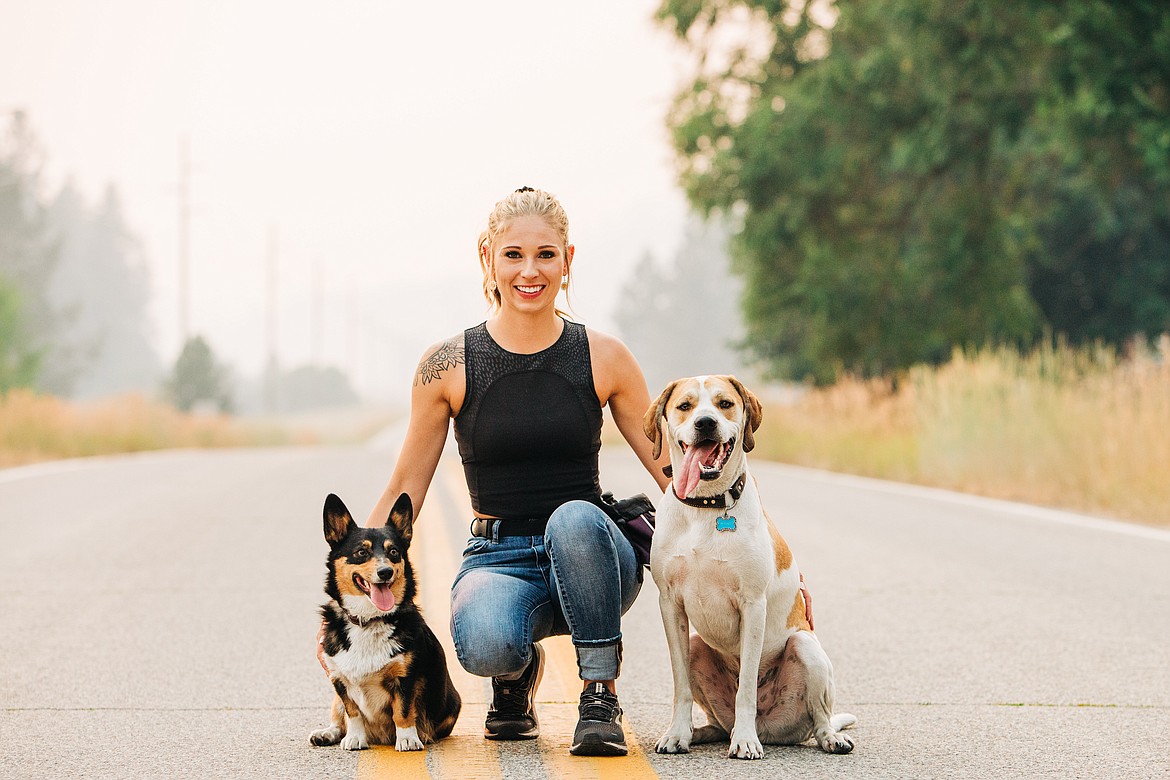 Kayla Papesh kneels between two of her pups, Greeia and Whiskey. Papesh recently opened her own dog training business called Superior K9 where she hopes to help clients better understand their pets and provide important training. (Photo courtesy Kayla Papesh)
by
AMY QUINLIVAN
Mineral Independent
|
January 19, 2022 12:00 AM
It's been said that frustration can be a valuable motivator. For Kayla Papesh, that was certainly the case when she found herself propelled into a new career direction, all thanks to a new pet. Papesh is the owner and instructor at Superior K9, a new dog training business founded in Superior.
"My hound dog, Whiskey, is the one responsible for getting me into dog training. He was an absolute terror. I'd tried to train him with what little I knew at the time, but what I was doing clearly wasn't working and we both ended up confused, frustrated and at our wits end with each other," she explained.
After researching trainers to send him to, she said, "I came to realize that I could become a trainer, and train him at the same time!" Papesh continued, "I called one of my friends from home that was a professional dog trainer, and she encouraged me to pursue a career in dog training."
Looking through various schools she eventually settled on Top Tier K9's Academy for Dog Trainers. Papesh also sought out a mentor, Gary K. out of Stevensville, to help guide her journey as a trainer. She also studied and read countless dog training books. Papesh declared, "After an almost two-year journey, I decided to officially open my own business training pet dogs out of my home, enter Superior K9."
Originally Papesh relocated to Superior for other animal related work, as Mineral County's Meat and Poultry Inspector for the Montana Department of Livestock. But she affirmed, "I have been an animal person my whole life. I actually started out in the horse world at a young age, and have always loved riding and having horses. In the past few years my focus has shifted more towards dogs, and I have become fascinated with behavior, training and canine psychology."
The northern California transplant moved to Dillon where she earned a bachelor's degree in business administration with a minor in small business management from the University of Montana Western in 2018. Once she landed her job with the Department of Livestock, the 25-year-old purchased her first home on just less than an acre of property in Superior.
Papesh explained, "I officially started Superior K9 LLC. in October of 2021, after graduating as a Certified Pet Dog Trainer (CPDT) from Top Tier K9's Academy for Dog Trainers."
She has three pooches of her own. Greeia, a 4-year-old Pembroke Welsh Corgi was her first dog. Papesh noted, "She is a huge asset to my business as she has the most incredible temperament of any dog I've ever met. I have used her in classes, as my demo dog."
Whiskey, her hound dog cross, was the trouble maker that led to this journey.
She recalled, "I picked him up off of Facebook for $150 back in December of 2019. He is the main reason I really got into dog training. He's kind of a back yard bred genetic disaster, but with almost two years of training under him, he is now a fantastic trail partner and has very quick, reliable and flashy obedience."
Her newest puppy Lira, who is now 14 weeks old, is her Foundation Dog® for classes at Top Tier K9. Papesh detailed, "The goal is to take her though the Foundation Dog® class, and then go down to Florida to finish training and take our exam to get our Foundation Dog Certification."
The training with Lira includes several phases consisting of scent detection, bite and protection work, basic obedience, socialization, tracking, and basic service dog tasks.
Papesh said, "She will eventually be my demo dog for Superior K9 and I also plan to finish her both as a personal protection dog and as an injured game retrieval, blood tracking dog, as well as other conservation related fields."
Papesh is diligently continuing her dog training education. She stated, "At Top Tier K9's Academy for Dog Trainers, I am currently pursuing my Foundation Dog ® Trainer Certificate, which is basically learning how to train a puppy into a working dog for Police and Military K9's, Service Dogs, and Scent Detection dogs. I got hands-on experience training dogs of multiple different breeds, temperaments, and levels of training."
After countless hours of hands-on experience, training programs, and mentorship Papesh now gets to help others with their canines. She detailed, "Right now, I am offering a three week stay and train program, where dogs will learn the five basic obedience commands; sit, down, climb, come, and heel."
Each week she meets with the dog's owners and teaches them how to apply the training that she has already taught their dogs, so both the dog and the owner have a solid understanding of the training.
Superior K9 also provides private lessons and puppy consultations to allow owners to better understand training principles and behaviors in their dogs. Lessons include educational material and resources about dog training. Papesh reflected, "I am considering offering a small group class for basic obedience this spring if there is interest here in Mineral County." Another service available is boarding on a limited basis to clients and dogs who have already been through her stay and train program.
She conducts her stay and train program out of her home. Papesh shared, "My goal is to stick to quality over quantity when it comes to stay & train's. Training along with the round the clock care that dogs require is very time consuming, and I want to prioritize the well-being of the animals in my care, rather than try and cram as many in my home as possible."
"I have no intention or desire to become a millionaire by training dogs, I just want to offer people a service that is desperately needed in Montana, especially with more and more people working from home during the pandemic. Keeping the dogs in my home is also ideal because that's usually where most people have their dogs, not in big loud and distracting kennels," she expressed.
But down the road Papesh does have dreams for her new property and her dog training business. She added, "I plan to build two outdoor kennels that have heating and air conditioning as well as runs. I also plan to convert my shop into a heated/cooled training facility complete with rubber flooring, an obstacle course, and treadmill. This way I can do all sorts of training year-round."
And while expansion will be a slow process, she mentioned, "I plan to invest as much as possible into a good infrastructure system that provides the safest possible environment for both humans and their dogs to learn and train."
Papesh agrees that there are a lot of misconceptions about dog training. "I can tell you with every shred of confidence in me, that every single dog on this planet, and their owners, can benefit from dog training in one form or another." She added, "Understanding basic canine psychology is always a great place to start. The book "Inside of a Dog" by Alexandra Horowitz is one I always recommend to all of my clients. You can't properly train a dog without first understanding how they learn, think and engage with their world."
Her best tip for dog owners is to find a professional trainer and work with them in one aspect or another. She said, "Yes, you will probably have to pay for information, but ask questions and make the most of it. And stick with it! It can take a long time to see changes but training your dog is a lifestyle and proper management will take time, creativity, and sacrifices, but I promise you it will be worth it in the end."
And Papesh added that there are two things that all dogs should know for their safety and wellbeing. She stated, "Pretty much all dogs should be crate trained, and a reliable recall.
Crates are extremely important in training, and provide a dog a safe environment where they can rest. A reliable recall is imperative and can save your dog's life."
For most animal lovers, it can be a balancing act between working with people and their pets.
Papesh related, "As much as I am not really a "people person" per say, I actually really enjoy helping clients with their dogs, and giving them the tools, they need to help themselves and their dogs become a successful team. It's extremely rewarding, and watching people's face light up when they can see their dog finally understands a command and does it correctly for the first time- makes every bit of struggle 110% worth it."
With that being said, Papesh teased, "If I could spend all day training puppies how to track and bite, I absolutely would."
Training has been steady so far for Papesh. She said, "Once I really get a good routine established, I plan to be able to take two Stay & Train dogs at a time while I'm still working for the State. Once I'm training dogs full time, I'm planning on being able to take three to four Stay & Trains at a time."
In the next year or two she may even hire a kennel tech or apprentice to live on site in her guest house on the property, that would allow her to take on more dogs in the future. "As summer nears and I get more established and have a consistent client base, dog training will be my full-time occupation," Papesh celebrated.
When Papesh isn't working or training with her fury friends, you'll likely find her outside enjoying nature. Though she admitted, "Unfortunately, I no longer have much for spare time, but when I can, I love to ski, hike, and ride my horse. Heading into the mountains with the dogs is my all-time favorite way to spend a free day."
To reach Kayla Papesh about dog training you can find her at Superior K9 on Instagram, or Facebook, and she also has a website, www.superior-k9.com.
Recent Headlines
---