St. Regis picks up wins against 14C foes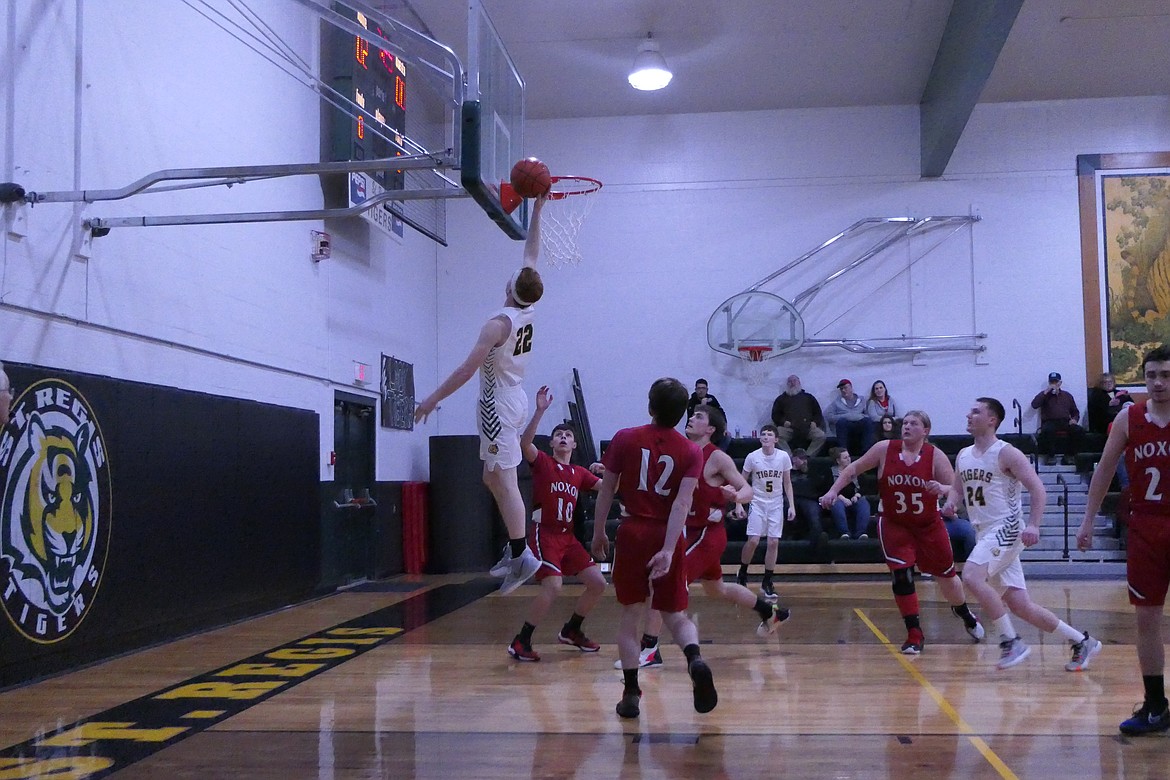 Tanner Day goes up for two points during the Tigers' win over Noxon Friday evening in St. Regis. (Chuck Bandel/Valley Press)
by
CHUCK BANDEL
Valley Press
|
January 19, 2022 12:00 AM
Even with some of the luster buffed out of tonight's game with Hot Springs for the Western 14C lead due to a narrow Hot Springs loss to Charlo, the St. Regis Tigers will not take their opponent lightly.
They emphasized that point this past week with a pair of commanding wins over 14C boys foes, thumping one win Two Eagle River 83-52 Thursday night, then throttling visiting Noxon 74-38 Friday evening as they readied for what still is a showdown with the Savage Heat.
Hot Springs lost a heart-breaker at home to Charlo on a buzzer-beating three pointer, but still remain near the top of the conference standings.
Friday night they displayed some of their explosiveness at the expense of the visiting Red Devils when they raced to a 25-6 first quarter lead behind their almost maniacal defensive pressure and their overall athleticism.
Junior Caleb Ball led the first quarter barrage with 11 points, including a three-pointer. His older brother Adam added six points and 6-2 forward Tanner Day threw in another six to the first quarter explosion.
The Tigers added five more points to their lead by outscoring the Red Devils 12-7 in the second quarter on their way to a 37-13 halftime lead.
As impressive as the first quarter was for the Tigers, the third quarter was even more dazzling. Day erupted for 16 points in the quarter, many of them coming on rebound put-backs as he took control of the offensive glass. He also plopped in a pair of threes as the Tigers outscored Noxon 32-9 to take an insurmountable 69-22 lead with one quarter left to play.
Day wound up leading all scorers with 26 points in three quarters of play. He sat out the fourth quarter as reserves came in for mop up duty early in the half.
Caleb Ball also had an impressive scoring night, tossing in 24 points, including a trio of treys.
The pair of wins boosted the Tigers' overall season mark to 6-3, while they moved to 3-1 in Western C play, their only loss being to Hot Springs earlier in the year.
It could be said St. Regis tuned up for the week's carnage with a solid rout of Two Eagle River, which has only one win on the year.
Against Two Eagle River, the Tigers fought to a 16-7 lead at the end of one quarter of play, then answered an Eagles rally with one of their own in the second quarter as they rolled to a 44-24 halftime lead.
Caleb Ball scored 11 points in the first quarter to lead the Tigers. The second half was more of the same as the Tigers added nine points to their lead and held off a determined Two Eagle River team in the fourth quarter to win by 31 points.
Ball led all scorers with 31 points, including three threes. He was joined in double-figure scoring by Day with 15, Adam Ball with 13 and sophomore John Pruitt with 10.
Riley AfterBuffalo paced Two Eagle River with 17 points.
Recent Headlines
---