Hot Springs teacher wins grueling 100-mile race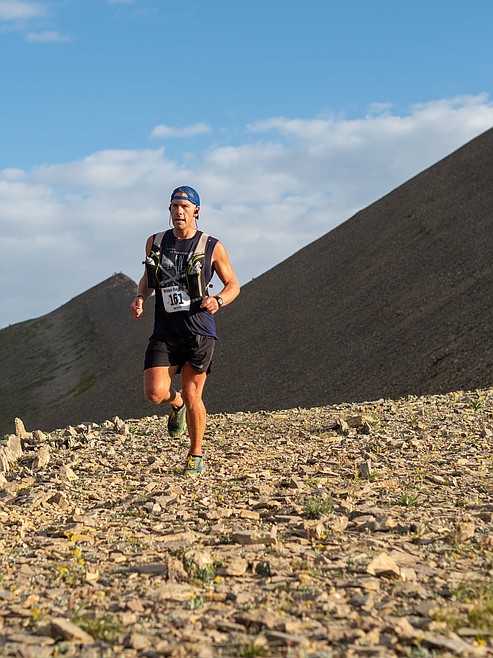 Andrew Leichtnam runs in the high mountain terrain of the Yeti 100-mile race he won July 15 in the mountains around Snoqualmie Pass in Washington state. (Courtesy photo)
by
CHUCK BANDEL
Valley Press
|
July 27, 2022 12:00 AM
Lots of people don't even like to drive 100 miles.
Not the case with Hot Springs High School teacher Andrew Leichtnam. A long-distance running enthusiast and high school coach, Leichtnam did recently what most folks can only imagine when he won the Yeti 100 Mile Endurance Run through the mountains of western/central Washington.
Run, as in by foot, as in beat a large international field of long-distance runners, as in 100 miles.
And as one might imagine, not just competing in but winning a running race of that distance requires dedication and training.
"I keep a steady base mileage of about 40 miles per week (running) through most of the year," he said after his win in mid-July. "In June, leading up to the race, I ran the mileage for each date of the month, 465 miles in the month."
That comes out to approximately 15.5 miles per day.
Leicthnam described such a routine as good conditioning for the grueling race ahead.
His conditioning routine resulted in a winning time of 20 hours, 49 minutes and 40 seconds over the 100-mile endurance event that winds through the mountains around Snoqualmie Pass via the Rails to Trails course that begins and ends at the Hyak Trailhead between the pass and Seattle along Interstate 90.
The out-and-back course, which features an elevation gain of approximately 4,500 feet, includes two runs through the 2.3-mile long Snoqualmie tunnel, attracted 68 runners, including 50 finishers and 18 runners who were unable to complete the grueling test. Several runners who signed up were unable to compete for various reasons.
In winning the race, Leichtnam, 38, finished almost a half-hour ahead of second place Andrew Orefice of New Haven, Connecticut. The top women's finisher was Julie Huyett (no home town listed) who came in third overall with a time of 22 hours, one minute and 10 seconds.
Entrants ran along what race organizers described as a "crushed limestone, mostly smooth surface".
Leicthnam's time was listed as the second best in the brief history of the race.
A physical fitness enthusiast who is an assistant football coach for Hot Springs' six-man football team and also coaches their track and field team, Leicthnam was humble in victory.
"It was never about winning," he said. "I just wanted to see what my body could do and if most things went right I felt I could finish the race in under 21 hours".
He is quick to credit his "crew" as being instrumental in his success.
"I couldn't have done as well without my crew," he said. "Mindy Leichtnam, Jake Cremer and Lenny Page all helped pace the last 50ish miles with me and I owe my successful run entirely to them".
The victory was the fourth first-place finish in long-distance running over the past five years for Leichtnam. He won the 15 mile HURL Elkhorn race near Helena in 2019, then again in 2018 over a 52K course. Earlier in 2018 he finished atop the field in the Old Gabe 50K race near Bozeman.
"I had good mental and physical conditioning building up for the race," he said. "In 100 miles you are going to have many peaks and valleys. I just focus on the next peak and accept that the lows are only temporary".
Recent Headlines
---