Sweet success: Local woman's relish business thriving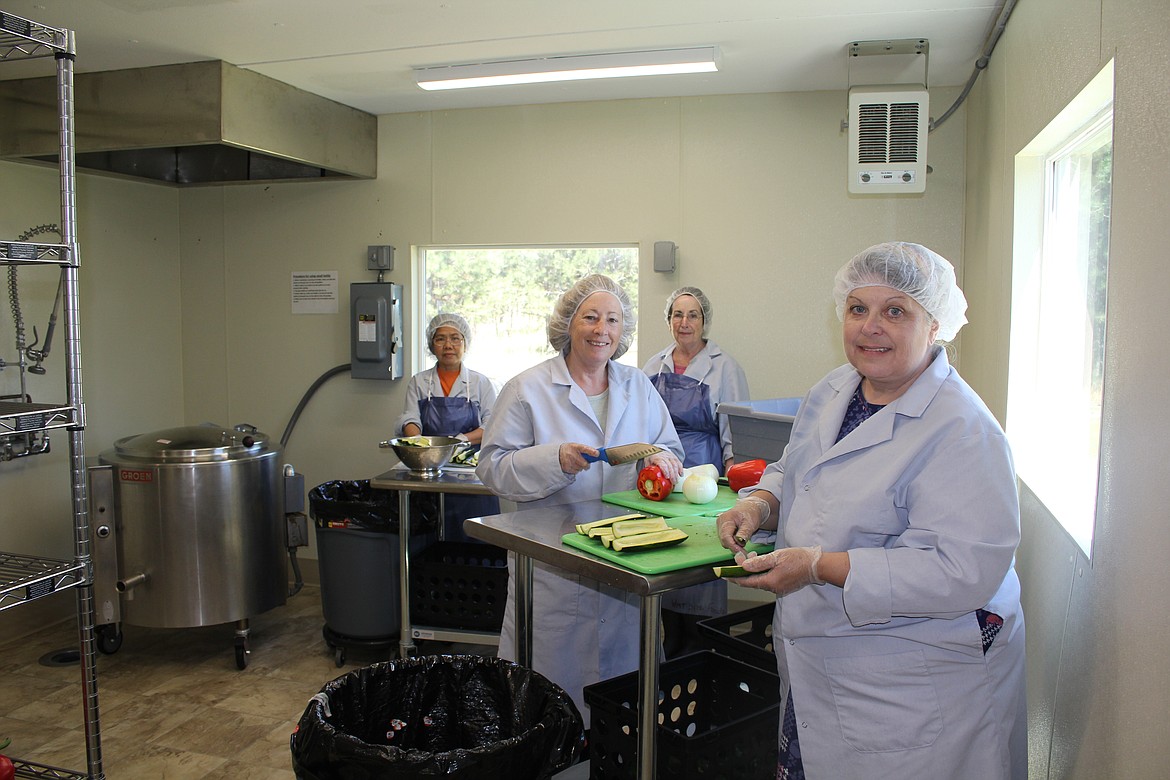 From left, Mariel Mattox, Diane Metzger, Mary Ippisch and Resa Briscoe (missing is Cassidy Goins) hand chop fresh ingredients for a batch of organic zucchini relish that Ippisch started making in the 1970s. Her kitchen is in Superior, and she averages about one batch a month between April and October. (Monte Turner/Mineral Independent)
by
MONTE TURNER
Mineral Independent
|
July 27, 2022 12:00 AM
"It all started in the late 70s when we lived in Utah and I was making this little, tiny recipe that went over really well with my family and friends. But I could only make six or seven jars at a time," all done by hand in her home kitchen, remembers Mary Ippisch, owner and president of Western Montana Specialty Foods, Inc.
That process continued for years even after they moved to Superior 25 years ago. Her relish-making was on the side as she was a working mom, yet she knew that she had something special.
Thinking and planning for a few years built the confidence to take a big jump. On May 27, 2011, she completed her first commercial batch in Ronan at the Mission Mountain Food Center. A commercial kitchen was needed now that Ippisch was going into grocery and specialty stores, so she had a slug of rules that she had to play by.
And it worked. She would take some help and they would all cut, cook and fill numerous jars then deliver to her clients. However, the two-hour drive to the Mission Valley, and then seven or eight hours working with a two-hour drive home became wearing, so around 2014 Ippisch started planning her own commercial kitchen.
She would use the Ronan set-up as a template, but her facility would be on a much smaller scale. Ippisch was building her wholesale business by servicing her customers with Bitterroot Zucchini Relish, with the trips to Ronan and in April of 2017, her own commercial kitchen opened.
Ippisch uses a large produce distributer for all her vegetables with around 250 pounds of zucchini as the main ingredient yielding about 220 jars.
"Every time we process, there are about four of us now and it's five to seven times a season," she shared.
"And the girls are awesome! They've been with me the whole time and know exactly what to do," she beams.
However, Ippisch remains in the kitchen for the entire production as it's her baby and consistency of flavor is what has grown the customer base.
Ippisch could hire a food broker to meet with the mega-grocery stores but she prefers to deal with them directly and build the relationship which is another branch of her attention to detail. "It looks like we've processed about 9400 jars of relish," she says looking at her computer screen.
"Also, my facility was closed in 2020 during Covid so I did not produce any product. I did have enough inventory to get me through. I probably could have surpassed 10,000 if Covid had not conveniently shown up."
Her relish has been a made-in-Montana product from the get-go and recently she transitioned to using organic ingredients.
"If you can go organic or at least 90%, you're going to hit a bigger market because people are going back to natural and healthy foods," Ippisch explains.
She recently became a vendor with a national organic distributer after shipping their first 30 cases to Asher Standard in Oregon. Locally, you'll find Bitterroot Sweet Zucchini Relish products including their newest flavor, 'Sweet with a Little Heat', at Darlows Quality Foods, Superior Meats and Montana Moxie with several grocery stores in Missoula.
New to Western Montana Specialty Foods, Inc. are chocolate chip cookies and Bundt cakes. Chocolate, vanilla, chocolate Amaretto, lemon/raspberry, pecan and Irish cream, "And an awesome carrot cake," she grins.

Ippisch can make these any time of year and at this point they are custom made to order by calling 406-822-2103 or www.wmtspecialtyfoods@gmail.com.
Recent Headlines
---