Karen Leona Olson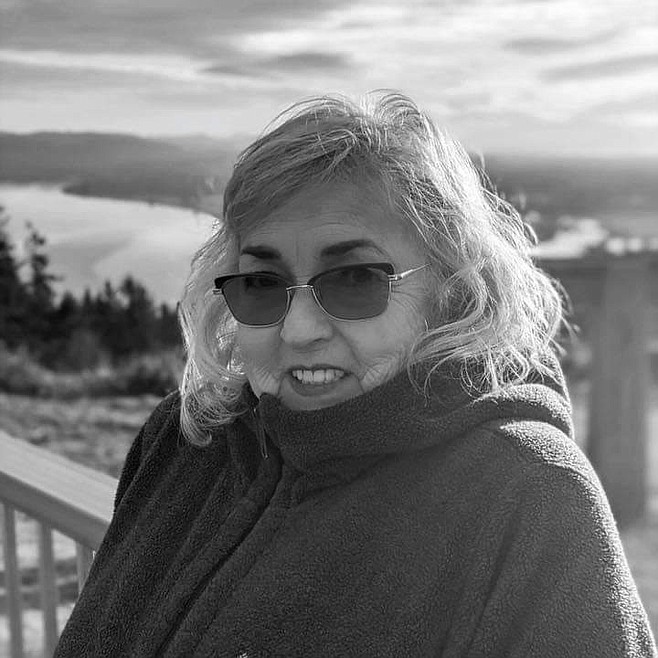 Karen Leona Olson, 69, passed away on May 25th 2022 in Missoula after a brave and brief battle with fibrosis caused by cancer treatment six years ago. A memorial service will be held later this summer.

Karen was born in Panama on Feb. 11, 1953 into a military family. She was the youngest of five children born to Arnold and Marion Olson. From the start she was a free spirit, someone who lived life to the very fullest. One of her favorite sayings was Not All Who Wander are Lost, and she lived those words until the very end. Karen loved gardening, dogs, her travels and ringing the bell of life! She had a clarity and wisdom that we all admired. Karen moved to Montana almost 25 years ago where she made a home and a community with Jerry "Drifter" McPhail.
Karen is survived by her daughter, Nicole Witherell (Jason) and grandchildren, Ethan and Langley of WA; sisters, Pamela Pugmire (Rex) of ID and Jacqueline Sands of FL; brothers, Butch Olson (Lynn) of ID and Pete Olson (Cinda) of NC; Jerry's sons, Shawn McPhail (Jessica) and Tory McPhail (Britt); and her soul sisters and very dear friends, Sandra Miller (Denny) and Kim Burgess (Denny) both of MT; as well as many nieces, nephews and friends.
The family would like to thank the wonderful staff at St Patrick Hospital in Missoula, MT for the care and treatment of Karen in her last days.
Karen lived and died on her terms. She will be missed by all who knew and loved her. Her adventurous, fun-loving spirit will live on in her precious grandchildren, who will never forget her.
Recent Headlines
---