The Lady Eclectic: Local artist launches online store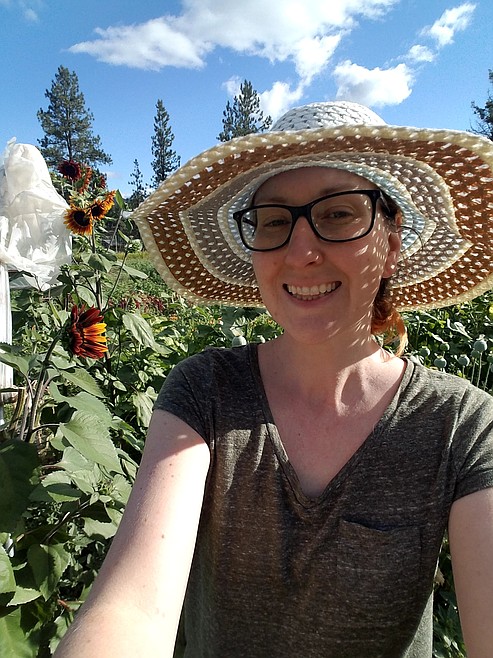 Eryn Kelly, the. creator of The Lady Eclectic is all smiles amongst the flowers at Crescent Ridge Farm in Alberton.(Photo courtesy Eryn Kelly)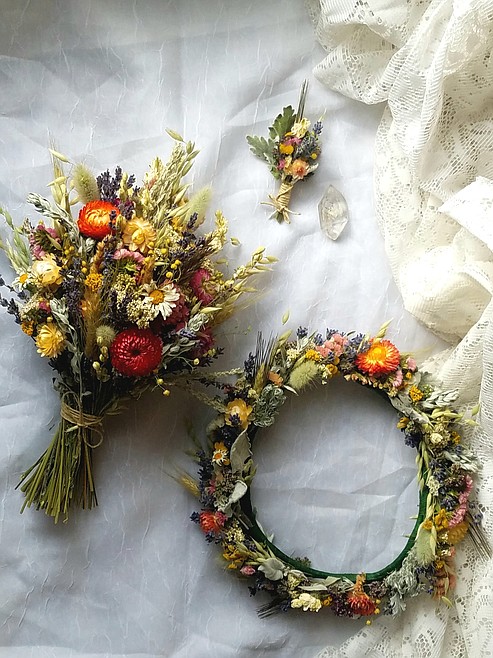 Kelly's online Etsy shop features ornate dried flower bouquets, boutonnieres, and crown head pieces for weddings, as well as one of a kind flower rings, and also an array of home decor items too. (Photo courtesy Eryn Kelly)
Previous
Next
by
AMY QUINLIVAN
Mineral Independent
|
March 2, 2022 12:00 AM
The development of online craft marketplaces like Etsy has served a unique role in establishing up-and-coming entrepreneurs, small businesses and artisans that otherwise wouldn't have the means or opportunity to sell their one-of-a-kind creations.
Especially for people like Eryn Kelly who live in rural Western Montana.
Kelly's virtual store front may not grace the main drag of Alberton's Railroad Avenue, but if it did, you'd know it was hers cause she'd have a bit of everything.
She stated, "My name is The Lady Eclectic because I sell different beautiful things. On my journey to being a professional artist, I tried selling many different things."
The Great Falls native who holds a degree in Media Arts, once worked in a bakery, is married and has one daughter at home. This is where the flexibility and prospect of owning an online business really benefits Kelly as a working Mom.
"Etsy is a dream come true for artistic introverts," she remarked. "And having an online shop where I can work from home and not put her in daycare is much better for me."
This artistic soul started out selling jewelry and Henna Body Art at the Missoula Peoples Market. Kelly said, "I did that for four summers until I had my daughter. I still do henna locally. I hosted a henna body art class last summer at Crescent Ridge Farm here in Alberton."
The Lady Eclectic's main focus these days are carefully designing dried flower creations for gifts, home decor and weddings.
Kelly explained, "I learned the trade from someone in Missoula that had a very successful dried flowers Etsy store. I worked for her for about a year then moved on to different things."
When the pandemic started, Kelly was laid off from her job at Le Petit Outré in Missoula. She confessed, "I had toyed with the idea of starting my own dried flower store but never had the startup money or security to do so. I used some of the government stimulus money to invest in my own shop."
Her business isn't like the traditional flower shops, filled with bright greenery and vibrant floral arrangements. Her bouquets and beautiful buds are dried and intricately merged into various designs. Kelly shared, "I sell a lot of small bouquets for gifts. Valentines is my biggest holiday. Weddings bring in the most money though. If a bride wants a large number of flowers, she needs to order in advance."
In that case Kelly has to set aside flowers she already has or acquire them in the summer and store them until it's time to arrange them. She elaborated, "Dried flowers need to be stored away from light and moisture. But you also don't want them to get too dry and brittle. Airtight plastic bins are great for this."
Kelly gets many of her flowers locally, and grows her own then dries them herself. She laughed, "Come August there are flowers hanging all over my house. I work out of my home for now. The next step is to get one of those fabulous She Sheds and set up my workshop in there."
She also buys flowers, wheat and oats from a farm in Washington, that specializes in selling dried flowers in bulk quantities. The pieces sold from the Lady Eclectic shop usually
feature strawflowers. Kelly detailed, "They are probably the most sturdy and colorful of all dried flowers. The whole family of Everlasting flowers are the best to work with. I typically use wheat as the main structure and oats to add movement."
Ironically, she noted, "Some of the flowers I use, I will steam before working with them. The steam adds moisture to them, keeping them from falling apart, without making them wilt or turn brown."
When shipping her stunning and parched florae Kelly has to be especially careful. She said, "Dried flowers are fragile, so I use a lot of tissue paper to keep them from moving around in the box. I rarely have packages destroyed." And another asset that small businesses rely on heavily in rural places is the mail system. Kelly stated, "I use the post office in Alberton. I'm always afraid it will be canceled here with talk of pulling back on USPS services. If that happened it would really affect my business."
Her shop has been up and running for a little over two years now. Each summer Kelly has to stockpile flowers and other plant life to ensure she has enough product for her orders. Some of her most common buyers are wedding planners.
"I make bouquets, boutonnieres, corsages and flower crowns. I've dabbled in altar decor as well," said Kelly.
One of the most memorable creations Kelly has worked on was also for a wedding. She recalled, "I had a bride request an engagement flower ring. At first, I thought she was crazy because they're just too fragile."
She continued, "After I made it, I was pleasantly surprised at how durable it was. The ring itself is made from a small willow branch. Of course, they are meant to be worn for pictures or a special event and then locked away for safe keeping."
Kelly has a small collection of the flower rings in her shop, but added, "Those haven't really caught on yet. I think it's because people aren't looking for them. They are fairly niche. So, it's my job to get them seen." She also makes handmade paper cards with flower petals. Customers can get a card and mini bouquet combo, which are great for a small but meaningful gift.
"I'm also experimenting with painted wheat and flowers in my creations. I get the most joy out of creating new designs. And that hasn't slowed down at all. There are just so many combinations to put together," beamed Kelly.

Kelly has learned invaluable lessons along the way. She conveyed, "Having a successful Etsy store means you must be good at a few things like communication, photography, presentation, multitasking, shipping and of course your craft. If you have a good product but don't communicate well and quickly your shop will suffer." Kelly added, "You also must know how to package your product well. If it doesn't make it to your customer in one piece and in a timely manner, your shop will suffer."
Aside from selling online Kelly has tried promoting her products at nearby craft fairs. She said, "I've sold my flowers locally at Christmas markets and one store in St. Regis. But people usually pick them up and break them. So that's not ideal for me. With an online store, the wh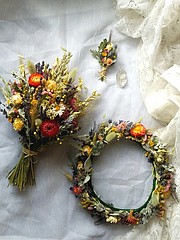 ole world has access to my products."
The Lady Eclectic shop has been doing well and is steadily growing. As for future endeavors Kelly noted, "When I'm done making my family and can work more, will expand and get an employee or two."
In the meantime, you can find her unique creations through her shop on www.etsy.com/shop/theladyeclectic. You can also find her on Instagram and on Facebook.
Recent Headlines
---