St. Regis seventh-grader wins county spelling bee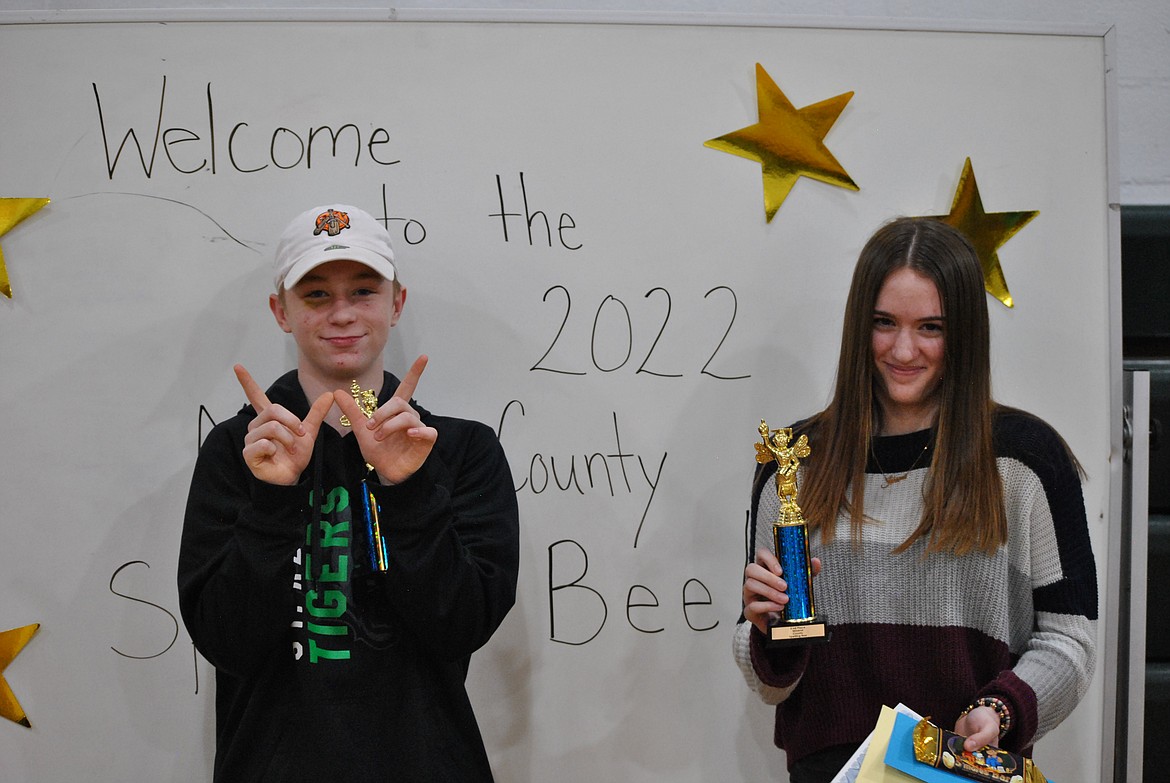 St. Regis seventh-grader Isaac Desoto celebrates with a big "W" for winning the Mineral County Spelling Bee. Second place was another St. Regis student, eighth-grader Jamie Kearbey. (Amy Quinlivan/Mineral Independent)
On Feb.28, local students gathered at the St. Regis gymnasium to flex their letter arranging skills during the 2022 Mineral County Spelling Bee.
Twenty spellers representing each of the county school districts took turns pronouncing their answers, letter by letter, and word by word.
A popular tactic used by many participants was to receive their word, then write it out in their palm using their pointer finger. A bit of a visualization technique.
After two rounds the competition was cut down nearly half the contestants. And as spelling bee director Kelsey Clark wrapped up the third set of words, it was apparent only one student was left standing.
St. Regis seventh-grader Isaac Desoto looked around the open chairs, did a fist pump, then stepped toward the microphone to receive his championship word.
Spatula. It was a stirring moment.
Desoto spelled it correctly and won the county spelling bee title, the crowd cheered. But soon, the judges and director recognized during the quick last man standing third round, a second-place speller was yet to be confirmed.
The nine remaining students returned to their chairs for a spell-off to battle for second place. A fellow St. Regis student succeeded, eight-grader Jamie Kearbey spelled victimology to become the runner-up.
The state spelling bee will be held on March 12 in Bozeman on the Montana State University campus.
Zach Desoto, the winner's father exclaimed, "Well this was an improvement. Last year he got out on his first word. It will be exciting for him to go to state."
Recent Headlines
---