From chiropractor to potter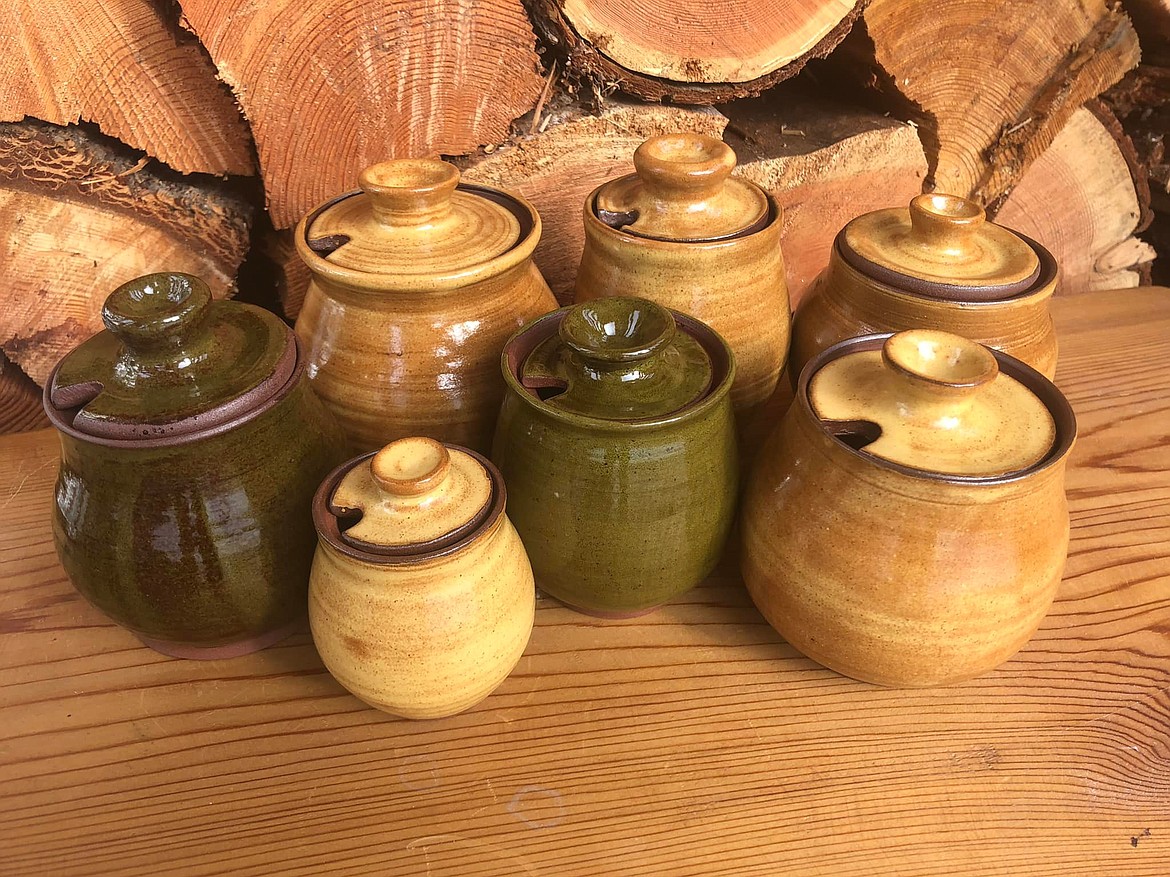 This collection of cute yellow and green honey pots are just a small example of the pottery ware that Cynthia Luce turns out from her ceramic business called Earth, Mud & Fire. (Photo courtesy/Cynthia Luce)
|
March 23, 2022 12:00 AM
Following a successful career as a doctor of chiropractic spanning two decades, Cynthia Luce of Superior, is now using her hands in an entirely new way.
For years she was kneading muscles, adjusting spines, and teaching proper exercise technique to help patients support their health. Today Luce's hands pound clay, while her fingers mold delicate pots on her throwing wheel. Transitioning from one occupation to the next has been pretty seamless in most ways.
"For 22 years I was a doctor of chiropractic with a specialty in functional medicine, helping people improve their health without the use of drugs or surgeries," explained Luce.
She always held her own private practice, working with people one-on-one. Her education and training were extensive and she completed an Associate of Science degree, a Bachelors of Arts degree and a Doctor of Chiropractic Degree. Luce said, "I did well in school, graduated Magna Cum Laude with honors and was recognized with both 'Honors Intern' and 'Excellence in Care' awards."
After graduating her Alma Mater turned around and offered her a job to teach clinical competency there, so she taught for a few years as well. Luce noted, "My practice was unique in that I did both massage and chiropractic, coupled with exercise rehabilitation. We also offered nutritional supplementation, essential oil therapies and herbal medicine. I helped a lot of people recover. Now I'm happy just to answer people's health questions when asked."
How does one get from performing chiropractic care in a clinic to producing pottery in a studio? Well for Luce the artistic gene runs in the family. She shared, "My mom was an arts and crafts teacher so, it was kind of hard to avoid. She had me drawing, painting, tooling leather, stitching embroidery. I was never bored."

Luce's mother was also a painter, pianist, sewer, cook, caterer, teacher, thespian, and bridge player. She recalled, "We had a potter for a neighbor and my mom collected her work for years. Even our bathroom sink was a wheel-thrown bowl!" In addition to art there was a constant stream of music in their home. Luce said, "My mother's piano playing filled our house. It must have rubbed off on my brothers too as they both ended up becoming professional musicians. My dad, bless his heart, endured it all."
But her earliest experiences with the roots of pottery and ceramics go back to her childhood days. Luce recalled, "Probably playing in mud in my dad's vegetable garden. He was always showing me how heavy with clay our soil was. He would be out there trying to break the stuff up with a heavy rototiller."
Then as an adult with her chiropractic career firmly established, she sort of stumbled into the pottery world. Luce remembered, "I noticed, a really cool pottery studio near my work one day. So, I signed myself up for a class to learn how to throw on the wheel. It was like the heavens opened. One class, and I was hooked!" That was over ten years ago and now Luce has been throwing pots off-and-on ever since.
She eventually made her way to Superior to be closer to her brother in Missoula. After settling in Luce thought it was time to meet some new people. She figured, "Well, there's a lid for every pot, isn't there? I found my lid five years ago here, in Superior. We met online on Christian Mingle. Couldn't be happier." Luce added, "That's when I put myself online and found my new love, Kevin, in Superior. He was the cherry on top. I haven't met many folks here yet, but the ones that I have, I feel right at home with them. Everyone has been so nice."
In addition to finding love in Mineral County, she also brought along her love of ceramics. Luce soon discovered another local artist, Tori Lucier's work at the St. Regis Travel Center.
She stated, "I reached out to her and became fast friends. She fires my work in her kiln for me. She is a marvelous potter and wholesales her work to shops all over Missoula."
Last year Lucier opened up a shop on Dairy Lane in Superior to sell pottery ware. Her shop is called Thompson Creek Pottery and it is open seasonally. Luce said, "She invited me and another potter, Peg Murrill, to sell some of our pieces there."
As far as her own pottery selling aspirations, Luce is still laying the foundations.
She described, "I've been selling my work for years, but nobody knows me here, yet. So, I decided to sell my works online through social media. I just started my Facebook page, 'Earth, Mud & Fire' and my website www.earthmudfire.com is launching too." Her focus is on functional ware, the things you can use every day like cups, mugs, bowls, plates and shipping them to customers.
Back in November Luce bought her website, ordered business cards, hired a web designer and set up booths at local Christmas craft fairs. She said, "After having great success at the Nine Mile Craft Fair, I thought "why not?"

When Luce finally launched into her full-time pottery trade, she began creating pieces more quickly and her sales have steadily increased. "People love hand-made pottery. So, I just made it a point to hunker down, produce daily and start posting pictures of my creations on Facebook, Instagram, Gab and other social media. I have not been at it very long but it is already starting to pick up momentum with sales being shipped out of state, commissions and what not," Luce shared.
Customers tend to prefer buying the pottery ware that's already finished. But slowly Luce has had commissions coming in, special orders for people looking for something just for them. She noted, "Terry and Naomi Messenbrink from St. Regis asked me to make a dinnerware set, Rose Beissel asked me to make her a vase, friends from Great Falls wanted a special piggy bank for a newborn, things like that."

Personal requests can be fun but also a lot of pressure for a pottery maker. Luce expressed, "Commissions can be tricky because in pottery every piece comes out differently. That's the joy but also the challenge of it. If a client has a set idea of how they want something to turn out say, like a picture of some plates they saw on Pinterest, they might be sorely disappointed. It is practically impossible to reproduce another's work."
She continued, "There are just too many variables like the type of clay, the color or glaze, how it was fired. There is a lot that goes into a piece that people who aren't familiar with making pottery just cannot imagine. Those who do know a bit about the craft have literally said to me, "Surprise me!"
Luce molds her unique pieces in a pretty confined work space. She detailed, "I work out of a little corner at home where I placed my wheel. Home-potters all work from small spaces. There is never enough room for shelves, or buckets, or wedging tables, or tools etc. A clay studio can get pretty cluttered pretty quickly." Luce added that belonging to a community pottery studio where available, can be beneficial to potters so they can share tools and equipment like wedging tables, wheels, kilns and glazes.
Once a mound of clay is thrown and takes life, it has to dry for several days. Luce explained, "Then it is brought back to the wheel to be trimmed, a process that creates a foot on the bottom of the piece and cleans up the edges. It is then bisque fired, which takes about 24 hours, turning it into a hard, solid piece." Then the piece is sanded, washed, and left to dry overnight. Finally, it's ready to glaze. A glaze is the glass coating on the surface of pottery items. It can give the surface a glossy, matte, smooth, textured, opaque, or clear finish.
"Production potters are like machines, churning them out all the same, merely dunking their piece in a bucket of a solid color of glaze. It takes seconds. It's efficient, but I don't work that way," shared Luce. "My glazing process is done in several layers with several colors, each being left to dry before applying another. It takes a long time, hours, but it gives the finished pot more character, personality and even charm"
And a glaze is not the same thing as paint. She rationalized, "You would think if you had a dark blue glaze for example and you wanted it to be a light blue, you would just add white, right? Not so in the mystical land of glaze. There are chemical reactions going on in that kiln that could easily turn your piece brown when you mix blue and white glaze together."
Luce exclaimed, "That's the magic of pottery!"
As mentioned, pottery requires ample amounts of patience. She said, "I have plates sitting on my shelf that I have been drying for a month now, swaddled in plastic, waiting to get to the right consistency before I can fire them. I check them daily as if they are new little seedlings that need to be coddled. If they're ready, then great, they have to wait some more until there are enough of its brothers and sisters to join them in the kiln." An empty kiln doesn't fire well and disrupts the curing process, so the more pieces the better.
Some pieces are quicker to make, but it's the detailing that takes a long time. Luce remarked, "I can throw a plate in 10 or 15 minutes but that's not where all of the time goes into the piece. If I do etchings or carvings that takes extra time. If it needs handles or spouts or lids, that takes more time. Many hours go into each piece. It takes several weeks to months to turn clay into a beautiful, useful pot. It is truly a labor of love."
Currently Luce purchases her clay from the Archie Bray Center out of Helena. She acknowledged, "The Bray" as we call it is really the Mecca to American potters and known around the world." The clay they sell is processed and packaged without any debris, so it ready to be thrown.
Luce has considered though, "I'm ready to branch out and start finding my own "wild clay" out near river banks. It is spring-time and that is the best time to forage for clay after the snow melts and the ground is still soft." She also offered to anyone who might have clay on their property, in exchange for bucket or two, she'll make them a pottery piece.
"Ceramics is so enjoyable because clay is such a versatile medium. The possibilities are endless. You could take up ceramics, work at it for years and never master all of its limits," suggested Luce. For many people it's a hobby or an escape, but for her, "It is also a practice that creates beautiful things you can enjoy in your home on a daily basis. And knowing that you made it with your own two hands, that bowl, that mug, that pitcher, makes it all the more enjoyable."
With time, beginner potters and experienced alike learn valuable lessons when throwing. Luce imparted, "Any time you touch a piece of pottery during its making, you can ruin it. If there is a way to ruin a pot, I have done it already. It just happens. This is not an art medium for the faint at heart. It helps knowing you are not the only one whose pots get warped, or cracked or flop or get accidentally bumped. It happens to every ceramicist. It is all fun and part of the process. The key is to not be too attached to any one piece. Clay is recyclable, so you can just make another."
And every day is an opportunity to create anew. During the winter months Luce works on her pieces almost daily. She observed, "The thing with clay is, once you start a piece you cannot leave it. You must be there to monitor it. If you abandon a piece or forget to wrap it up and keep it from drying out too quickly, it's lost." That's why she works in phases. Luce said, "It's not like knitting where you can put it down and come back to it a week later and never skip a beat."
Luce feels fortunate and humbled to have found many new friends in the area who share her passion for pottery. She exclaimed, "I figure if I hang out with accomplished local artists like Barbara Arnsan, Sue Hummel, Tori Lucier, it should rub off, right?" In fact, Barbara Arnsan, is tossing around the idea of founding an artist's guild of Mineral County. Luce noted, "I'm going to help her with that. We think this county has lots of hidden talent that should be on display."
To find Luce's potteryware from Earth, Mud & Fire people can find her on Facebook and Gab. Or email her at lucebones@protonmail.com. Her work will also be for sale at Tori Lucier's shop, Thompson Creek Pottery, on April 29 & 30, from 10:00am to 6:00pm. Luce will also have a booth at the St. Regis Flea market this year in May.
Recent Headlines
---