Feast & Fun event benefits sportsmen group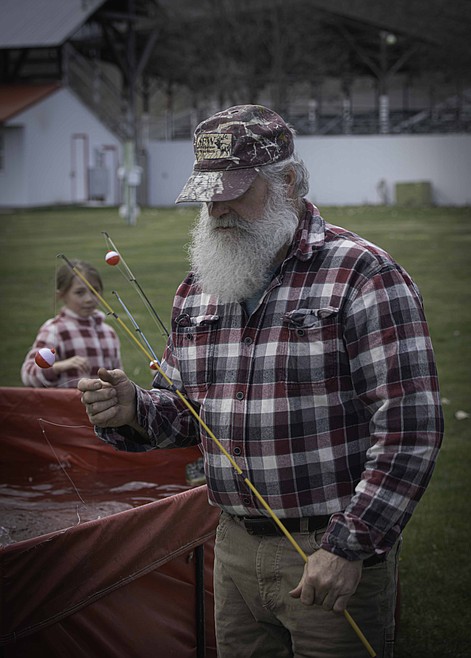 Shawn Andres rigs up a fishing pole for the Kids Fishin' Pond at the Montana Sportsmen For Wildlife Pig Roast Fundraiser. (Monte Turner/Mineral Independent)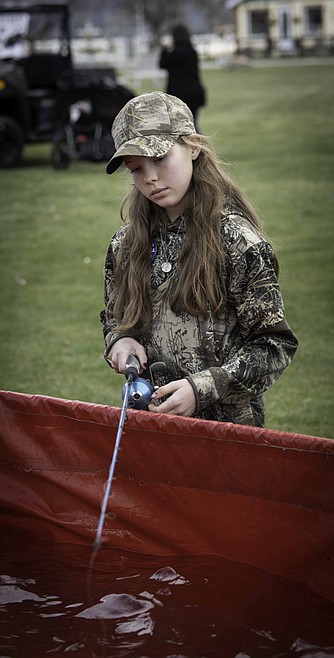 Lily Kandel at the Kids Fishin' Pond during the Montanan Sportsmen for Wildlife Feast & Fun Pig Roast at the Sanders County Fairgrounds. (Tracy Scott/Mineral Independent)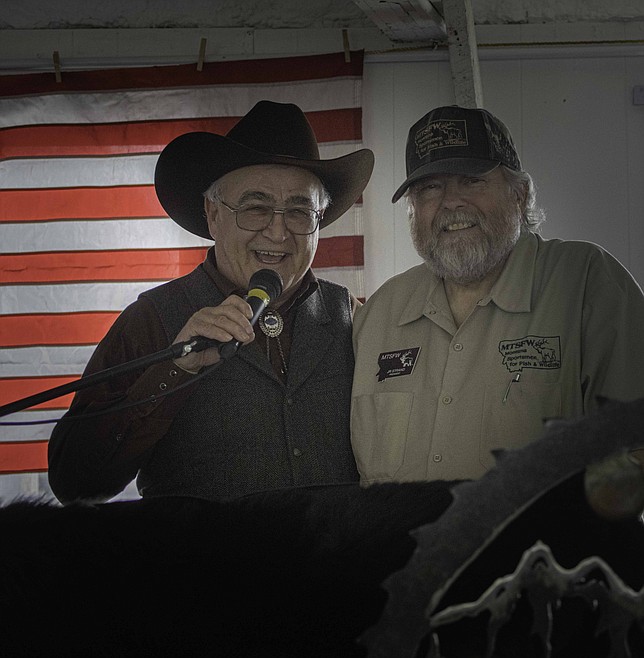 Auctioneer Dwight Gappert gets ready for the live auction at the Montana Sportsmen For Wildlife Pig Roast Fundraiser, as J.R Strand, President, beams with joy at the turnout. (Tracy Scott/Mineral Independent)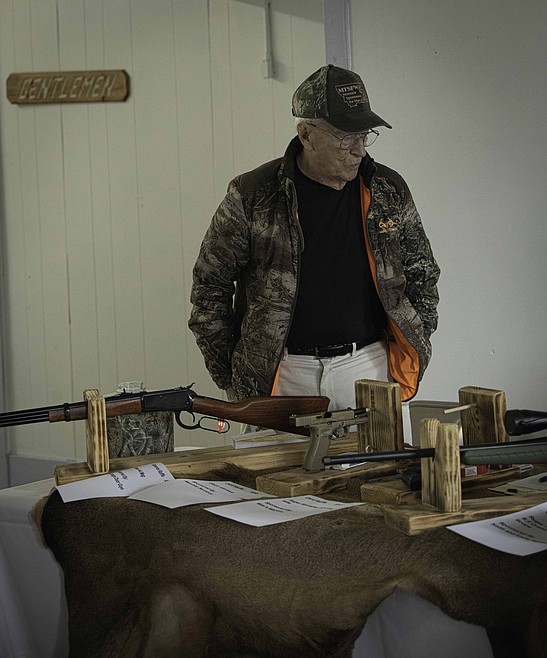 Dale Beelman looks over some of the auction items at the Montana Sportsmen For Wildlife's 12th Annual Pig Roast Fundraiser in the 4-H Building of the Sanders County Fairgrounds Saturday, April 23. (Tracy Scott/Valley Press)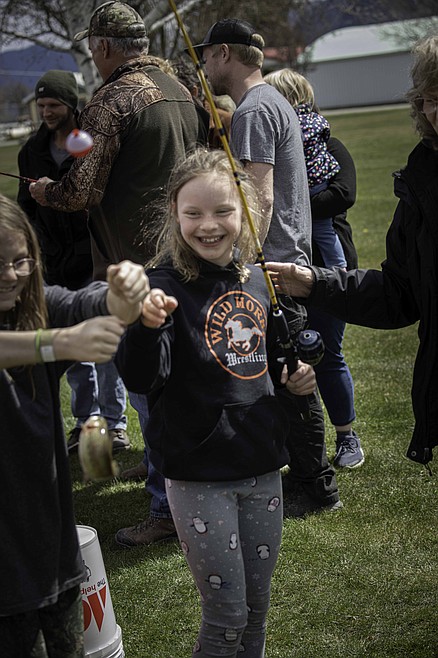 With a big smile, Emmy Russel shows off her catch at the Montana Sportsmen For Wildlife Fundraiser where the Kids Fishin' Pond was stocked with trout from a private fish hatchery near St. Ignatius. (Tracy Scott/Valley Press)
Previous
Next
When you entered the Sanders County Fairgrounds parking lot Saturday, April 23, you were welcomed by the laughter, happy shrieks and giggles from youngsters coming from the outdoor fishing pond as they were catching, cleaning and cooking trout at the Kids Fishin' Pond.
Next to this action, there was a line waiting to toss tennis balls at a 4 x 8 sheet of vertical plywood that had 6 spring coiled coyote traps nailed to it. If the ball hit the bullseye, the trap would snap shut. And if the trap caught the ball, they received extra points as they competed for the grand prize which was a .22 rifle.
These were featured activities of the Montana Sportsmen For Wildlife (MTSFW) 12th Annual Pig Roast Fundraiser. Also known as the Feast & Fun event, one could not ask for a more family friendly day with the auctions, raffles and games in the 4-H Building. The silent auction began at noon and the live auction at 5:30 p.m. loaded up with terrific items suited for the sportsmen, sportswomen and children's lifestyle.
Dwight Gappert was the live auctioneer and had flown in from Denver the night before after auctioneering a fundraiser there and headed to New Mexico for another one 3 days later. "This is a small-town family type event with something for everyone that is fun and usable. It's not a big city type auction but it does have items that you'd find in one of that size. They (MTSFW) focus on the family in their activities, so they got a little bit of everything for everyone" he said. With a big smile, Gappert also referred to the day as an after-quarantine event and that was what the atmosphere sizzled with.
Finishing up his 5th year as president, J.R. Strand explained how this organization began. "Some ranchers in the Bitterroot and sportsmen got together in around 2009, because of the wolf issue, basically," he clarified. "There wasn't any (wolf) management at the time so cattle depredation along with ungulates took a big hit, so we became a 501C (3) to promote hunting, fishing, trapping and Montana's rural lifestyle." This is not an anti-wolf group, but they closely monitor regulations in the state and recently hired Jeff Darrah as their Executive Director. Durrah retired from the FWP after a career in wildlife management and enforcement and is a perfect fit for the organization. "It's great to get the voice out of this group to the decision makers," he said. Durrah lives in the Bitterroot but will be in Helana often giving the MTSFW a seat at the table. "We have a trap shoot next month with many legislators. We want to get our word out to the people who make the decisions."
Shawn Andres is a director and was the first Life Member of MTSFW. "I don't have time to sit at meetings. I'm only here to make sure my kids and my grandkids have a place to hunt someday. It's all volunteer. We give everything back and hopefully things will be better than they are today," as he rigs up another fishing pole while flipping trout over in a frying pan. Andrees worked with a private fish hatchery in St. Ignatius and transported them that day to be released in a gigantic red container you might see at a fire for pumping water by the firemen.
The time of this annual event is tailormade for families by starting in the afternoon and ending by 7-ish. About 70 Kids 12 and under ate free, along with over 150 adults who went through the chow-line and enjoyed the auction. This year's pig was raised by the FFA (Future Farmers of America) at Big Sky High School in Missoula and the cost included the slaughter which was also done by the students. German Sausages substituted for the chicken which had been served in years past and there was enough left over that a few 5-pound bags were auctioned off to be taken home. The big-ticket raffle item was a 2021 Polaris Ranger 570 side-by-side where tickets had been sold at prior events all year. Tickets were $10 each, however, if you purchased 10, you received a year's membership in the MTSFW which was a $35.00 value. Mack McLaughlin from the Missoula area was this year's winner, and he happens to be a Life Member of the MTSFW.
MTSFW is a grassroots, independent, statewide sportsmen and sportswomen organization committed to protecting hunting, trapping and fishing rights while being focused on the family. www.mt-sfw.org.
Recent Headlines
---