Superior High musicians head to state competition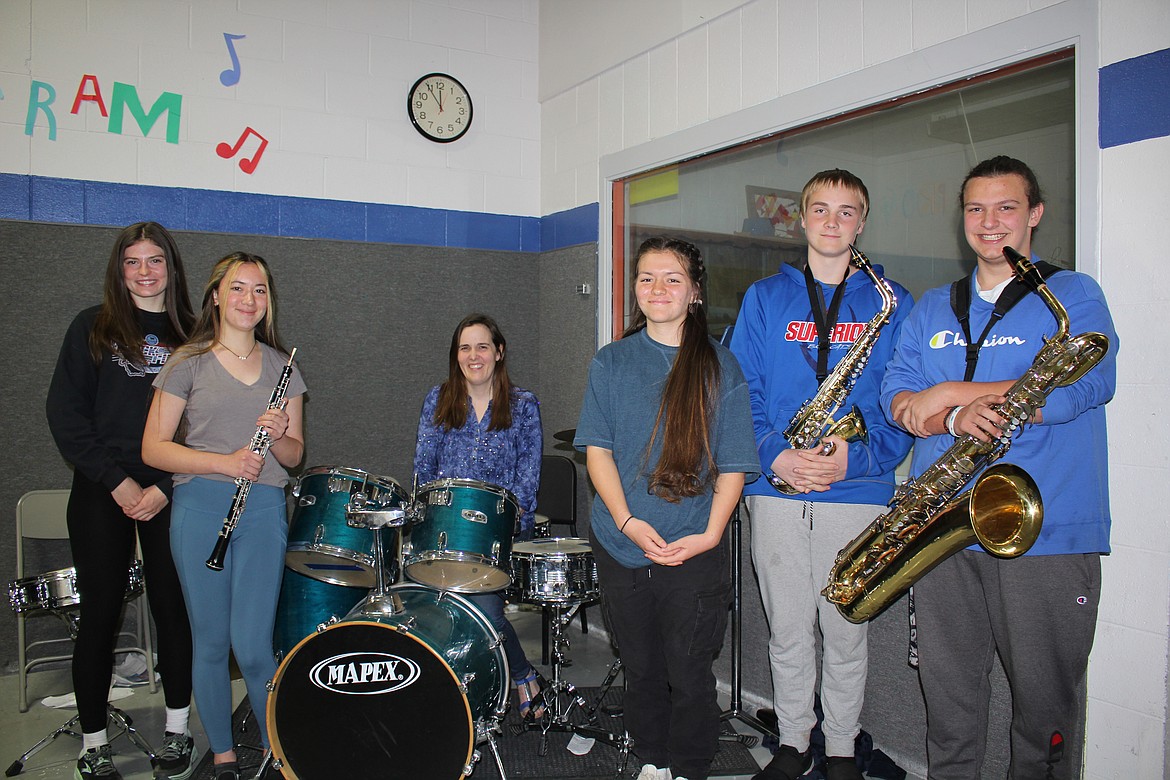 Sorren Reese, Abby Wheeler, Mrs. Deborah Terrill, Addison Martin, Jason Merrill and Trevor Wolff. Absent from the picture is Lanie Crabb. The 6 students will be competing at the state level this Friday and Saturday representing Superior High School. (Monte Turner/Mineral Independent)
The pandemic knocked state competition out the last two years when it came to musicians in high school competing at that level. But this coming weekend, six students are competing in Helena from Superior High School and excitement is not their only emotion.
When asked how they felt about going, they shared feelings which were overall comparable.
Sorren Reese: This will be my first solo performance in choir at state, even attending state. I'm a little nervous because I'm not familiar with the judging and are they judicators and how are they going to judge it. Is it going to be similar to how the district music festival was but more competitive, which I'm assuming it will be? Overall, I'm excited that I'm going and that we have a lot of participants in our class. I think that we'll be able to perform really, really well.
Addison Martin: I've never done anything like this before and going to state, I feel, is going to be such a different environment so it will be way different and not something I'm used to at all. And I think it's also great that not everybody gets to go to state. So, it's competition and I think it will be fun.
Lanie Crabb: I've been playing the bass clarinet for 6 years and excited to have the experience of going to state and to play with Jason (Merrill) and Trevor (Wolff). I think it will be really fun.
Trevor Wolff: This one (baritone saxophone) I've been playing for 3 years but I've been playing the alto sax since the 6th grade. Going to state, this is my first time and it's very nerve-racking, but hide that through jokes and smiles, I guess. Kind of surprising that I made it as I heard it from one of the people in our trio. I thought there is no way, at first, but then I realized that this is really happening.
Jason Merrill: Pretty cool, I think. Because of Covid last year, we didn't have a chance, so this is my first year.
Abby Wheeler: I think it's really impressive for a freshman from a rural school to go to state for 2 instrument solos (oboe and piano). This is going to be exciting and hopefully fun, too.
Mrs. Debbie Merrill is their music teacher, and this is her second-year teaching at Superior High school. "I taught for 3 years in 1999 -2002 but took twenty years off to raise my kids. I am a graduate from Plains High School", she shares. "I was really excited by the ratings all of my music students received at district festival. They have grown so much and even though they didn't all make it, they got experience and will continue to do better every year. They all are amazing students and worked really hard. I want them to continue to gain confidence and be exposed to all the performances we will hear in Helena!"
Recent Headlines
---