Superior QRU team up and running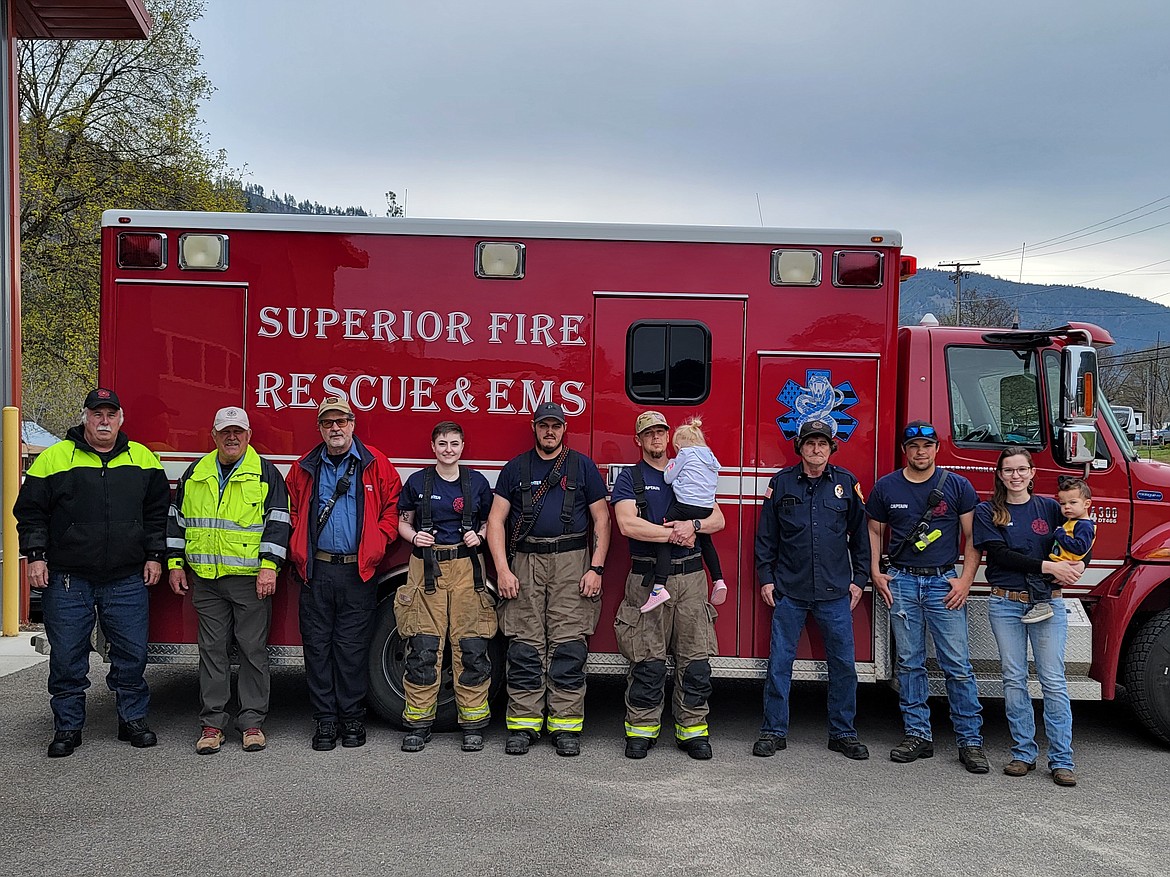 The recently commissioned Quick Response Unit gathers out front of the Superior Volunteer Fire Department. From left to right, Doug Pugh, Steve Temple, Dan Clemts, Kristina Scott, Kyle Zenor, Scott Dodd with daughter Eloise, Donald Mellen, Josh Pecora and Heather Pecora with son Mason. (Photo courtesy/Heather Pecora)
by
AMY QUINLIVAN
Mineral Independent
|
May 4, 2022 12:00 AM
Since December of 2021 the Superior Volunteer Fire Department has been getting acquainted with its brand-new Quick Response Unit. Made up solely of dedicated volunteers to serve the Superior area and the I-90 corridor, this team of medical personnel and emergency response drivers has worked diligently the past several months to form this life saving group and also earn a special state recognition in pediatric care.
Heather Pecora is the Medical Manager of the QRU team. Her and her husband Josh, moved to Mineral County almost three years ago from Utah.
She said, "While we lived there, we were both very involved with the Fire Department and Ambulance Service and really found a passion for emergency service and medicine. When we moved to Superior, we knew we wanted to continue with it; so, we joined the Superior Volunteer Fire Department. Through this department, we have each received additional training and experience and have really enjoyed the amazing crew."
Pecora was just notified this past week that the QRU was granted a distinct rating.
She exclaimed, "We have recently obtained Level IV, the highest level, also referred to as the Gold Level, of the state's Pediatric Prehospital EMS Recognition, and we also received the Safety Plus Endorsement."
Pecora added, "To get this recognition, we have to have certain equipment and supplies for pediatric patients, require pediatric training, participate in community events, have a Car Seat Technician on the service, and run specific background checks on all QRU members. We are very proud of this new achievement and resource for the community!"
Although Superior's QRU is a fairly new resource to the fire department, their group has been working towards getting the unit ready for over a year. Josh Pecora is an EMT, training officer, and driver. Scott Dodd is an EMT and driver. Kyle Zenor is a driver and the Pediatric Emergency Care Coordinator for the Pediatric Recognition. Dawn Bauer and Roni Phillips are EMT's. Dan Clemts, Kristina Scott, Cody Goins, Donald Mellen, and Steve Temple are all additional drivers.
"Scott Dodd originally came up with the idea, got it approved, then we all worked together to make it happen. Scott, Josh and I were the main three setting it up. Steve, our chief, did some legwork too," Pecora stated.
For those who aren't familiar with this sort of entity, Pecora explained, "QRU stands for Quick Response Unit. The main purpose is to provide fast medical care. We are a non-transporting unit, so we serve to support patients until the ambulance arrives, then we transfer care to that crew and Superior Area Ambulance Service transports them to the hospital."
With Interstate 90 being such a busy travel passageway in a very rural part of the state that is prone to numerous vehicle accidents, having access to quick medical care is crucial. Pecora stated, "There are a number of medical and trauma related illnesses and injuries that are very sensitive to time, so our goal is to aid in a better patient outcome especially for those cases. We respond to all medical and trauma calls within our jurisdiction, which is the same area as the Superior Volunteer Fire Department and Superior Area Ambulance Service's."
The Superior QRU unit is unique in that it is not just prepared for medical calls. She noted, "We have it stocked with supplies and equipment to respond to all freeway and highway emergencies. This includes scene safety equipment, the "jaws of life," water rescue equipment, and high angle rescue equipment. We are very excited to have this amazing apparatus, it will protect and save many lives!"
To establish a Quick Response Unit, a license is needed from the state. To meet the requirements the unit must provide specific equipment and supplies, training, reporting, and management. Pecora detailed, "After we got all of the necessary preparations completed, we applied for a license. A representative of the state performed an inspection and approved our unit for service." All their drivers must complete training according to Montana laws regarding basic life support of ground ambulance services. Emergency Care Providers must have either a current Montana or National medical license, as well as attend bi-weekly trainings. "Our training is designed to stay current on all medical practices, practice skills, learn about new equipment and supplies, and work together as a team," Pecora said.
She expressed, "We have a very dedicated and passionate crew, and we all work together to provide 24/7 coverage. We do have adequate staffing, but are always in need of more volunteers, especially those who are medically trained."
QRU's are essential for quick medical care. Pecora shared, "There are several medical and trauma calls in which time changes the patient's outcome significantly. Due to this, and the nature of our very long and narrow county, fast medical care is very valuable. Because we are a non-transporting unit, only one medical responder needs to be on the QRU and they can drive themselves. We have more flexibility because of that so we can be on scene quickly."
When an accident happens, or emergency services are requested the QRU is notified and springs into action. Pecora said, "We typically arrive on scene in the QRU, but on occasion if a responder is closer to the scene than the fire station and it is a more time sensitive call, like breathing difficulty or a serious injury, they will go to the scene first and make arrangements with other responders to make sure the unit will be brought to the scene soon after.
She continued, "We have been able to communicate very efficiently due to newly integrated technology, so we are able to make sure we always have the necessary equipment and supplies as fast as we can. Many of our medically licensed responders carry much of the necessary equipment in their personal vehicles as well."
The newly formed QRU will be hosting an AED training on May 3, at the Superior Volunteer Fire Department. Janet Tretheway, an expert on AEDs, will be conducting the training. The first segment of the training will be from 5:00 p.m. to 6:00 p.m. and is open to the public. Pecora said, "AEDs are lifesaving pieces of equipment that are found in schools, many public buildings, and some offices. Come learn how to use one!"
The remainder of the program from 7:00 p.m. to 8:30 p.m. is designed for emergency professionals. Pecora noted, "We have invited several agencies from our county and neighboring counties to attend. If you are a firefighter, police officer, emergency care provider, or dispatcher, you are welcome to attend."
If you are interested or have questions about becoming a fire fighter, please contact Steve Temple at (406) 822-4900. If you are interested or have questions about becoming an EMT or driver for the QRU, please contact Heather Pecora at (509) 432-1104.
Recent Headlines
---