Longtime Superior Volunteer fire chief to retire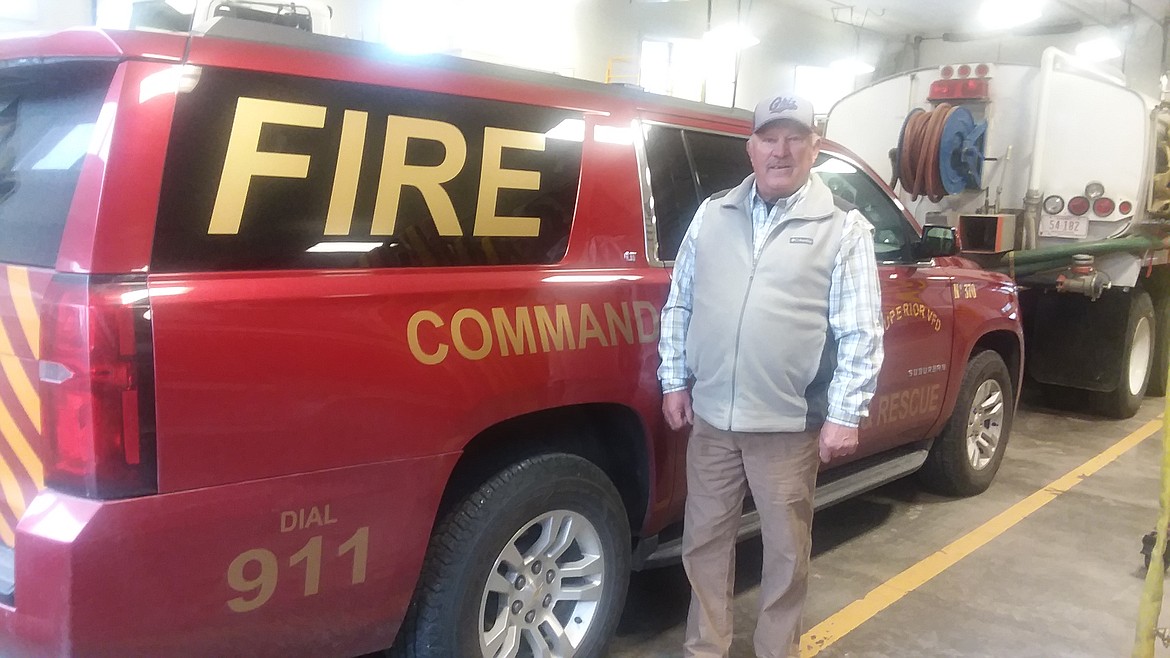 After 17 years with the Superior Volunteer Fire Department, Steve Temple is retiring at the end of the year. He is standing next to the Command Rig, one of several vehicles acquired by the department under his watch. (Monte Turner/Mineral Independent)
by
MONTE TURNER
Mineral Independent
|
November 23, 2022 12:00 AM
When Steve and Peggy Temple moved to Superior in 2005, they embraced the community and have been involved in more organizations and causes that you can shake a stick at.
Steve had been a city manager in California and worked with every municipal department.
"I trusted the leadership of every branch and let them do their job knowing I was there to help with any needs or problems that came up but allow them to them to manage and run their own people," Temple said. "And all of the time, I thought firefighters were slackers. They'd get paid to go to bed and hang around the fire department however, they would be ready to do something if it happened. And that's one of the reasons I volunteered when we moved here because I wanted to find out what they actually did."
He volunteered at the Superior Volunteer Fire Department the following year and went through the extensive training program under the watch of then Fire Chief John Woodland.
Temple discovered that his perception was way off.
"I found out that they work very hard at training and I found out they work ever harder at odd hours and in difficult situations."
Woodland had Temple attend the Firefighter Academy for two weeks in Great Falls where he progressed to Firefighter One.
In the five years that Temple has been chief, he's been grooming some of the officers by coaching them and encouraging them to further their training skills. He feels that any one of them is ready to take the helm now and he can walk away feeling good about the department.
The recent addition of their QRU (Quick Response Unit) has made a huge shift in the department with the level of care because they now have an EMT on the scene with the firefighters the moment they arrive at the accident. The beauty is that the EMT is there also for the crew of the firefighters as well as the accident victims.
Temple clarified that their QRU is not in competition with the Superior Area Ambulance Service.
"We do not transport. We just go and render care," he explains. "Across the country this is how QRUs operate as they are there to help with initial care and then let the ambulances do the transport." The funding for this program came from grants and budgets for the equipment and training. Plus, the community support by the Town Council and Mineral Community Hospital were key to its success.
The recent Tarkio area annexation was a watershed moment, Temple said.
"Ever since I've been here it's been called 'the no-man's land' as it wasn't clear which fire department would respond as it was an area between the Frenchtown Fire District and the SVFD and now they butt-up to each other."
The Tarkio Fire Station will be built in the late spring of next year but the services are operating today with three fire engines, radios and gear as a fully functional fire station from a building on private property in the annexed area.
This spring, three more firefighters will go through the academy which will bring the total of six with their Firefighter One Certificates, which is huge for a volunteer fire department. And one of them will be the first female to represent the SVFD at an academy.
Two recent additions to their vehicle lineup include a Structure Engine that looks brand new but is over 10 years old that they purchased from back east. There is also a Command Rig that is in service making freeway calls safer for the rescue crew, Highway Patrol, sheriff's deputies and tow companies.
Safety is paramount for Temple, and he has always been worried for his crew in any situation yet more so when they are on an icy freeway bridge working an accident at night. Temple said that people driving 80 mph on ice at night when they clearly can see the emergency lights of first responder vehicles has become much too common, and with the QRU and Command Rig, he breathes easier, but still is concerned.
"After 17 years of volunteering and five serving as the paid Fire Chief, I am ready to sleep through the winter nights without freeway crash calls. We have accomplished a great deal in growing the department and it's been an honor to work with an extremely reliable group of people who honestly care for their community," he shared. "The time has arrived for my retirement from the Superior Fire Department effective Jan. 1, 2023."
The community thanks Temple and wishes him the best in retirement. May he now have more time with his fishing business and the opportunity to improve his golf game that has frustrated him so much over the last few years.
Recent Headlines
---