Joseph Marcus Magone
|
October 19, 2022 12:00 AM
Joseph Marcus Magone was born June 14, 1923 in Bellingham, Washington, the 8th of 11 children of Hugh Paul and Margaret Perkins Magone. Shortly after his birth and after traveling to several area mining camps, the Magone family settled on an old homestead on Trout Creek near Superior. The family spent Joe's 6th birthday camped out on the east end of the property with Joe complaining "No cake, no pie, no nothing. A heck of a birthday!" – his first memory of the place that would become his home for the rest of his life.
The depression years were happy ones for the Magone family – they raised vegetables at the place and hunted and fished, living in town during the school year in one shack or another so the kids could attend school and then happily returning to the ranch for the summers. Then World War II hit and Joe and two of his brothers enlisted; his mother had three blue stars proudly displayed in her window for the duration of the war until all of her boys came home safely.
After serving in the US Army Air Corp for three years overseas in England and on the Continent, Joe returned to his home on Trout Creek where he worked construction with his father and brothers until the Diamond Match Company started to build a mill near the family property. Joe was hired on as a union carpenter during the building phase and then later was employed permanently as a millwright's carpenter; he continued in that position until his retirement in 1986. Early on in his employment he was the main drive for unionizing the plant, bringing in the IWA (later AFL-CIO), and served as the union representative and financial secretary during all of his years at the mill.
Joe married Edris Alesa Huckaba on July 30, 1950 in Missoula, MT where they lived for a short time. Theirs was a whirlwind relationship and a matchmade deal; they met each other in May and married three months later. Their first daughter, Diane was born at the old Community hospital in 1951. Shortly after her birth they moved back to the ranch near Superior and then built their home on a corner of the property where Joe lived until his death. Four more children were born to Joe and Edris: Karen (1954) Dale (1955), Margaret(1957, and Mark (1960) who were all born at the old hospital in Superior, delivered by Dr. Doyle. After retirement Joe and Edris spent several years traveling to attend his 808 Chemical Company reunions, see the wonders of our country, and visit friends and relatives. Edris died on May 8, 2001, just a few months after they celebrated their 50th Anniversary at the family home.
In addition to working hard all of his life and a being committed father and husband, Joe received many honors throughout his life. In 1974 he was elected to the Montana State House of Representatives and he served two terms in Helena. He was a dedicated Mason and life member of Mountain Lodge #110, and was just this year admitted to the Montana Masonic Hall of Fame, one of the greatest honors of his life. He was a committed IWA (AFL-CIO) union member, always championing the rights of the working man. An US Army Air Corp veteran, Joe was also a life member of the local VFW. He was a craftsman and a carpenter, as well as a master gardener. He recently said that should he have his life to live over he would not do a thing differently. His was a life well lived.
Joe was preceded in death by his wife of 50 years, Edris and two of his children, Karen Schoonover and Mark Allen Magone; his mother, Margaret Perkins Magone and father Hugh (HP) Magone; several siblings, Daniel, Margaret, Hugh, James Frederick, Laurence, Raymond, James David (Sonny Jim), Marjorie, and Edward; and many other relatives and friends.

He is survived by his brother, Lee (Grace) of Superior, his children Diane and Dale (Becky) of Superior and Margaret (Ted) of San Diego; son-in-law Adrian Schoonover; 13 grandchildren; and several great grandchildren, as well as many nieces and nephews.
Joe died peacefully at his home on Trout Creek, leaving this earth to begin his next journey on October 8, 2022. He was a wonderful role model and a great man who loved his family deeply and will live forever in our hearts. Go in peace, Dad.
A celebration of Joe's life will be held on Saturday, November 12, 2022 at 2:00 p.m. at the Methodist Church in Superior with a Masonic service and VFW honor guard immediately following at the Superior Cemetery. A reception will be held back at the church afterwards. Internment will take place at the Magone family plot on Trout Creek.
In lieu of flowers, donations can be made to any of the following local groups: Mineral County MT Rails-to-Trails, Superior Pool-in-the-Park, or Superior Friends of the Library.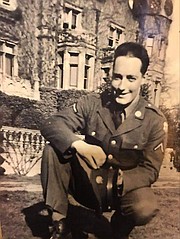 Recent Headlines
---