Thompson Falls secures first win in 11-man
by
CHUCK BANDEL
Valley Press
|
October 26, 2022 12:00 AM
For those who thought it might never happen … thhppppttttt!
Football fans knew it would. It was just a matter of time.
When the final whistle blew, the proof was in the pudding. The football version of Pandora's Box let loose in the mountains and valleys of western Montana?
Actually, Thompson Falls' dominating 42-0 win over Anaconda this past Thursday in 11-player high school football may have been as much a sign of good things to come as it was a joyous and well deserved moment in sports.
Last year about this time, the Blue Hawks were wallowing in a different kind of victory, one on the other end of the win-loss spectrum that was crowned with a State Championship trophy.
The news that Thompson Falls, because of population increases, would be moving up to 11-player football from the 8-player level at which they had conquered the state was out of the bag.
Most folks saw it coming. In many sports circles it was a head scratching way to reward a team, school and town for being the best.
But real fans, those who understand the game and its many branches, thought it would be, at worst, a delay in the coming Blue Wave of football titles.
Reality set in with a thud. It DOES make a difference how many players are on the field at one time.
And yes, the opponent was Anaconda, which was also mired in a year-long pursuit of elusive wins.
Regardless, Thompson Falls was ready, willing and able to win.
They did so in a fashion reminiscent of their 2021 championship season.
They scored first and often Thursday night but no score may have been more evident of good things to come than the play that ended with a lineman hauling in a short, five-yard TD pass in the early moments of the first quarter.
It came AFTER the T Falls defense had swarmed the Copperheads into a failed fourth and two try deep in Anaconda territory, and when the dust settled T Falls held a 6-0 lead and would not trail again.
They had come close the week before to obtaining that elusive first win at the "upper" level of football. It was going to happen, just a matter of time.
Before the first quarter ended senior quarterback Eli Ratliff and company had tacked another TD on the scoreboard and, breathe deeply, Thompson Falls was in control.
The Blue Hawks would go on to build a 35-0 halftime lead as their defense continued to show it was very capable of playing with 11 guys on the field.
A lone third quarter TD sealed the deal and as the last second ticked off the board, T Falls was munching on the sweet taste of victory.
No win-less season. Not for this bunch or this program.
IN OTHER 7B PLAY: Plains saw it's second consecutive no-win season come to an end with an 82-34 loss to the Darby Tigers in Plains last Wednesday.
The loss dropped the young Horsemen to 0-8 on the year and concluded their season much the way it had begun.
But the Plains team is heavily stocked with junior and sophomores for next year and showed signs of improvement throughout the season.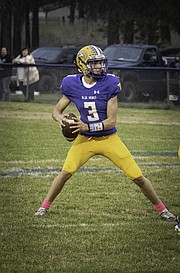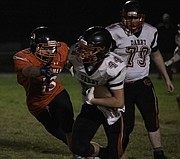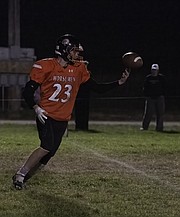 Recent Headlines
---