Two Lady Hawks finish in top-10 at state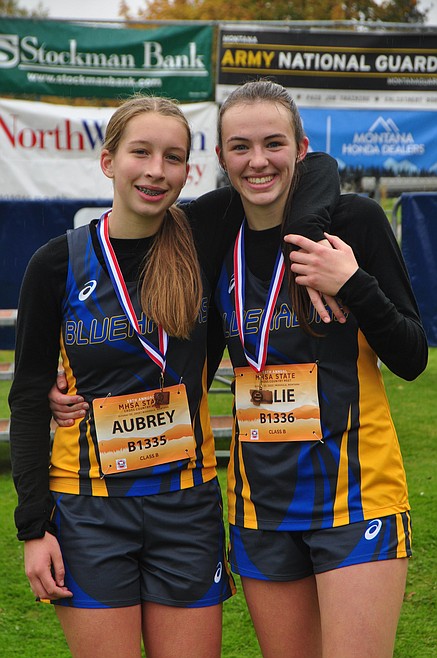 Thompson Falls' Baxter sisters, Aubrey (left) and Ellie (right) display their top-10 finisher medals at the State Class B/C cross country championship race in Missoula. (Photo by coach Sarah Naegeli)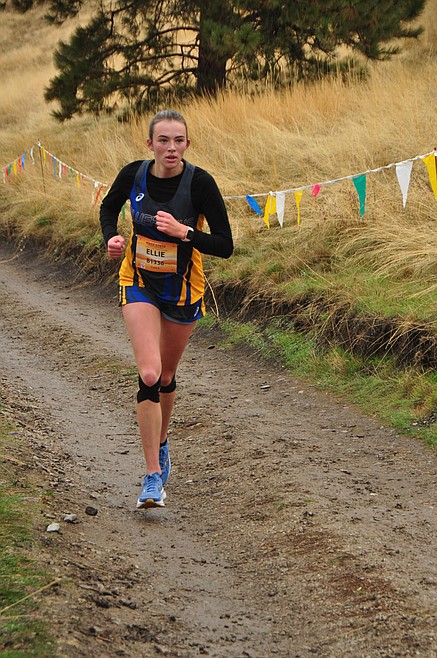 Thompson Falls senior Ellie Baxter runs up one of the hills at the UM Golf Course during Saturday's State Cross Country championships. Baxter finished seventh in the Class B/C race, helping the Lady Hawks to a seventh place team finish. (Photo Sarah Naegeli)
Previous
Next
|
October 26, 2022 12:00 AM
It was a typical Montana Fall day, the kind lots of cross country runners like.
And for the Thompson Falls cross country team, particularly the girls, it was a good day.
The Lady Hawks placed two runners in the top 10 of the B/C State Championship in Missoula Saturday and came home with the seventh place team trophy.
It was a testimony to the hard work and dedication the cross country team has put in all Fall, with many working throughout the Summer before that to train to be among the best.
And no where was that more apparent than in Thompson Falls' Baxter clan after sisters Ellie Baxter (senior) and Aubrey Baxter (eighth grader) both had personal best times over the 5,000 meter course set up on the University of Montana Golf Course.
Ellie covered the distance in a PR time of 20:12, good for seventh individually among the 150 girls entered in the Class B race.
Aubrey was not far behind, finishing ninth with a time of 20:43, also a personal best.
Those times were good enough to earn the siblings a spot on the All-State team.
And as an added bonus, Ellie's time set a new school record.
The girls seventh place finish bested 122 other teams who qualified for the team title.
Among the Thompson Falls boys entered in the event, junior Cael Thilmony, who also ran in the state event last year, covered the course in 18:31, good for 40th among the 182 boys who blasted off the starting line.
The boys team did not have enough qualifiers to compete for the team title.
Other Lady Hawks who competed at the State meet were: Faith Palmer (29th, season best time of 22:09); Mollie Nichols (80, 24:24) and Kylee Huff (94, 25:06, also a personal record).
In addition to Thilmony's high finish, four boys runners recorded personal records over the Missoula course.
"Cael did not have the race he wanted," coach Sarah Naegeli said. "He was not feeling 100% Friday or Saturday but I'm happy he was able to compete and he still managed to pull off a faster time than the last time he ran the course."
Brock Ryan (100, 20:11; JT Taylor (1122, 20:26); Simon Armstrong (125, 20:57); Blake Shusterman (147, 21.33); and Wesley Powers (157, 22:17) all finished the race, with the final four crossing the finish line in personal best time.
Plains also had a race finisher on the boys Class B side, with Kalem Ercanbrack recording a time of 21:14.
Hot Springs, meanwhile, had two boys finishers in the Class C ranks, Elijah Campbell and Wyatt Campbell.
Manhattan Christian won the boys Class C team title, as well as the girls Class C competition.
Columbus was the winner of the girls Class B team title, while St. Ignatius was an easy winner in the Boys Class B event.
"It was a cool, wet, rainy day, which was actually great for racing," coach Naegeli said. "The course was a bit slippery in spots, but well worth the cooler weather. Eillie and Aubrey ran in the front crowd for the entire race. It was certainly fun, nerve wracking and exciting to watch them compete!"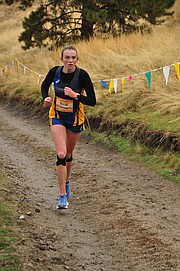 Recent Headlines
---