Plains Council hears concerns about water system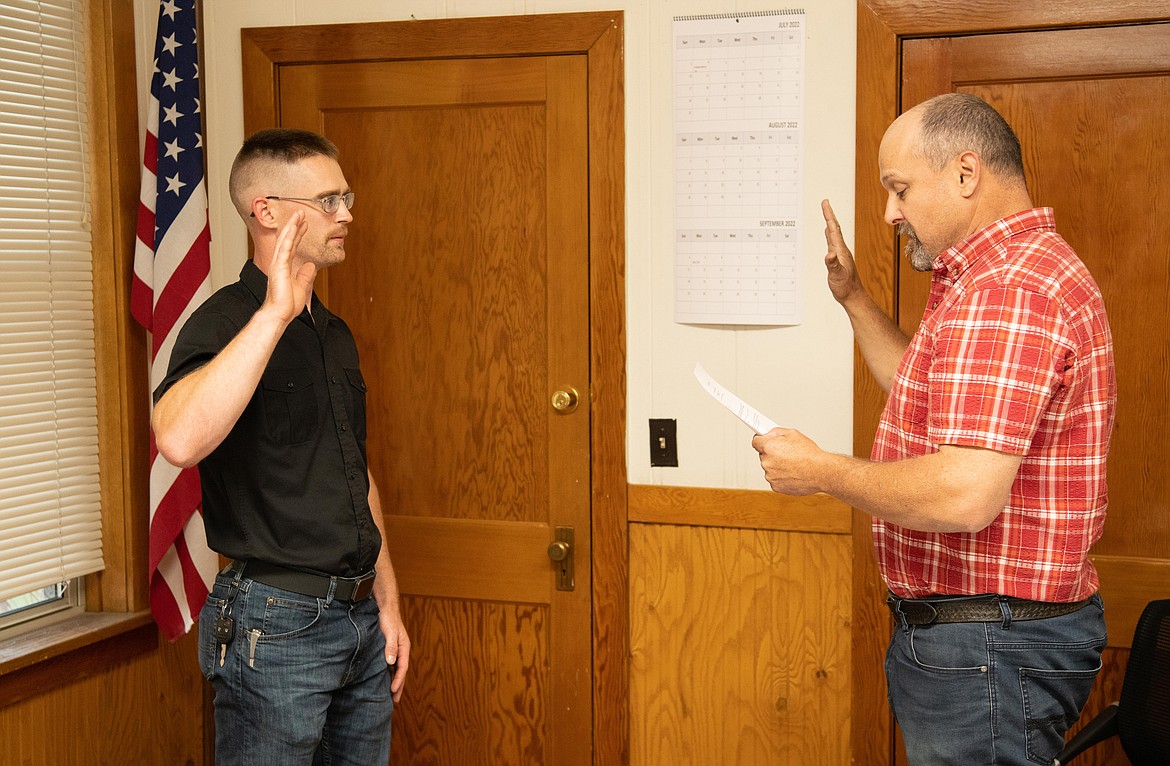 New Plains Councilor Garrett Boon is sworn in by Mayor Dan Rowan. (Tracy Scott/Valley Press)
by
TRACY SCOTT Valley Press
|
September 14, 2022 12:00 AM
Discussion at the recent Plains Town Council meeting raised concerns about the age and capacity of the town's public water system.
Mayor Dan Rowan said that the town water system pumped more than 16 million gallons of water over the past month, the most the town has ever pump in a one-month period.
The Town Council spent much of the evening discussing future growth of Plains and how the water and sewer systems could be updated. Concerns were also raised about the current water well and water storage tank. Questions were raised about the age of the current water tank. It was originally installed in 1965, with a life expectancy of 50 years.
Mayor Rowan said that the tank should be replace as soon as possible. Also discussed was the need of another water well added to the water system to handle future growth within the town.
The council was also able to fill the vacant Ward 2 seat, with Garrett Boon being sworn in by Mayor Rowan. Boon has been a resident in Plains since 2013 and has been a member on the Plains Town Planning Board.
Rowan gave an update on the construction of the new sewer ponds, and repairs to the back of the city office building. He also spoke about the old sewer pond property, to be considered as surplus property with the possibility of placing it for sale. It is approximately 20 acres. If the council approves the sale, it could go out for bid or a licensed realtor could handle the sale.
Plains Police Chief Brian Josephson reported that he has started training several new reserve police officers.
The setback ordinance amendment was approved by the council and will take effect in 30 days.
The following resolutions were passed:
The capital improvement work plan and the final budget for fiscal year 22-23. The Clark Fork Commercial Plaza subdivision was approved. It is a future development west of Baldy Mountain Tire.
Recent Headlines
---