Trotters searching for first conference win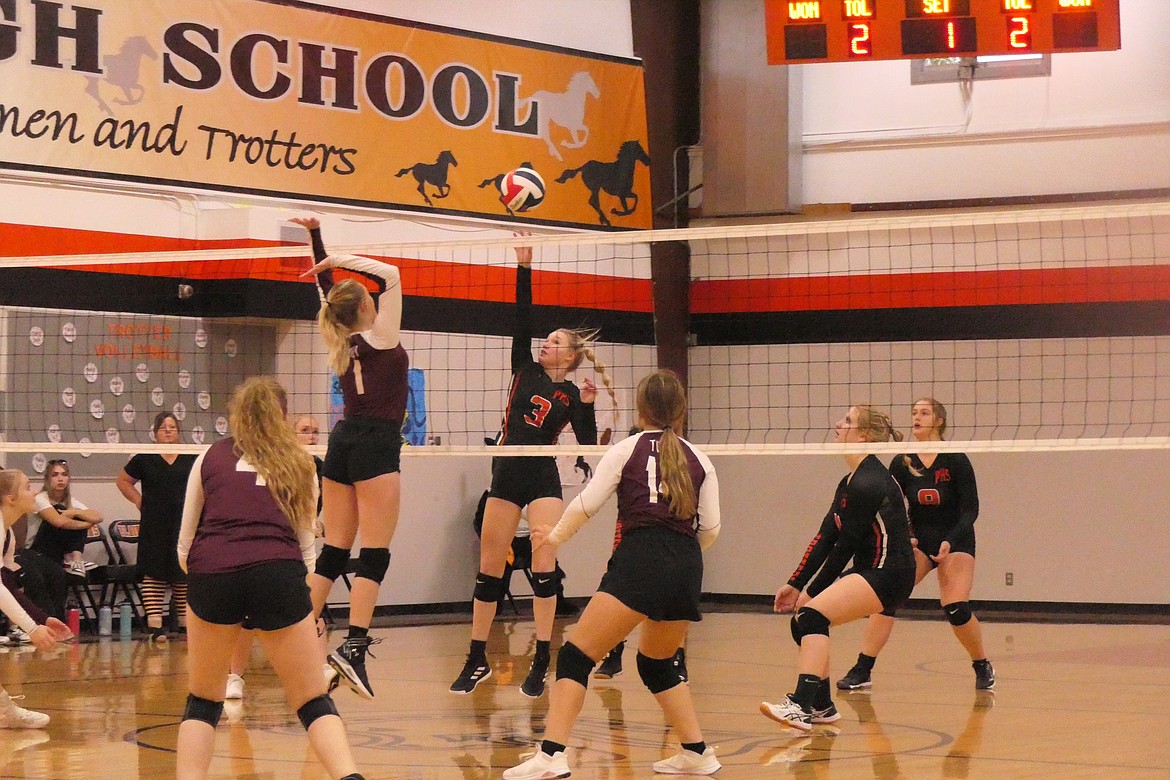 Plains' Piper Bergstrom tries to tip the ball past the out-stretched hands of Troy defenders during the match Thursday in Plains. (Chuck Bandel/Vp-MI)
by
CHUCK BANDEL
Valley Press
|
September 28, 2022 12:00 AM
After being soundly defeated earlier in the week by Florence-Carlton, the Plains Trotters volleyball team was hoping for some good vibes and Homecoming cooking.
It was not to be for the Trotters, who after being routed by F-C, lost a tight match to Troy, 3-1 this past Thursday night at home.
The Lady Trojans came into the game looking for their first conference win of the season, as were the Trotters, both of whom were 0-4.
The first two games of the match indicated it would be a hard-fought, close game, with Troy taking the opening set 25-20, then watching as Plains roared back to win set number two 25-16.
Both teams were involved in long, if not awkward volleys in the two opening sets that ended in a 1-1 match tie.
That set up set number three as the pivotal game of the match.
And both teams gave their fans plenty to cheer about in a set that ended in the volleyball equivalent of overtime, with Troy squeaking out a 26-24 victory when the dust had settled. That put the Lady Trojans in front 2-1.
The visitors from the north would secure the match win in set number four when they outscored the Trotters 25-18 for a 3-1 match victory.
The win moved Troy to 1-4 on the year, while Plains dropped to 0-5 in Western conference play.
Earlier in the week they ran into a buzz saw during their road trip to Florence-Carlton where they fell behind in a big way during the first set. FC wound up taking set number one 25-4. The Trotters would gather it all together in the next set, but still fell 25-17 against the taller Lady Falcons, who upped their record to 5-2 overall with the win.
Florence-Carlton wrapped up the victory with a convincing 25-5 third set win to complete the sweep. The Trotters return to action this Friday with a home match against the Lady Lions of Eureka.
Recent Headlines
---