Parents, students attend cyber-crime seminar
by
TRACY SCOTT Valley Press
|
April 26, 2023 12:00 AM
Cyber crimes against children are on the rise in the U.S. as more children are connecting to the internet through social media. The latest statistics show that the average age a child receives smartphones is between 12 and 13.
Last Wednesday evening at Thompson Falls High School, parents and students had the opportunity to meet with two agencies who are on the front line, fighting for the safety of children in Sanders County. Thompson Falls Police Chief Chris Nichols led the event with agent Brian Cassidy, Task Force Commander from the Montana Department of Justice, Division of Criminal Investigation, Montana Internet Crimes Against Children.
Nichols gave the opening comments about the types of internet crimes that he is seeing in and around Thompson Falls. Nichols spoke about cases of internet blackmail taking place locally. This usually involves inappropriate photos that have been shared through texting, emails and social media. He stressed the importance of parents educating their children of the dangers of cellphone usage and checking on a regular basis the contents of the phone.
Cassidy started his presentation with the types of cyber crimes that are being reported nationally.
Online bullying can come from across town or across the world. It could originate from local friends or from social media worldwide. Nationally over 5 million kids are being cyberbullied per year, through different means, he said. Some of the top years for bullying include fourth through eighth grades, in which 90% of the youth report some kind of bullying.
Statistics report that 50% of teens have been a victim of cyber bullying, with only one out of 10 reporting the crime. One in six teens have had an embarrassing photo taken without their consent. One in three teenagers have already posted nude or sexually suggestive photos and sent them to others. Once those photos are posted they may remain on the internet for ever.
Sextortion has become another major cybercrime. It is the threat to expose sexual images in order to make a person do something. These threats come from both strangers met online and once intimate romantic partners attempting to harass, embarrass and control their victims.
Many of the sextortion crimes originate overseas, with Vietnam being a major player in the trade. Individuals in the trade can make between twenty and thirty dollars per victim, by selling the names to websites that cater to pedophiles. Those individuals disguise themselves through fake profiles.
Parents also should check their child's cellphone for the apps their have installed by going to www.appdanger.org. Parents can also monitor their child's phone usage with the Bark Parental Control App. www.bark.us. This app will report to the parent and www.cybertipline.org, which reports the cybercrime to the appropriate authority location.
Cassidy continued his presentation on the tools that are available to combat cyber crimes against our youth. The computer and internet crime unit in Montana has agents stationed around the state and can easily break into cell phones and track activities and locations of suspected crimes. He has solved cases based on information obtained from phones, Apple watches and other electronic devices. Cassidy spoke on how easy it is for criminals to track victims through devices.
He said that the Apple iPhone is the most secure phone on the market but still has vulnerabilities. Another technology that pedophiles are exploiting is using the Apple tags to track down victims, by attaching the tags to victim vehicles.
Victims of cyber crimes have several means to report crimes to both national and state agencies. The National Center for Missing and Exploited Children is at www.missingkids.org. This organization shares its tips with Montana, after first locating the area where the crime took place and then contacts the appropriate state jurisdiction. Montana agencies received 1,500 tips that resulted in 60 arrests in the last year that statistics were compiled.
Cassidy said that currently Meta (Facebook) has given Montana 94% of their cyber-crime tips that they have received. That reporting may be ending because of privacy legislation currently being proposed nationally.

Help can also be found locally in Sanders County through Sanders County Coalition for Families and can be found at www.sccff.org or calling their hotline 406-827-3745.
Parent Steven Davis said, "I hope the school will sponsor this event each year. It was very informative."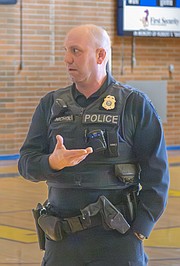 Recent Headlines
---