Business offers unique precision cutting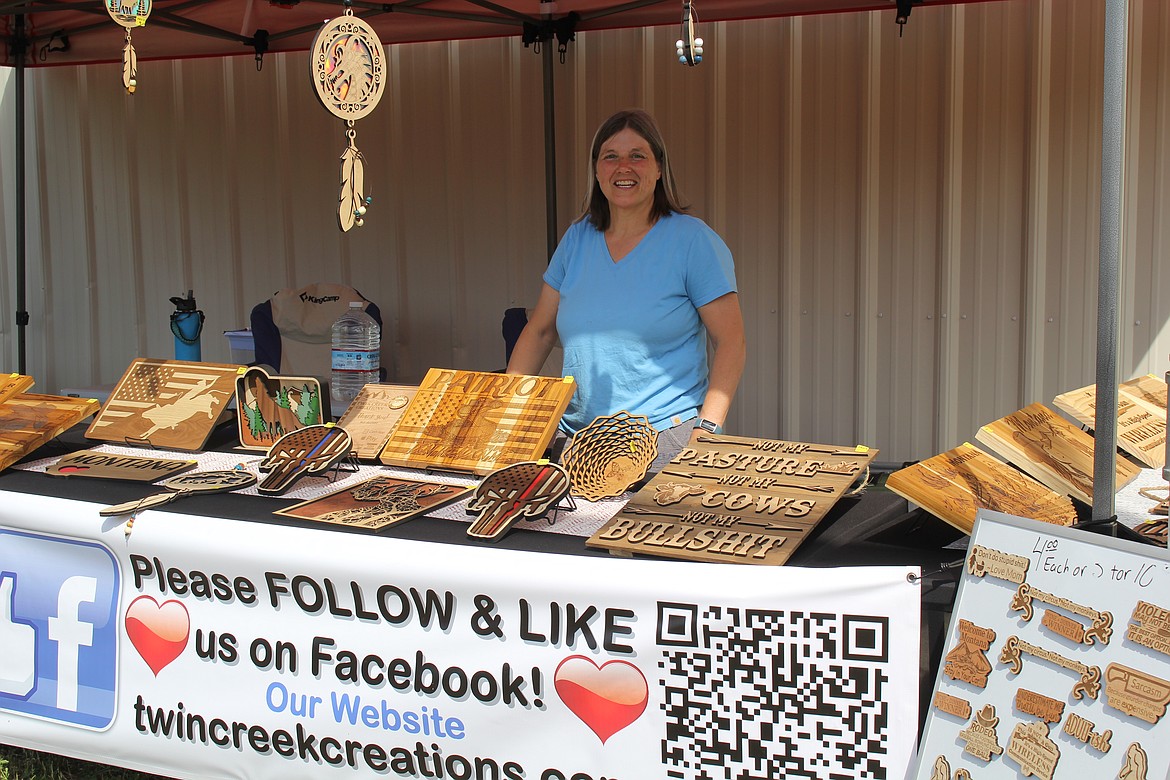 Janet Hughes staffs the Second Creek Creations booth recently and will be at the Superior Farmers Market on Saturday mornings. The business was started by Janet and her husband, Charles, who add a unique flare to laser engraved woods, glass and slate. They have resided in DeBorgia for about 10 years and this business was to be for their retirement, but they started early. (Monte Turner/Mineral Independent)
by
MONTE TURNER
Mineral Independent
|
August 30, 2023 12:00 AM
Since opening in June, Twin Creek Creations has made a big splash from Superior going west, but now they are going to be moving in all directions after testing the water.
Janet Hughes and her husband, Charles, have lived in DeBorgia for almost 10 years. They own an internet service company in Spokane, but they are planning to become Montana residents as soon as they can.
"We've been wanting to do something local here, in our community. And hence Twin Creek Creations was formed," she explained. "Our first public showing was right over there for the annual Yard Sale," as she points to the Old DeBorgia School House.
Twin Creek Creations has a laser engraver that does precision cutting into slate, glass and every kind of wood imaginable. Teak, pine, bamboo, maple, red oak, African mahogany, and other blanks comes from an online company if it cannot be found locally.
"Our biggest sellers are our teak boards and we laser engrave different images on them. Because they are teak, they can be displayed outside. We make many house signs with requested patterns. 98% of all the designs are custom made by us. Actually, they are my husband's designs," Hughes explains.
Company logos are no problem to recreate and even a signature can be replicated for laser cutting. Turnaround for custom orders is fast as most are ready in seven to 10 business days.
One of the unique products they make are their layered woods glued together which adds different values and depth.
"The laser cuts out each different layer with some being painted but most of the time we leave the natural wood. Finished walnut makes a beautiful layer for the outside."
On display are seven-layer bison and grizzly bears that drew attention to their vendor booth during the West End Volunteer Fire Department BBQ.
19 inches is as big as they can cut today, but plans are moving to purchase a larger laser that will also cut metal.
Montana themed coasters and coaster holders, bowls that have no way of holding water, but are a piece of art for table displays. Patriotic and religious work covers the backdrop with cutting boards that are too beautiful to use are exhibited on the tables.
Laser engraving into wood or other products isn't new. Gift shops have many products and the Hughe's know this. What makes their products unique are the creative designs they make and the layering process. Painted, stained, rough cut, plainsawn, quartersawn, riftsawn, livesawn, reclaimed; they know their lumber.
Hughes said that their products are on display at the Farmers Markets in Frenchtown and Saturday mornings in Superior.
"The Hideout (Bar & Restaurant) just started a pop-up market every other Thursday that we participate in. There were 4 of us vendors at the first one as it's growing, but there was fresh produce, honey, breads, flowers. It was great!"
Being involved socially and economically in the west-end community is important to the Hughes.
"We have great employees in Spokane so we can run the internet business from here. What we have with Twin Creek Creations is something we were looking at doing after we move entirely out of Washington, but started sooner than planned," Hughes laughs.
Recent Headlines
---