Jolene Marie Jackson Jacobson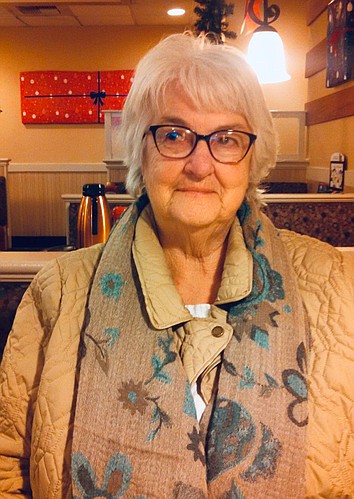 Jolene Marie Jackson Jacobson
|
August 30, 2023 12:00 AM
Jolene Marie Jackson Jacobson — mom — passed away on Aug. 27, 2023, at Crescent Health Care in Yakima, Washington.

Mom was born March 17, 1942, in a mid-wife's room in Polson, to Walter and Effie Jackson. She was the second of seven children — raised in a small three-bedroom home in Niarada. She attended Battle Butte school – with a handful of local cousins and friends – regularly getting in trouble with their 18-year old teacher when cousin Judy would talk them in to skipping school for brandings, wearing lipstick or smoking tall grass behind the outhouse. Jolene stayed with her Grandma in Kalispell during her high school years and attended Flathead High.

Jolene married her lifetime love, Ronald Jacobson, in 1959, and they made a family and life together on a ranch near Hot Springs. They had four children – who worked alongside them baling hay, changing pipe and feeding livestock. Jolene was a cattle woman, a Sunday School teacher, 4-H leader, ambulance attendant, school bus driver and flower-shop owner. She used her designing talents to make gorgeous bouquets, corsages and wedding decorations through the years.

In the late 1980s, Jolene started working for the Montana Soil Conservation Service – and then began proudly working for her Tribe, where she was an enrolled Tribal member of the Confederated Salish and Kootenai Tribes, in the Division of Lands. She transferred jobs to Shoreline Protection and then finished her career at the Tribe as the Disaster Emergency Coordinator for CSKT. She loved this job – arranging trainings for local first-responders and coordinating response efforts during fire season. Jolene retired with enough time to spend overlooking their beautiful garden and Flathead Lake at their home in Big Arm, before dad passed away in 2011.
Jolene moved with Debbie and Bevra to Yakima, Washington in 2013 and spent her time taking care of their much-loved corgis, Simon and Reilly – and watering and pruning flowers and shrubs.

Jolene lost her son, Edd, in 1992 in a plane crash. Jolene lost her husband, Ronald, in 2011; her mom, Effie, in 1990; her dad, Walter, in 2004; her brother, Daniel Jackson, in 2021; brothers Jimmy and Dickie Jackson when they were way too young; and sister-in law, Evelyn Jacobson Ansley, a few months ago in 2023.
Jolene is survived by her son, Marvin and Laurie Jacobson; daughter Debbie Croft and Robert Baker; daughter Bevra Jacobson and David McAleer; siblings Doug Jackson; Jeanne and John Bras; Nancy and Don Gaynor; sisters-in-law Cheryl Jackson and Rosalie Jacobson Graham; and brother-in-law Frank Ansley. And she is survived by her grandchildren: Gibb and Jane Kerr; Hank and Marianne Kerr (children Case, Ryder and Ariat); Katie Croft; Kimberly and Mark Bilbrey (daughter Bridget), and many, many beloved extended family members and relatives.

She was a go-getter, a coordinator, and a very generous soul – she took care of many, many people. And, she would want the flowers. But - if you're so minded instead, please make a donation to Crescent Healthcare or Hospice of Yakima in Jolene's name. They were both much appreciated for their loving care of mom, and have our many thanks.
A memorial service will be held on Sunday, Sept. 3, 2023 at 4:30 p.m. graveside in the Murray Memorial Cemetery in Lonepine, Montana. A dinner will follow at the Lonepine Hall.
Recent Headlines
---