On the rise: Local woman delivers fresh baked breads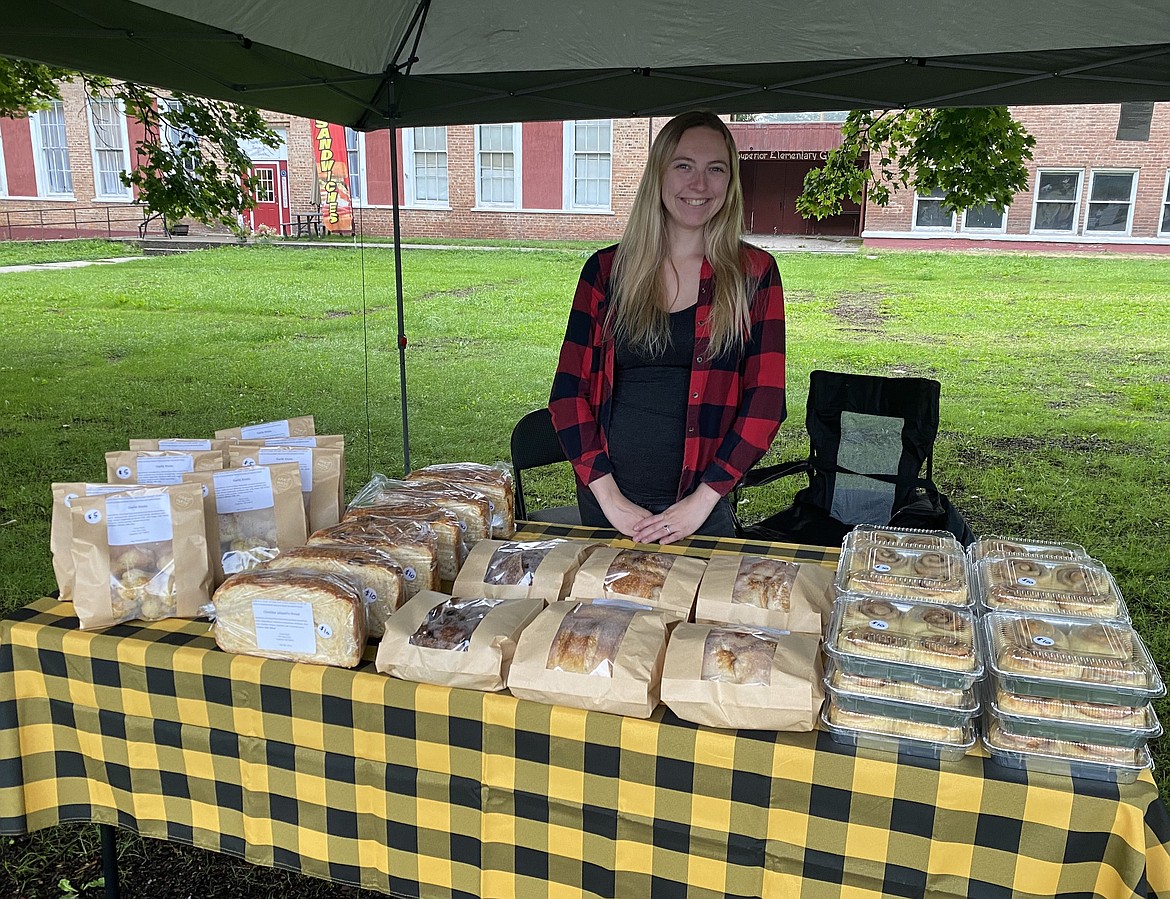 Tessa Clark, stands with a table full of her freshly baked breads, buns, and rolls, during the Superior Farmer's Market last Saturday. Now as the market days wind down, Clark will continue baking her delectable treats but through an order and delivery/pickup service. (Photo courtesy/Tessa Clark)
by
AMY QUINLIVAN
Mineral Independent
|
August 30, 2023 12:00 AM
These days, it seems everything can be made to order and deliverable to your front door. Well now in Superior and St. Regis, that can also include homemade baked goods.
Tessa's Beloved Bread is an up-and-coming small business in Mineral County offering an assortment of tasty straight-from-the-oven breads, rolls, buns and treats.
A self-taught baker and stay-at-home mom, Tessa Clark, is about as new to baking as a fresh batch of yeast.
"I started only about nine months ago," Clark acknowledged. "Times were tough for a while so I started homemaking everything. I found that it is cheaper and tastes way better than store bought foods. I shared some of my breads with family and they raved about how delicious it was. That encouraged me to share my breads with the community because nothing brings people together like food."
Clark began selling her baked goods at the Superior Farmers Market during the summer months and all of her selections were a huge hit. As market days are coming to a close, Clark realized she wanted to find a way to continue baking for her community, simply because she loved it so much.
She shared, "I have found baking to be a huge passion of mine because I really enjoy the smell of fresh bread through the house and seeing the final loaves as they come out of the oven. I love to watch the ingredients turn into something so delicious. The positive feedback on my breads, has really encouraged me to push myself and further delve into this new found passion of mine."
Currently Tessa's Beloved Bread menu includes cheddar jalapeño bread, sourdough bread, cinnamon rolls, garlic knots, pretzel buns, white bread, rustic Italian bread, garlic rosemary Italian bread, dinner rolls, and brioche sesame buns.
She noted, "If there is enough interest in any other baked goods, I would be more than happy to add it to my menu."
Whether it's a homemaker wanting to add some fresh rolls to dinner, or someone planning a get together, her ideal customers would be just about anyone.
Clark remarked, "My breads make tasty treats, great party options or even go really well with most meals. Breakfast, lunch or dinner, these items make for a tasty addition. A bonus to my breads would be that they are fresh and do not have a long list of ingredients that you can't pronounce."
The best way to place an order is to message her business page on Facebook, Tessa's Beloved Bread, or email her at tessasbelovedbread@gmail.com.
She said, "I am still in my trial phase of delivery/pickups. I want to find the best way to serve the community and that is still convenient for my business."
Clark has had a number of orders so far and hopes to see more in the future.
She stated, "My goal is to serve as many members of the community as possible. I am a stay-at-home mom so my baking days would really depend on how many orders I receive for the week. Her only struggles these days as she irons out the kinks and gently ties her garlic knots, is keeping her 1-year-old sous chef busy.
Clark laughed, "The only challenge I face right now is my son wanting all my attention while I am baking."
Recent Headlines
---