Start-up gymnastics program opens in Old Superior Schoolhouse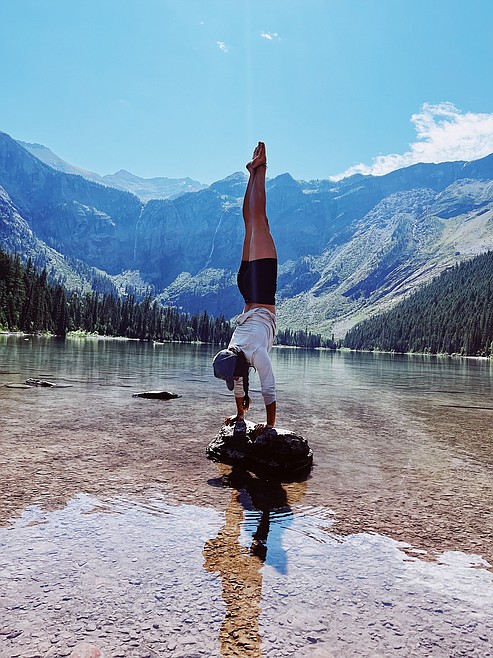 At the edge of Avalanche Lake in Glacier National Park, Renn Young pulls off a handstand while perched on a rock near shore. (Photo courtesy/Renn Young)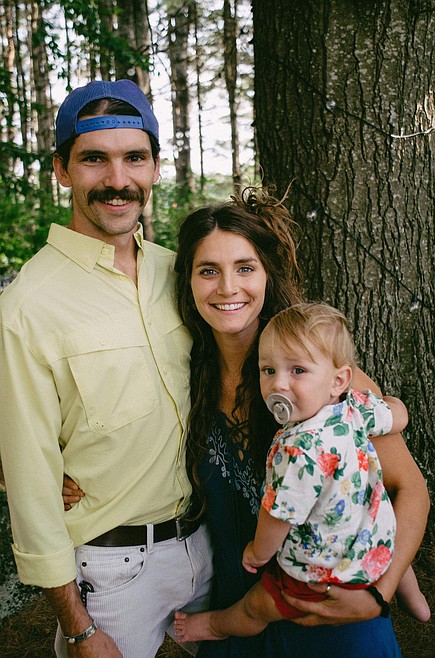 Ian and Renn Young, with their son Ira, are the founders of Great Burn Gymnastics in Superior. As a couple they will be providing professional coaching and Acro training in the old Superior Schoolhouse for ages four to 14. (Photo courtesy/Renn Young)
Previous
Next
An exciting new children's recreational opportunity is coming to Superior starting this fall. Great Burn Gymnastics, which will be held in the Old Superior Schoolhouse on River Street, is a startup gymnastics and acro program focused on creative movement and professional instruction.
Classes will start the second week of September and registration is currently open for children ages 4 to 14.
Led by Ian and Renn Young of Quartz, the owners and founders Great Burn Gymnastics have over 18 years of professional gymnastics and Acro training between them. They truly feel that gymnastics is one of the greatest sports the world has to offer. Renn would know, she's been doing the sport for most of her life.
"Gymnastics has been in my veins since I was little - life without it doesn't seem complete. Teaching is a passion of mine, facilitating creativity, growth of character and physical activity through movement is a passion of mine, and family is a passion of mine," Renn shared.
Her parents enrolled her in her first gymnastics class when she was just 3 years old.
"I took to the sport immediately and it has been an integral part of my life ever since," she said. "I was named Level 5 All-Around State Champion for all of New England at age 7 and excelled through the USA Gymnastics competitive program until eventually reaching Level 10 standing before my retirement."
She had the great privilege of learning as an athlete and as a coach under some of the best gymnasts from all over the world. Renn began coaching through her home gym's coaches-in-training program at age 12.
She remarked, "I have since been coaching for the last 18 years, in four different competitive gyms across the country and for many different age groups and levels both recreationally and competitively."
Her last involvement with the sport before starting up GBG with her husband was serving as the girls all-around and acro program director for Roots Gymnastics and Dance in Missoula for seven years.
Following a break and starting a family, Renn searched for ways to return to the sport she had always known.
"I knew I had to get back into it at some point after having our son, Ira, and starting this rec program seemed like the best way for me to engage in all facets of the passions I missed and love," she conveyed.
Another thing that spurred the creation of Great Burn Gymnastics was Renn's interactions with area students.
"I was also working as a para at the Superior Elementary School and while attending recesses would observe students turning cartwheels, or holding bridges out in the fields," she explained. "They'd excitedly show off their skillset and constantly inquire with me for tips on how to improve."
"I saw the need for a gymnastics program then, and the bug to get working on GBG for our community was set into motion at that point, I think and we were just waiting on a space that could house our dreams for getting started," Renn stated.
Having her husband Ian along with her on this journey will be blessing.
"He is amazing, and so much better with the customer service side of things than I am," she said. "It's a big undertaking, while I still run and manage my floral business and am 'mom' to Ira, so having him fielding that side of things for us with the gym is huge!"
Ian will also be assistant coaching on occasion as he learns more of the skills and spotting techniques.
For now, GBG will be catering to students age 4-14 for recreational levels 1-3, as well as one class for creative acro movement. These classes are being offered on Tuesdays and Thursdays, running between 4-7:30 p.m. They're offering one-month sessions, four classes per session.
Renn noted, "We hope to one day have a space that allows us to offer multiple day class sessions for students of all ages."
Currently, fees are $20 per class or $80 for a full month registration.
"Respective to each level being offered, students will be learning basic gymnastics terminology, shapes, skills, strength and conditioning," Renn said. "Gymnastics is such a cool sport because it teaches so much — patience, strength, balance, confidence, mastery, goal-setting, etc. We hope to have these things as well, be something our students take away from their time with us at GBG."
Outside of school sanctioned sports teams, there aren't many after school opportunities for kids in this area.
Renn mentioned, "The closest gymnastics-oriented option is an hour away in Missoula which isn't super convenient especially as winter sets."
"I think it will be great to have GBG open as an option for our local kids to get involved with and enjoy. It'll keep them physically active and intentional about goal setting — something to get them out of the house and expending energy which helps parents out, too!"
She added, "We want our students to look forward to coming to our classes every week, and we want to create a space that feels safe, engaging and familial."
Ian and Renn are hopeful for the program's success, though they understand that nothing is guaranteed when just starting out.
She said, "I think our greatest challenge will eventually be securing a space long-term to which we can offer our classes out of on a more regular basis throughout the week. A warehouse space would be ideal for this type of thing, but we are super grateful for the gymnasium at the Old School that we currently have secured and will gladly utilize it as we are able. We are hoping that we can spark enough interest in the community to fill our current class offerings."
Just like the resiliency after the Great Burn of 1910, from which their program is named after, Renn strongly believes in the shaping and molding that gymnastics can give.
She expressed, "I love that lessons learned on gymnastics apparatus can easily be transposed into overcoming lessons of life — getting up, standing taller, focusing on a goal, working at something through disappointment until you master it and determining to hold enough self-discipline to reach whatever goal it is that's been set."
As classes begin in the coming weeks and families sign up their kids, Renn noted that parents are welcome to stay for the sessions or leave and return.
She said, "Often times, I find students are more willing and likely to engage in class curriculum without the parent readily available — but parents are always welcome to stay and watch!"
To enroll students, programs and classes can be found on www.greatburngym.com.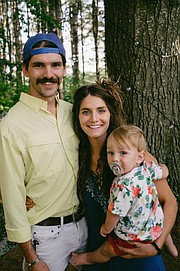 Recent Headlines
---