Scrubs & Bubbles: St. Regis health workers launch cosmetic brand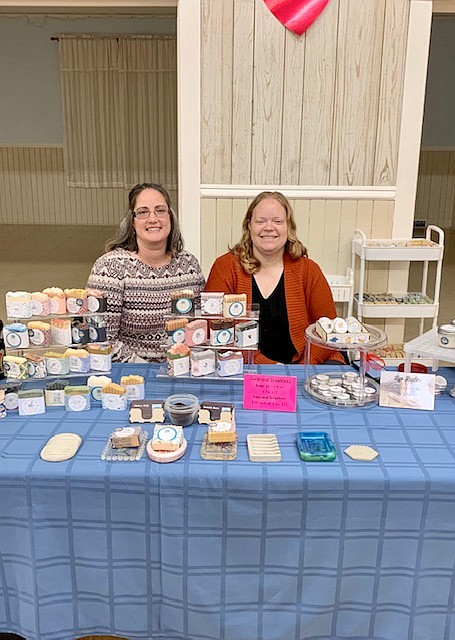 From left, Melissa Wolf and Jeannette Baars sold their soaps at the Orchard Homes Winter Market in Missoula this past weekend, their homemade soap bars and scrubbers can be found at local craft fairs and the gift shop at Superior Meats. (Photo courtesy Melissa Wolf)
by
AMY QUINLIVAN
Mineral Independent
|
February 22, 2023 12:00 AM
With names like Clark Fork Fog, Crazy Peak Swirl, Oregon Peak Orange, Sweetly Verde Creek, Tamarack lemon Turmeric, Cold creek Bastille, Saltese Sandalwood, Bald Hill Blackberry Sage, Johnson Creek Sage, and Quartz Creek pink salt; right away if you're a Mineral County resident your interest is piqued. Not just because of these namesake local landmarks but also for what these luscious sounding combinations are?
These aromatic blends of native plants from area waypoints are the crafting's of Melissa Wolf and Jeannette Baars. Both gals work in the medical field together at the Jack Lincoln Memorial Clinic in St. Regis, but when they aren't donning rubber gloves and charting patient records, they are creating beautiful soaps and natural cosmetics in their new hobby turned business.
"The clinic can be stressful, and having this as a back-up "job" has given an outlet to something that kind be sort of "mindless". Everyone needs auto pilot every once in a while, just not when driving," joked Wolf.
MJ Scrubs & Bubbles came to life after the first Christmas that Baars and Wolf worked together at the local clinic. Wolf gifted Baars a scrubber with soap and this sparked the notion about using bar soaps rather than buying liquid soaps that needed plastic containers.
"For quite a while I have been thinking a lot about reducing the amount of plastic we use in our household. I had been playing around with the idea of making my own soaps so we have less plastic coming into our home. Melissa had been making cotton and tule Scrubbers with soaps inside and we decided to team up and our business was born," Baars recalled.
Wolf shared, ""The best part of working with Jeannette and making the scrubbers and soaps is the extra time we get to spend together and just chat and give each other advice. We are both newish to the area so we don't have many local friends."
Wolf had been wanting to start a business with her scrubbers she manufactured and had bought soaps to go with them. With Baars already planning to make her own soaps, she offered to produce them for Wolfs scrubbers. They combined their talents and attended their first craft fair and it was a bubbling success. Now they offer numerous varieties of soaps bars, lotion bars, lip balms, and body scrubbers.
Baars explained, "At first, I followed recipes from a book because if you don't do it correctly, you can burn your skin. The fragrances have to be at a certain strength, even if they are just an essential oil, to be safe. There was a lot to learn and I wasted a lot of stuff. Now I have my own recipes that I use." She added, "My family, coworkers, and friends have been my testers, which they love, they will likely never need to buy soap again! No animal testing, just friends, family, and coworker testing" Baars teased, "They have all lived through it!"
They make many different soaps, Baars said, "Any milk makes the soap creamy and softer for the skin. We do oat milk soaps, coconut milk soaps, buttermilk soaps, and several goat milks soaps." Some soaps are 100 percent vegan, made with coconut or oat milk. Other are created with goat milk, some with lard or tallow, locally sourced from Superior Meats. And others with vegetable oils like olive oil, coconut oil, rice bran oil, and avocado oil.
Baars noted, "We also use shea butter, cocoa butter, and castor oil in many of the soaps. I like to use tea instead of the water for added benefits. I love using chamomile and calendula tea as well as oils that are infused with these because they are so beneficial for sensitive skin. I have also used carrot juice/puree, aloe vera, spinach powder and beet powder, cucumber and watermelon puree."

Wolf said it's hard to choose just one of her favorite soap blends, "I like the fruity smells, Angel Hill Apple and Oregon Peak Peach are smelling really nice these days. Not only do they smell good, but they look amazing too!"
When possible, they prefer to use local sources like honey from Benson's Homestead in Superior. Baars mentioned, "Melissa and her family like growing herbs and so we will likely use more from her garden this coming year. We are looking for a local source for goat milk currently. It is our hope that we can get as many of our products locally as we can so we can support other local businesses."
They use five base recipes for their soaps, using several essential oil blends and fragrance oils. Baars said, "There is only so many essential oils available, at a reasonable price, so we do use some fragrance oils that are either natural or are phthalate and paraben free." So far, they have concocted 37 different variations using the base soap recipes, essential oils, and fragrance oils. She confessed, "I am kind of crazy with my soap making so this number will likely grow! I am already running out of space for more, but that's okay, who needs a bed, or dishes right?"
The colorfully swirled soap bars not only look pretty and smell great, they also have distinct names that local residents should recognize. Baars sister mentioned that they should produce a soap with a scent similar to the London Fog drink. She remarked, "I thought that would be a great scent but I didn't want to name it exactly as the drink. We have had lots of foggy days and on a drive out to Missoula with the fog hanging over the river, the idea was born." Their Clark Fork Fog soap bar is scented with bergamot and lavender and made with Earl Grey tea.
This creative process prompted them to name more of their soaps after places in Montana.
Baars expressed, "I have always loved Montana and after living in Michigan, I missed the mountains and jumped at the opportunity to live and work in Saint Regis."
Apart from her and Wolf's soap making, Baars delights in various forms of arts and crafts. She shared, "I am a very artsy person; my whole family is. I paint, draw, and also do some resin projects. I also have started working on other products such as lotion bars, lip balm, and body butter. My youngest daughter makes stickers that she sells online, my boys love doing tumbled rocks and we plan on making a line of kids soap with a tumbled rock/gem inside, my son's idea."
Baars is a mother of five, with her three youngest still at home. She stated, "We hope to have a steady side income from them but we have family and we don't want it to interfere too much with family time. Though family is often involved in the process. Baars added, "My youngest son loves to help label things. My kids have helped "paint" the insides of molds with mica before pouring and my daughter always has good feedback about the soaps. Melissa's kids are always up for helping with the labeling process as well."
With both families having children who like to be involved Baars noted, "While we make every effort to bring you the best products, you might see a crooked label or a wrapper that isn't perfect, you can be sure our products are made with love."
Currently MJ Scrubs & Bubbles has a few of their soaps for sale at the gift shop in Superior Meats. Baars said, "We will have our soap that we named after the garnet ghost town in the gift shop there." Other than that, the crafty duo sells their soaps and scrubbers at area craft shows in Superior, Saint Regis, Missoula, and Lolo. This year they will be at the Saint Regis flea market for the first time in May. To purchase their products online, you can visit their website at https://mj-scrubsnbubbles.square.site.
Recent Headlines
---