Alberton students thrive in STEM learning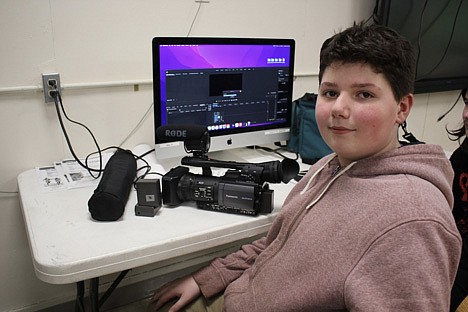 Working on a Bear Aware documentary with the ROXY Theater in Missoula, 7th grade student Mike Powell uploads a file. The International Wildlife Film Festival in the ROXY has been a key partner with Alberton School on wildlife film projects. (Photo provided)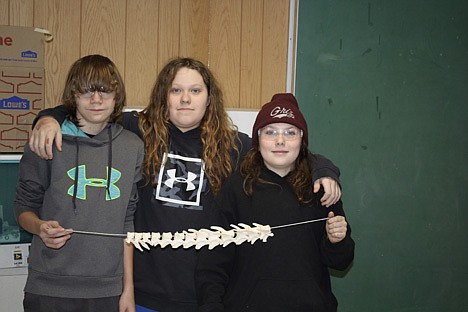 Devin Hill, Dylan Woerz and Cody Armstrong are a part of STEM restructuring a mountain lion then with epoxy, attaching them into their full skeleton. The finished project will be given to the Montana Natural History Museum in Missoula that will be positioned next to a mountain lion mount showing the bone structure in the same position. (Photo provided)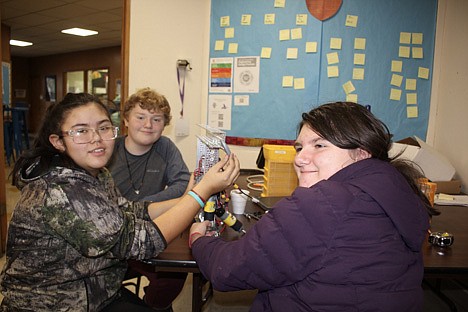 Making the robot smaller in size for easier maneuverability and programming is what 7th grade students Michayla Hansen, Evan Fehlings and Mekynzie Dittmer are designing. A streamlined version of their first model should score higher in the state competition in Butte next month. (Photo provided)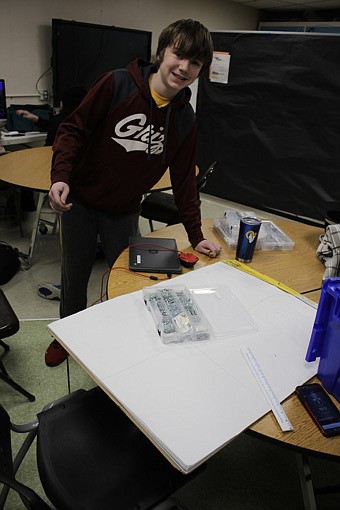 7th grade student Caiden Delaney sketches out each individual part needed in a story-board format of what will be required for the 'robot' he is creating. It's one of the first steps of the construction phase. (Photo provided)
Previous
Next
by
MONTE TURNER
Mineral Independent
|
January 11, 2023 12:00 AM
Last school year, there were 48 schools in Montana collectively known as Big Sky ChangED. Alberton is one of those and the concept is a big hit with students, parents, teachers and school administration.
FIRST is the acronym For Inspiration and Recognition of Science and Technology; and STEM is Science, Technology, Engineering and Math. STEM has taken on its own meaning as a buzzword for new technology and computer skills.
"There are some folks that see STEM as sterile or regimented and wanted to inject some creativity into the lessons. From this they developed Science, Technology, Engineering, Art and Math (STEAM). For me personally, a rose is a rose by any other name. As long as the students are working with their hands, creating something new, inspired to seek out knowledge, and working with professionals in their community, I'm going to help out," said Jack Rumple, Mentor, FRC (FIRST Robotics Competition), and FTC (FIRST Tech Challenge) with Alberton School.
This is Alberton Superintendent Jeff Crews' second year and the first year for Principal Chris Whitman, but both are thrilled with this direction of education which is breaking the template of over 100 years of how students have been taught.
The robotics curriculum is confusing and challenging, but the students who enrolled have an understanding and knack for this program.
"I got into robotics when I tried to do something else and failed so I decided to join robotics and see how it went. I'm good at some of the stuff I'm doing by using my hands building things, so I feel that I'm helpful here and enjoy what we do," shared Caiden Delaney, who is hand-drawing each part required through the schematics required for the build of a smaller robot.
The team has a working robot for the state competition in Butte next month but feel they can improve on the model. Evan Fehlings explains their plan of action.
"Unless we make an arm, we're doing a strategy where I have a code that has it (the robot) go 3 feet, then stop. I park it in front of the parking zone which you want to do in the 30-second period at the beginning of the match, which is basically the autonomous mode. Now, if we construct an arm, we can program it to pick up a cone and put it on a pole for points."
He credits instructor Jack Rumple for the coding instructions. Michayla Hansen and Mekynzie Dittmer are at the table with Fehlings with an erector-set-looking robot and all are 7th grade students. All three enthusiastically said this was their favorite class.
"And then Montana History," shared Hansen.
Working at the next table was Mike Powell who is a STEM student on a different program waiting for a file to upload from the ROXY Theater in Missoula.
"I'm part of the Bear Aware. This file is one of the interviews we conducted with bear specialists as this documentary is to have people become much more aware of bears as more and more are moving into neighborhoods," Powell explained. "We learned that a bear did break into a house for hibernation and that there were about 200 bear sightings in Alberton. They don't all come in at the same time. Some stay in and some come in for the food and then they leave."
When asked if the seemingly high number of sightings last year was because of a poor berry crop, Powell confirmed the report.
"Oh yeah. A very skimpy harvest of fruit. Bears have been going up into the Summerfield Orchard in this area but they are hibernating now."
These are all black bears and Powell did share tactical advice if one were to encounter a bear.
"Be big and scary for bears if they try to threaten. If they do have cubs, stay away as mothers are very protective."
Across the room, three other students were reassembling the skeleton of a mountain lion that had been killing livestock in the valley. Sections had been epoxied and they were laying out the spine vertebrae by vertebrae as these segments would be glued next. Once completed, it is going to the Montana Natural History Museum in Missoula.
As far as the Robotic Team, they competed in Missoula on Saturday for their first time.
"When I go to companies asking for support for robotics teams, my first ask is for time. If the employees can stop by and visit with the students, everything else falls into place. Students who participate in FIRST are constantly impressing me, which is hard to do having worked with engineers and scientists on projects for NASA and the military'" smiled Rumple.
The robotic state competition will be held in Butte on the first weekend of February.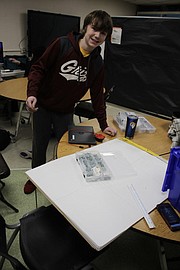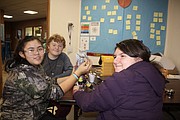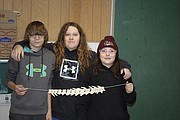 Recent Headlines
---