Local seamstress finds niche in doll clothes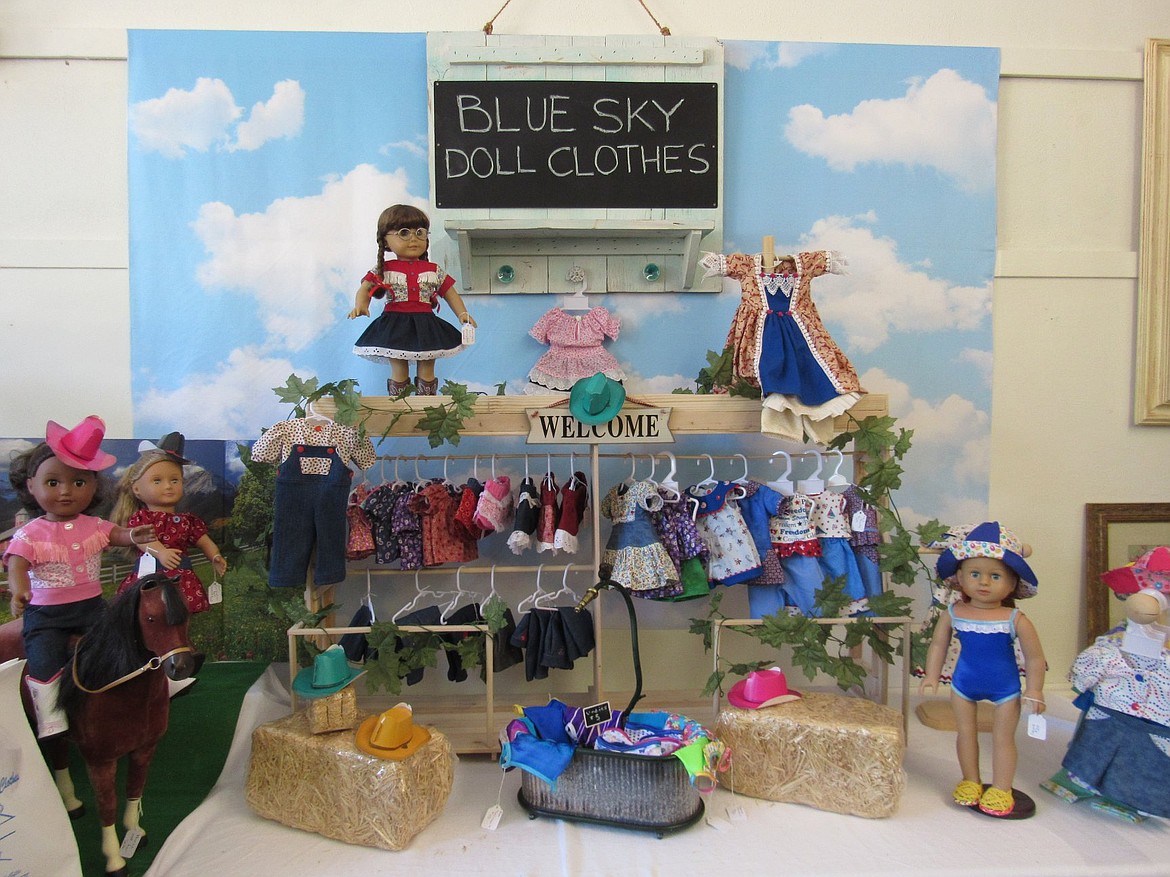 Charlotte Osborne's Blue Sky Doll Clothes collection is always on display and available to purchase inside of Jackie's Flowers, Espresso, and Gifts in Superior. (Photo courtesy Charlotte Osborne)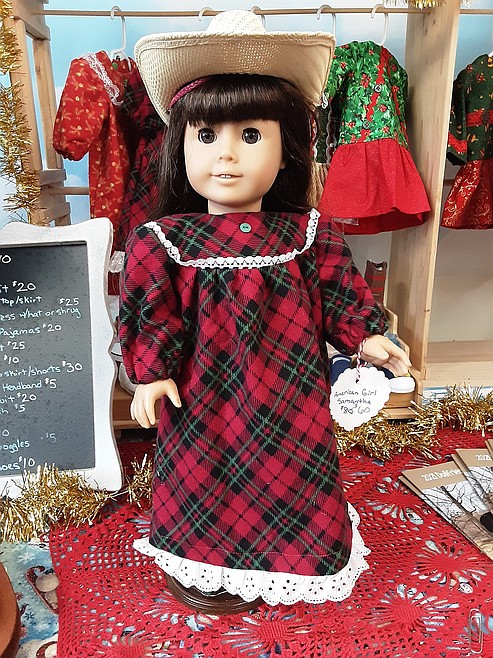 This festive holiday dress was a recent creation of Osborne's for Christmastime. She tries to new outfits and dresses for sale for each of the upcoming holidays and seasons throughout the year. (Photo courtesy Charlotte Osborne)
Previous
Next
by
AMY QUINLIVAN
Mineral Independent
|
January 11, 2023 12:00 AM
When Charlotte Osborne isn't working her shift at the local grocery store in Superior, she's at home stitching together a new dress for her hobby turned business, Blue Sky Doll Clothes. As for this Mineral County resident of 20 years, her soul is fed with needle and thread.
"I have always enjoyed sewing, ever since I was a young girl," remarked Osborne. "My mother taught me to sew on her sewing machine when I was about 12, and the first thing I ever made was a little dress for my Holly Hobbie rag doll."
She originally started making Raggedy Ann and Andy dolls for several years after moving to Montana. But painful arthritis in her hands made it difficult to stuff them and wig them so she had to take a break from that work.
Osborne recalled, "My daughter was little at the time and took an interest in 18-inch dolls like American Girl so I started making clothes for her dolls. I really enjoyed it and started making them and selling them to other people and at craft shows."
Later on, she said, "A very close friend told me that Jackie's Flowers was going to rent some spaces for local crafts in her flower shop, and I asked Jackie if I could bring my dolls and doll clothes to sell through her shop. Some very nice friends made me a sign and helped me set up, and Blue Sky Doll Clothes began."
Or as a seamstress would say – sew it began!
Osborne described, "I started selling my doll clothes in order to make enough money to support my hobby, and so far, it has been doing that. I hope that the doll clothes sales continue to grow, because I have so many ideas of things I would like to make. I also like that the doll clothes provide a unique gift for someone special, and that it makes kids happy to have pretty new clothes for their dolls. The most rewarding part of this is seeing a child's delight after being given a new dress or outfit for her doll."
For over 10 years Osborne has been creating miniature wardrobes for various dolls. She's only been selling her Blue Sky Doll Clothes inside of Jackie's Flowers, Espresso, and Gifts for about four years now. The garments she sews together are for specific dolls.
She explained, "I make clothes for the popular 18-inch play dolls such as American Girl, or the Our Generation dolls from Target and My Life dolls from Walmart. My clothes also fit the 18-inch water-friendly dolls from Via-e, that I sell on my table at Jackie's. I really think these dolls are a fun idea for kids because they are the popular 18-inch size and are able to go in the water. I have become an official re-seller of these dolls, and have them available at Blue Sky Doll Clothes."
Seamlessly, Osborne has lost count how many pieces of dolls clothes she has completed.
She guessed, "I have made probably hundreds of outfits over the years, no two are alike."
At home in her sewing room, a single dress could take roughly three to five hours. From cutting out pattern pieces to adding all the fine details like buttons or bows, and lace trim, her work is heartfelt and meticulous. A multiple piece outfit like shirts and pants or a lined coat can take much longer.
Osborne added, "I mostly work on sewing outfits on weekends. On evenings after work, I'll cut out pieces in order to save time when I get to sewing."
She stated, "I try to keep up with the seasons, but also try to keep popular items such as swimsuits, nightgowns, or holiday-themed clothing available."
Her Christmas dresses were on display this past month at Jackie's.
"I love to try new patterns and fabrics for the different seasons, and I also love hearing from anyone who has bought my outfits for their children or grandchildren and have been happy with them," Osborne shared.
Osborne purchases most of her supplies online or from her favorite local quilt shops.
She happily commented, "I have also been given fabrics, trims, and buttons, etc. from members of the community who no longer sew and wish to support my hobby. I am very thankful for all of their generosity and support."
Her favorite projects are requests for making wardrobes of clothes for a special girl and her special doll.
Osborne noted, "I've done this for a few people locally, and also for my sister to give to her grandchildren, for their dolls."
For now, Blue Sky Doll Clothes can only be found at Jackie's Flowers, Espress, and Gifts in Superior, or the occasional craft show. Osborne also brings her dolls and the clothes she's fashioned to the Missoula Doll Show that takes place every June.
"My favorite memory is of a local craft show where sales had been slow. There was a group of four little girls who kept walking by my doll clothes all day long. They were very polite and pleasant and at the end of the craft show I gave them each an outfit for their dolls. The looks on their faces made up for any potential sales I may have lost," Osborne recollected.
Now that Christmas is over, she is preparing for other upcoming holidays like Valentine's Day and Easter, then there's also the summer rodeo season.
Osborne said, "That's a great time to make western-themed clothes, and also swimsuits for the water dolls."
To see her work or find an outfit for a daughter or granddaughters' doll, stop into Jackie's Flowers, Espresso, and Gifts during regular business hours. Or to contact Charlotte Osborne for something specific, reach her through Facebook on her Blue Sky Doll Clothes page.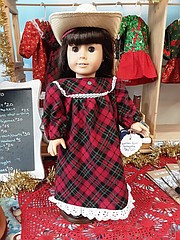 Recent Headlines
---