Miller and Boekenhauer to marry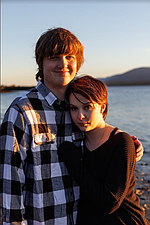 |
January 18, 2023 12:00 AM
Keri Ann Dorathy-Miller and Grant Russell Miller announce the engagement of their daughter Raegan Evelyn Miller to Jared Kenneth Boekenhauer. A wedding is planned for March 31, 2023 in Ketchikan, Alaska.
The couple lives in Ketchikan. Raegan is employed at KRBD FM Rainbird Community Radio. Jared is employed at Ketchikan Daily News.
The bride-elect's grandparents are Evelyn Cordeiro of Plains; Van Dorathy of Plains; Paul Miller of Billings; and the late Betty Miller of Billings.
The bridegroom-elect's parents are Mark and Sonja Boekenhauer of West Dundee, Illinois. Grandparents are Jean and Roger Boekenhauer and Kenneth Jamsa and Elizabeth Gerhart.
Recent Headlines
---