Helen Ruth (Malone) Jacobs, 93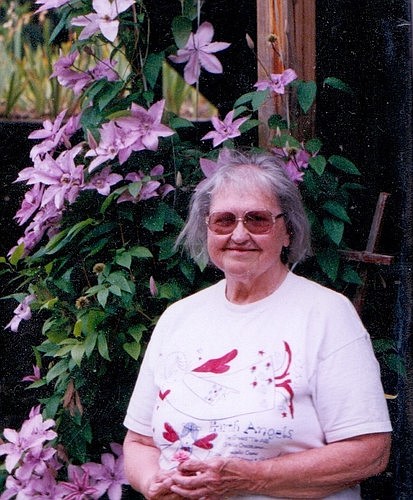 Helen Ruth (Malone) Jacobs, 93
Helen Ruth (Malone) Jacobs, 93, of Superior, went to be with her Lord and Savior on May 23, 2023.
Helen, when asked when her birthday was, would smile and boldly state, "One, One, Thirty." She was born in Jasonville, Indiana to Harry and Ruth (Sinders) Malone. As a young girl, Helen lived with her family in Coalmont, Indiana. She graduated the eighth grade from the local school. She became a Christian in her teen years. Helen was close to her cousin, Wilma, who kept in touch with her frequently over the years.
Helen lived with her parents as a young adult, babysitting and working as a nurse's aide at the "old folks home," until her marriage to James Leroy Jacobs on June 2, 1962.
Jim became a minister of the Church of God of Prophecy. They moved to Chicago where Helen worked in an envelope factory. In their many moves, they lived in Florida; Butte, Montana; and then settled in Superior in 1979. They also enjoyed raising poodles.
Helen was active in her church, teaching Sunday School to beginners, VBS, and was involved in women's ministries at the Superior Assembly of God church. She also worked for this church as a custodian.
Helen enjoyed baking and sharing with friends all over town, where she was widely known for her banana bread. She also enjoyed gardening, reading, TV (animal shows), and staying fit. Helen walked with the church team for the Relay for Life in her younger years. She daily walked the deck of her apartment for 30 years and then the halls of the assisted living/nursing home where she lived for 10 years.
Helen took great pleasure in time spent with children, church friends, gospel quartet music, the color red, her black and white cow knick-knack collection, and anything chocolate! She also liked to joke and pull pranks on people - "gotcha" with the grocery store clerks. She could often be found laughing and crying at the same time. She was a very sensitive lady in her love and faith in God and in prayer for the needs of anyone. She and her tender heart will be missed.
Even though her memory faded in later years, she always remembered her love for the Lord and the lyrics to old hymns. Whenever she was complimented or credited with something positive, she would reply, "It's because of my Father God and his Son, Jesus Christ. He is my All in All."
Helen is preceded in death by her parents, Harry E. and Ruth N. (Sinders) Malone, her sister Juanita May Malone, her husband James L. Jacobs, and her cousin Wilma K. Shultz.
The memorial service will be held on Saturday, July 15, 1 p.m. at the Superior Assembly of God Church, with Pastor Ed Vainio officiating. Reception to follow. Donations in lieu of flowers may be made to the Mineral County We Care Foundation of Montana.
Recent Headlines
---