Fresh doughnuts served up at senior center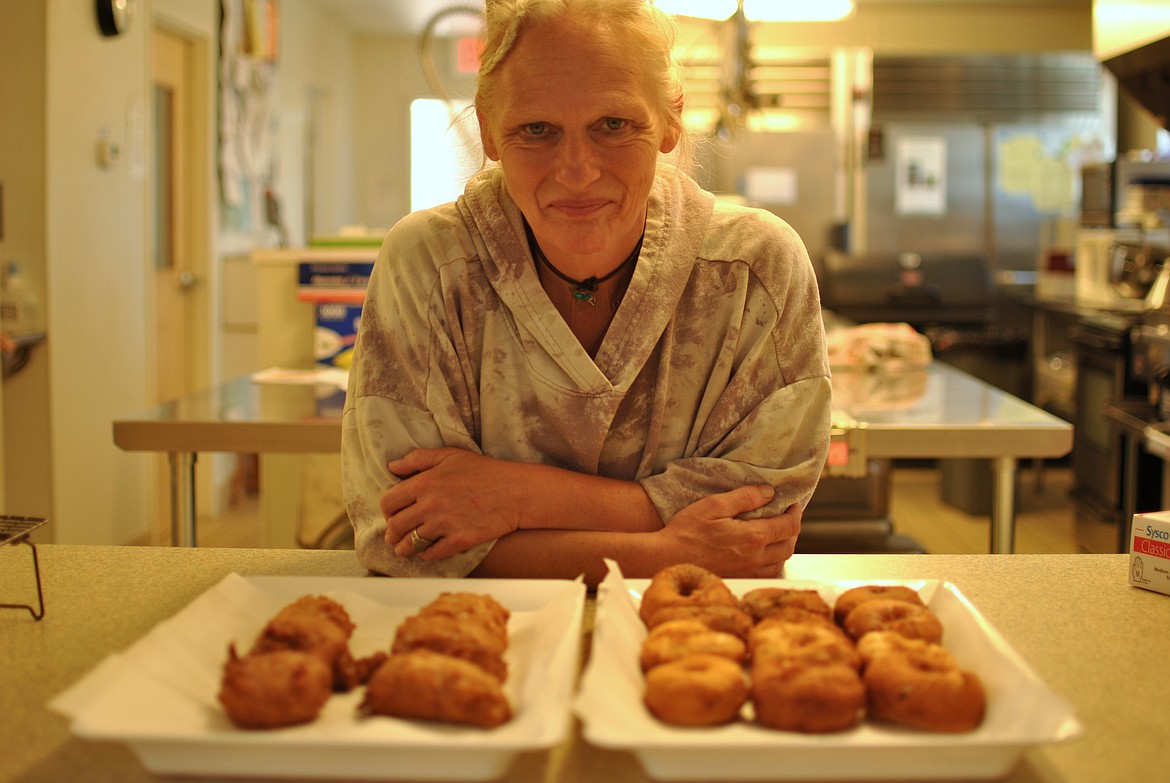 Made with love and sprinkled with cinnamon sugar, Johanna Stuarts hand made donuts are served inside the St. Regis Senior Center four days a week for locals and passerby's to enjoy. (Mineral Independent/Amy Quinlivan)
Whether its travelers headed North to Glacier, or locals stopping in for coffee and morning banter with friends, Johanna Stuart, at the St. Regis Senior Center wants people to drop by and try out her handmade donuts. The prep cook and baker, started frying up donuts for her new business, A Diamond in the Rough Donut Shop, about a month ago operating out of the senior center on Highway 135.

"I just really want people to come and socialize, eat some fresh doughnuts, get off the road for a bit, or come mingle with neighbors," exclaimed Stuart. When David Hannah, the new President of the St. Regis Senior Center was brainstorming ideas on how to get the community more involved and welcomed into their building, Stuart blurted out, "What about doughnuts?"
Originally from Darby, down in the Bitterroot, Stuart has had a background in food service and baking. "I worked for the gas stations down there and prepped their donuts from Cysco, but those weren't the best cause they weren't fresh". And then she worked at Red Rooster Bakery in Hamilton for several years. She reminisced, "I would work at this big metal table, across from a big wooden one, I was the bread maker, but I got to watch the pastry chef as I worked too. So just from observing them all those years, I figured I could give a go and try making donuts myself."
Her made from scratch doughnuts are considered old fashioned and taste like homemade ones. Her selections include, apple fritters, muffins, regular glazed donuts and sugar-coated ones. She whips up big fluffy cinnamon rolls and her favorites she laughed, "Are the long johns, when we were discussing what types of donuts to make someone suggested maple bars, and I said, you mean long johns, that's the name for them!"
Stuart serves up her morning treats four days a week, Tuesdays, Wednesdays, Fridays and Saturdays, from 8-11 a.m. On the evenings prior to the doughnut shop being open she prepares some of the dough, and then comes in early the next day to get the other mixtures ready. "To get your dough to rise you have to have a warm kitchen," she explained.
"So, on Tuesdays and Fridays those are the fresh baked days…. the donuts will be made that morning and are hot right out of the oven. On Wednesdays and Saturdays, I mark the donuts down a dollar each, to sell what's left from the day before," Stuart noted.
The grand opening back in June churned up a decent turnout, but customer traffic could dough better - a hole lot better. Stuart intends to get a sign out near the main road on the days the she's serving up the donuts. On Saturdays through the rest of the summer, you might catch her with a dozen or so down at the Superior Farmer's Market. But once the summer travel season winds down she shared, "I would really like to see this spot be used by the locals, we have our usual coffee club guys, but it'd be great to get a few more regulars that would come eat some donuts too."
When you're passing through the four-way stop in St. Regis next time, check what day it is and see if Stuart's doughnuts are up for grabs. Her fresh made pastries are available on Tuesdays, Wednesdays, Fridays, Saturdays, from 8-11 a.m. The Senior Center is located at 209 Lobo Loop. Or if you're in need of a dozen for a work meeting or a special event she can also take large baked goods orders.
Recent Headlines
---