Mason Edward Henderson, 91
In loving memory of Mason Edward Henderson.
It is with deep sadness that we announce the passing of Mason Edward Henderson, age 91, a devoted teacher, loving husband and father, and passionate advocate for the Gospel of Jesus Christ. Mason left this earthly realm on May 22, 2023, leaving behind a profound legacy of faith, education, and selfless service.
Mason was born in a tar paper shack with a dirt floor in the picturesque town of Red Lodge. His love for the mountains and the beauty of nature blossomed in this scenic countryside as he labored as a young person alongside his dad as a tree surgeon and arboriculturist. He found inspiration in the rugged landscapes of Western Montana, often venturing into the wild to reflect upon the wonders of God's creation. Mason's frequent musings upon the Creator and His creation helped shape his spiritual journey and became a vital part of his ministry.
Driven by a deep conviction to share the Gospel of Jesus Christ, Mason dedicated his life to spreading the Good News and guiding others towards faith. His unwavering commitment to his beliefs was evident in every aspect of his life. Whether through his teaching, conversations, or acts of kindness, Mason strove to bring the message of love, hope, and redemption to all he encountered. He encouraged reflections of heart by frequently asking this important question, "Do you believe in the Jesus of the Bible?"
John 3:16 "For God so loved the world, that He gave His only begotten Son, that whoever believes in Him should not perish but have eternal life."
Mason found immense joy in giving away Bibles to those who sought spiritual guidance. He believed that the Word of God was a source of comfort, strength, and transformation, and he tirelessly worked to ensure that everyone had access to it. Through his acts of generosity, he shared the teachings of Jesus and touched the lives of many, leaving an enduring imprint on their souls.
Mason's academic brilliance was evident from an early age, leading him to achieve remarkable accomplishments in his educational pursuits. He obtained a Ph.D. in Mathematics then taught at the Universities of Montana in Missoula and Dillon, and at Montana State University Northern in Havre, Montana. Mason's dedication to higher education empowered countless students to pursue and reach their dreams. In 1989, Mason helped facilitate the inauguration of the Oklahoma School of Science and Mathematics (OSSM), where he was responsible for recruiting and teaching mathematics to gifted junior and senior high school students. It was at OSSM that Mason excelled at nurturing and fostering a love for learning and critical thinking in many young minds. In fact, Mason and Phyllis cared for those high school students so much, they moved into the dorms with the students and became beloved "dorm parents" in their home away from home.
Upon retirement from OSSM in 2003, Mason and Phyllis moved back to their property near Superior, where they spent the next twenty years working the land, visiting relatives, making new friends, and caring for family members. Family was a cornerstone of Mason's life, and he treasured all of his children, grandchildren, and great grandchildren. He instilled in them the values of faith, compassion, and integrity, guiding them on their own journeys of spiritual growth. Mason's beloved wife, Phyllis, was a constant source of support and inspiration throughout their life together. Her unwavering love and shared commitment to the Gospel brought immeasurable joy to Mason's heart.
While we mourn the loss of a remarkable man, let us also celebrate the life of Mason Henderson. He leaves behind a legacy of faith, love, and tireless service to others. His teachings, both inside and outside the classroom, will continue to inspire generations to come. Mason's unwavering devotion to the Gospel of Jesus Christ has touched countless lives and will forever be remembered. May his memory continue to be a blessing to us all.
Mason was preceded in death by his brother, George Henderson, Jr.
Mason is survived by his darling Phyllis who is currently living in Superior, and his four children, Steve Henderson, Diane (Bob) Hooper, Sally Henderson, and Cindy (Jeremy) Ferkin.
He is also survived by his brother, Don (Linda) Henderson, seven grandchildren and six great-grandchildren, Alisha and her husband Shane Boyce (and their children Kynlee and Gunner), Shannon Hooper, Amy and her husband Thomas Lancaster, Josh Hooper, Jessie and her husband Micheal Volore (and their children Murdoc, Jonah, Charlie, and Remi), Jarod Ferkin, Savannah Ferkin, Mason's nephew Dan (Stephanie) Henderson and his children Bella and Lola, as well as numerous extended relatives all of whom he loved dearly.
In lieu of flowers, the family kindly requests donations to be made to Wycliff Bible Translators, or The Voice of the Martyrs Organization, in honor of Mason's lifelong commitment to supporting the gospel reaching all the nations.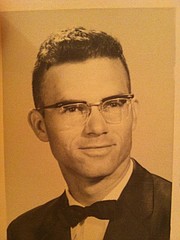 Recent Headlines
---