Western Montana Specialty Foods founder greets Gianforte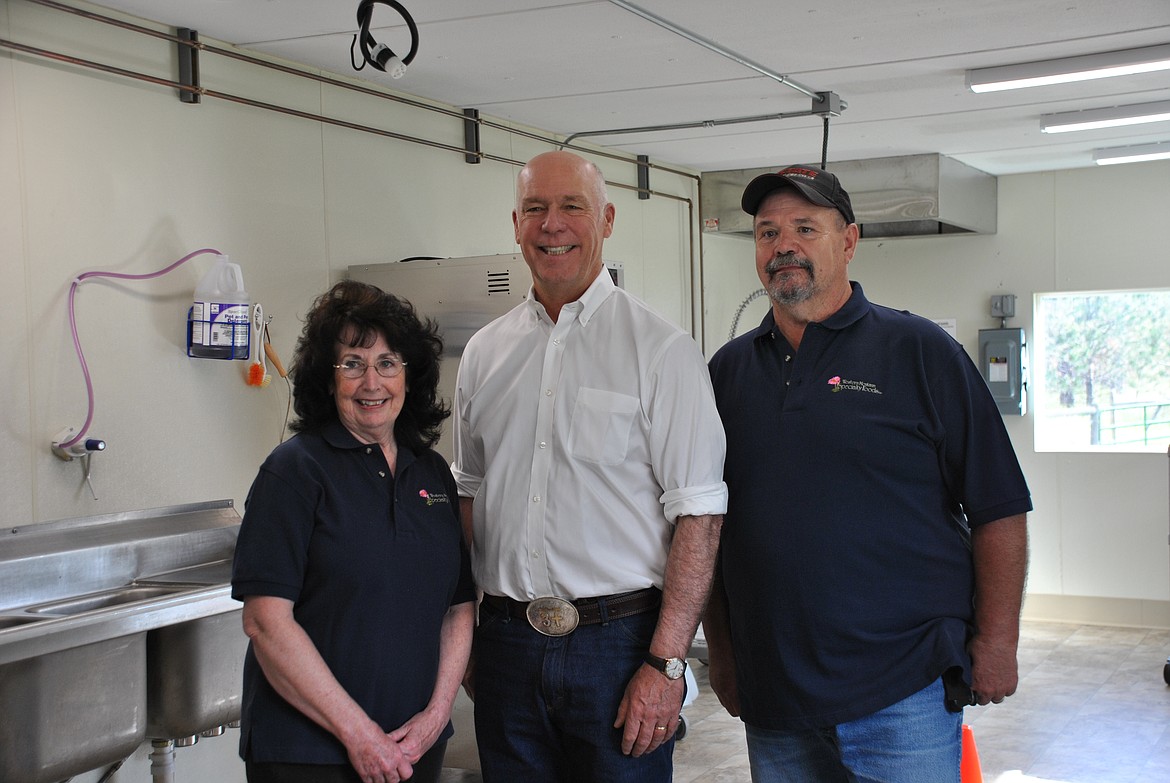 Gov. Greg Gianforte kicked off his 56 County Tour in Northwest Montana last week, starting in Superior. Gianforte spent Thursday morning out at River Bend touring the production facilities of Mary and Darren Ippisch's Western Montana Specialty Foods Inc. (Mineral Independent/Amy Quinlivan)
by
MONTE TURNER
Mineral Independent
|
June 14, 2023 12:00 AM
Montana Gov. Greg Gianforte made a special trip to Mineral, Sanders and Lincoln counties Thursday with stops to chat with residents, present an award and visit small businesses.
His first stop was to meet Mary Ippisch, Western Montana Specialty Foods founder and owner in Superior. Ippisch is a shining example of taking an idea, or in this case a recipe, that had become a huge hit with her family and friends.
Everyone kept encouraging her to expand this outstanding zucchini relish from her six jars she made once a year so the world could enjoy it. A busy working mom with a husband and two boys consumed every moment of time she had but after 30 years and the boys gone with the compliments still coming in, she made the jump.
The production started in a commercial kitchen in Ronan which made for long days, so one was built near their home.
Knocking on doors, building relationships, locating the best produce at the right price, attending food vendor exhibitions and managing all of the paperwork and employees has kept her hopping, and it's paid off.
"We now have three flavors to choose from all made with organic and natural ingredients," Ippisch smiled. "The original sweet, dill, and the newest sweet with a little heat. Even the most 'relish reluctant' customers have converted to Bitterroot Zucchini Relish Products."
When she has time, she continues to make Bundt cakes in chocolate, vanilla, chocolate amaretto, lemon/raspberry, pecan, Irish cream along with an awesome carrot cake and chocolate cookies. These are custom made by calling her at 406-822-2103 or visiting www.montanaspecialtyfoods.com or emailing wmtspecialtyfoods@gmail.com
Last year she became a vendor for Azure Standard in Oregon which is a national organic distributor. In February, the camel got its nose under the tent and her relish is now on the shelves in Bozeman at Whole Foods Market.
"We were on their shelves for opening day," she said.
Even more recent than that achievement, Western Montana Specialty Foods is now with Home Goods.
"I'd been working with the buyer for over a year and we finally got a purchase order from them at the end of April. We're shipping out to three different distribution centers: one in southern California, one in Tucson, Arizona and then Bloomberg, Indiana."
Locally, you'll find the relishes at Darlows Quality Foods, Superior Meats and Montana Moxie with several grocery stores in Missoula.
Ippisch said that they are a little tight in the commercial kitchen with the growth that's been happening. From having her team processing five to seven times a season, it is now every week. She needs to grow but there is a physical barrier from preventing anything at her current location which is the tunnel under I-90 from east Mullan Road into the Riverbend Community where she and her husband live and the processing plant is located on their property.
"When the interstate was built, all of this was agriculture. The tunnel worked great for farmers and their tractors and even larger cattle trucks," she said.
Ippisch showed Gianforte the processing plant and then took him to the shipping area where she had three pallets of finished product weighing 1,800 pounds ready to go to market.
Rep. Denley Loge, R-St. Regis, joined the tour and was impressed with how efficient the production system worked and the volume they produce today, realizing the company is growing quickly.
Recent Headlines
---