Soup of the day: New restaurant opens in old Superior Schoolhouse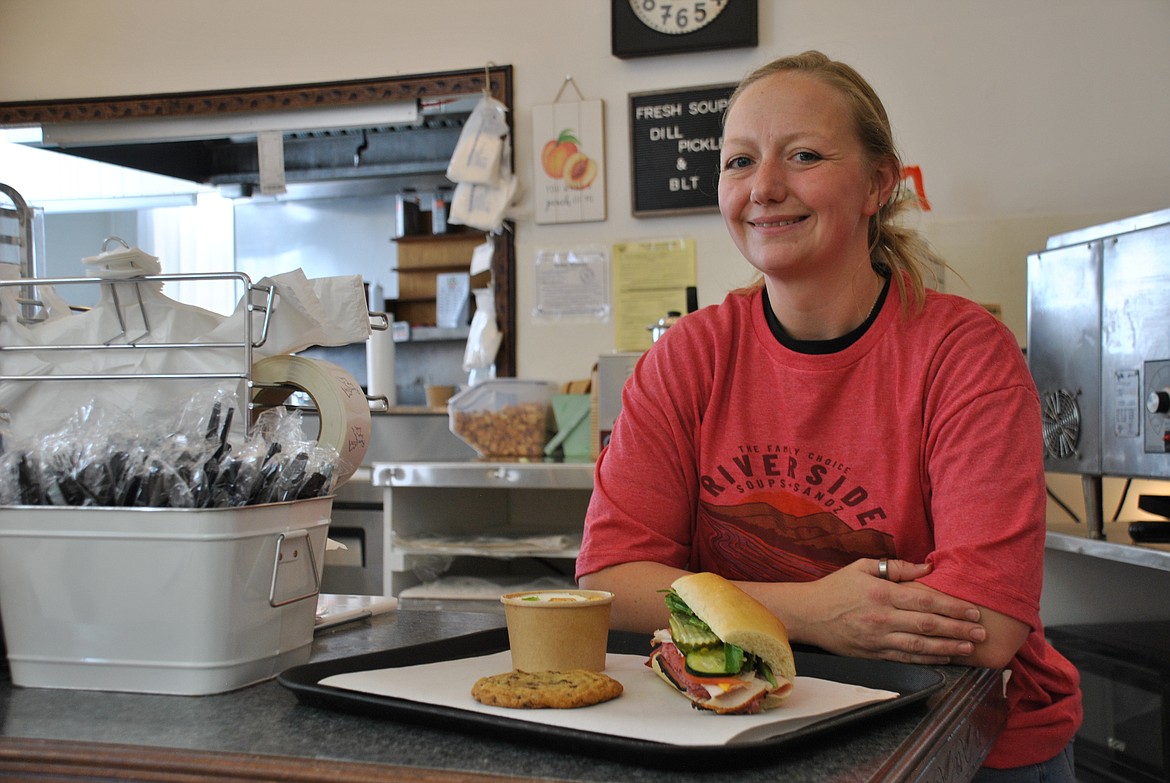 With a club sandwich on her freshly baked bread, and some homemade Dill Pickle soup, owner of River Side Soups and Sandz, Bailey Moree, leans across her serving counter last Thursday after finishing up a large order of sandwiches for a local construction crew. (Mineral Independent/Amy Quinlivan)
For being open less than a one month now, River Side Soups and Sandz in the old Superior Schoolhouse has fast become a lunchtime favorite for locals.
The new eatery is off to a super start selling out of their unique assortment of homemade soups and their tasty sandwiches served on freshly baked bread most afternoons. And with the past few weeks of dodging rain showers this soggy late-spring weather seems to go perfectly hand in hand with a cozy bowl of soup.
Owner, operator, baker, soup maker and sandwich builder Bailey Moree is not only the brains, as well as the hands and feet of Superior's newest restaurant. She's also a wife and a mother to three young girls.
Moree moved to Superior from Missoula in 2018.
As a lifelong Montanan, she explained, "I've worked in quite a few restaurants and hospitality; the sandwich shops and the Mexican restaurants were always my favorite. Quick pace, awesome food for people on the go."
Moree always had a desire to start up a business of her own, and things finally fell into place this March to launch her soup and sandwich café.
"I knew good sandwiches would get them in the door and hoped they would fall in love with my other recipes," she said. "Sandwiches and soup gives you the opportunity to make quick tasty food and also the opportunity to socialize with the customers."
Each evening as the business closes its door at 4 p.m. Moree starts some cleanup and prepping before heading home to have dinner with her daughters. But after supper time she brings her family back to the Soup and Sandwich shop to begin the process of making 50 new loaves of bread for customers to have the following day.
"I come in during the evening to get the loaves in their proofs, and get them ready to bake. The girls play, and sometimes enjoy helping mom with clean up duties," said Moree.
Her five ingredient wheat loaves, and white bread loaves go quickly with the lunch crowd. And Moree's creative homemade selection of rotating soups are becoming popular with return customers. On her opening day in May, she held a soup tasting event to gather input on flavors from patrons.
"Surprisingly, the dill pickle has been a huge hit so far," remarked Moree. "It seems to be everyone favorite. A lot of the ladies loved the carrot ginger too. But then we also have some classics like broccoli cheese. In fact, I had a gentlemen come in with some jars asking if he could bring more home with him."
Other delectable soups that Moree stirs up each week include, clam chowder, beef and barley, chicken noodle, tomato, baked potato, BLT, egg roll, ham and bean, and chicken tortilla. She keeps her soups list in a binder and she's always on the lookout for more recipes.
Her sandwich offerings can also be made into wraps or even a salad for those wanting a healthier option. The speedy preparation of soups and sandwiches has been an added blessing for area employees running out during lunch breaks and getting back on time.
"We are working on getting an online ordering system, by the fall hopefully, so that way when teachers or workers get their orders placed, they can come pick up faster," Moree said.
The first few weeks of serving the public has been better than Moree imagined.
"The response has been great so far, there have been some slow days here and there, but also some very busy ones. I think everyone's just happy to have another place to eat at in town. I've really enjoyed getting to see everyone that comes in."
Like many other local businesses Moree is aiming to hire more help so the possibility of to-go orders can be expanded, that and their potential business hours could too.
But as a busy mom, and business owner, Moree shared, "I just really want to make my family proud, and show my girls what I am capable of."
River Side Soups and Sandz is open from 10:30 a.m. to 4 p.m., Tuesday through Saturday in the Old Schoolhouse at 100 River St. in Superior. Catered party platters are also available upon request.
On Tuesday's kids get a free meal with the purchase of a whole sandwich combo. And on July 29 a grand opening will take place with meal specials, and kid's activities, check out their Facebook page for more information.
Recent Headlines
---