Superior's Darby Haskins signs with UM rodeo team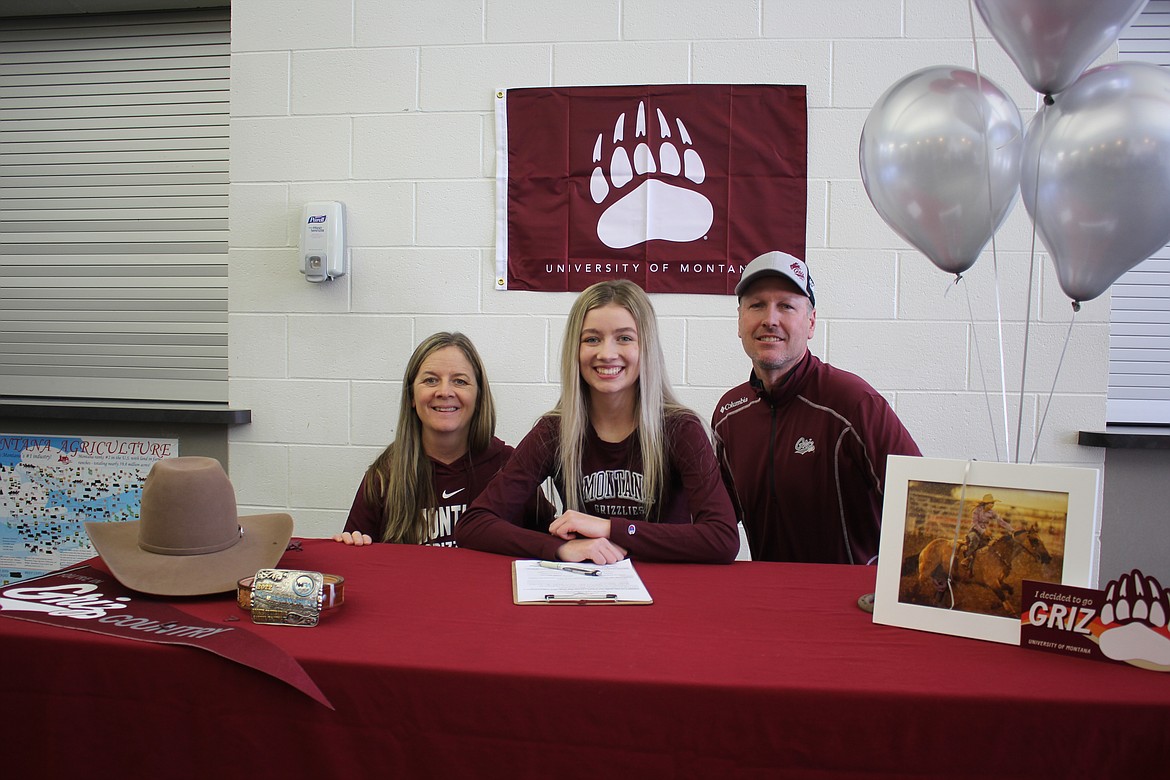 Darby Haskins signs with the UM rodeo team during an event at Superior High School, alongside her parents, Laurel and Darin. (Monte Turner/Mineral Independent)
by
MONTE TURNER
Mineral Independent
|
March 8, 2023 12:00 AM
Signing Day for the NFL Draft could not hold a candle to the crowd of people on March 1 in the all-purpose room of Superior High School.
Grandmas and grandpas, cousins, parents, aunts and uncles, her brother, lifelong buddies and high school friends. Coaches, counselors, school administration, retired and current staff.
The enthusiasm was contagious as the people in Darby Haskins' life witnessed the signing of the newest member of the University of Montana rodeo team.
The daughter of Laurel Chambers Haskins and Darin Haskins, Darby grew up knowing what work and responsibility was being in 4-H, playing sports, achieving remarkable grades and of course, barrel racing.
"She's the most competitive person I know," shared her mother, Laurel who has been a major cheerleader for her only daughter.
Darby has participated in Montana High School Rodeo for five years throughout Montana.
"We've been to Baker, twice. Sidney once and lots of places in between. The closest rodeo is probably two and a half to three hours from here. And then it's all weekend and drive back late Sunday night," Laurel smiles. "We've seen some good places in all of those miles, though. And the people. Rodeo people are the best people. They're still all-American good people. Their trust is refreshing as they don't lock up anything and are always on hand to help."
Darby was recruited by UM rodeo coach Kory Mytty, a former professional rodeo competitor who made the College National Finals Rodeo in 1988 and 1989. Her dad, Darin, who is known for his Hollywood smile couldn't have been more proud.
"He (Mytty) had seen her at rodeos and told us 'I knew she was a competitor when she tipped all three barrels at her hometown rodeo then turned around and won the next night.'

"She had a great summer in the NRA (National Rodeo Association) and was awarded Rookie of the Year in barrel racing. Her horse was named Horse of the Year and she was 3rd or 4th in Montana NRA standings," Darin grinned.
He said that barrel racing and breakaway roping is what she will be competing in for UM. Darby will have two barrel horses, Side Chick and Shake. Spiffy is her rope horse. They'll be boarded in Missoula with the training up Lolo Creek at the Lolo Peak Arena. The riding arena is well known for cowboy-competition and has been home to the University of Montana's Cowboy Ball fundraiser for many years.
"Darby is a true competitor," said Jeff Schultz who has been her basketball coach at Superior High School. "She is willing to do whatever it takes to win. I know that seems simple and easy to do but very few are willing to do it. She is willing to do what is hard, mentally, physically and what is needed to help her teammates get where they need to be. I have no doubt she will continue to be motivated at the U of M."
Rodeo has put Haskins in the saddle for education with a scholarship but where will she be going?
"I'll study biology here (UM) and then after that I will go to veterinarian school," she said.
Even though vet school is down the road, she already has strategies for her career.
"I plan to bring a facility back to Montana as there isn't a vet school, but I plan on coming back and specialize in equine. Their rehabilitation, sports medicine, nutrition. We don't have one (facility) close to us so that's what I want to bring back to here."
A humble young woman who knows what the wind under her wings has been to make it this far.
"I just can't thank all of my supporters enough. And my family because I wouldn't be here without them."
Superior High School Principal Logan Labbe was beaming at the signing with high praise for Haskins.
"This is an awesome example of hard work and dedication from another Superior graduate, and we're super proud of Darby. We all are. The staff and her coaches that have brought her along. Parents, support group, families and friends. This is an amazing accomplishment for this young lady. And she's going to the best university in the state," he grins as a proud alumnus of UM.
Recent Headlines
---