Local hoopers earn All-State selections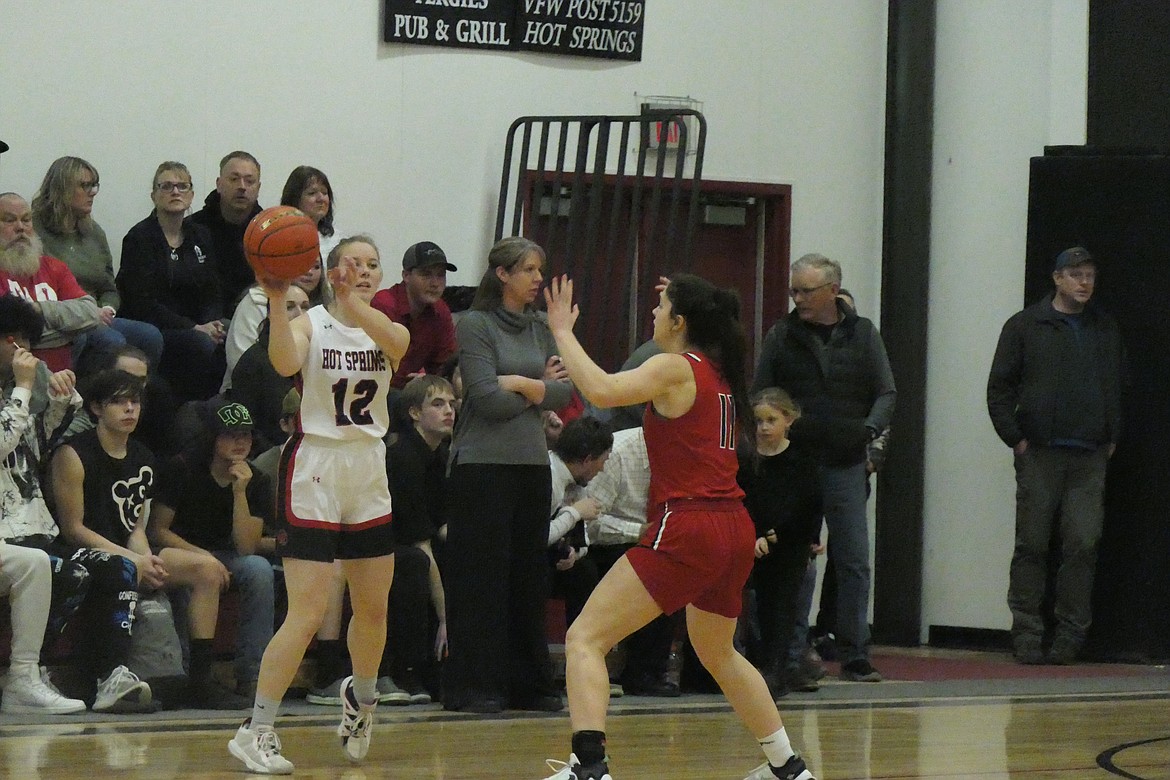 Noxon all-State and all-District first team selection Emily Brown (red uniform, 11) guard's an in-bound pass attempt from Hot Springs second team district pick Josie Uski (12) during a game earlier this season. (Chuck Bandel/VP-MI)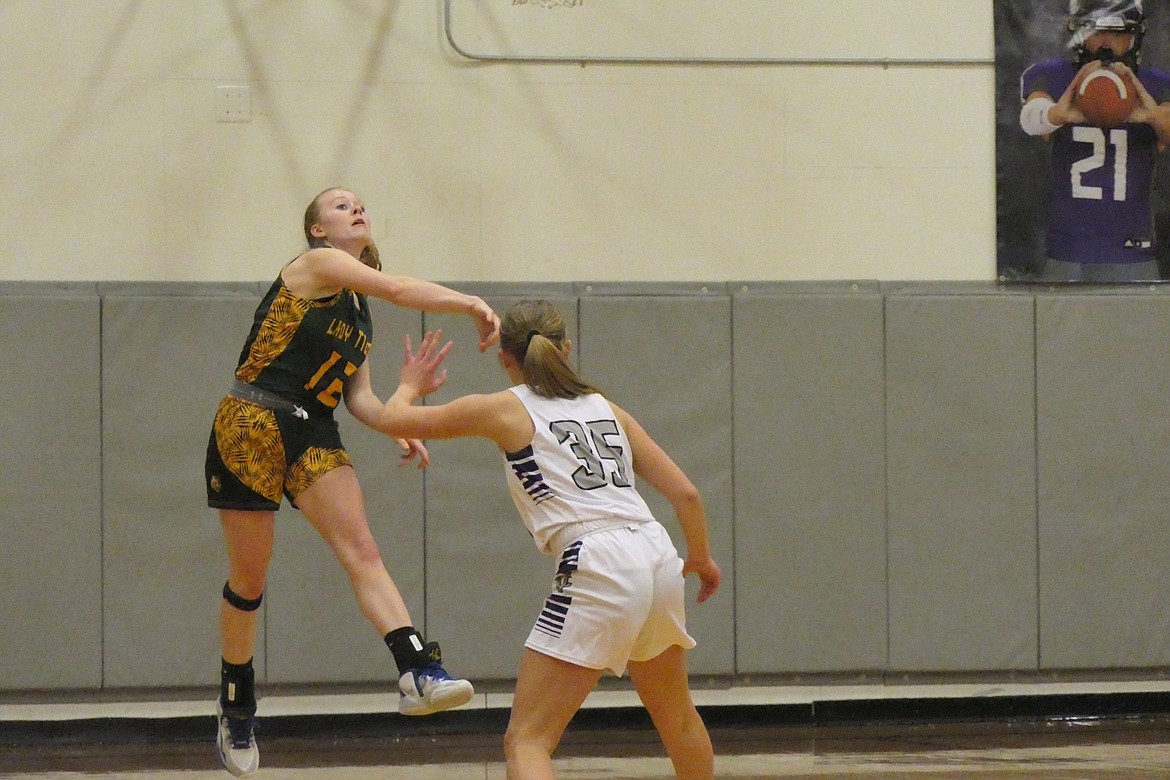 St. Regis first team District 14C selection Macy Hill throws a pass around a Charlo player during a game earlier this year. (Chuck Bandel/MI-VP)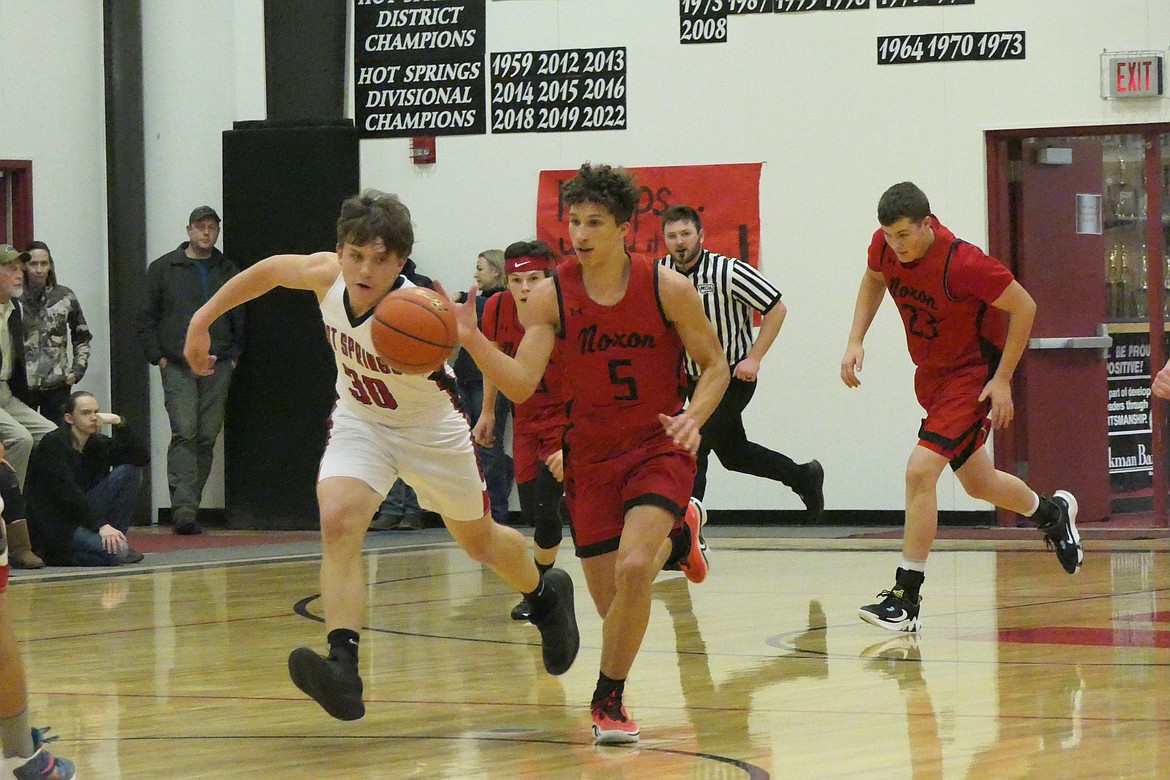 Hot Springs senior Garth Parker (white jersey, 30) tries to get a hand on the ball dribbled by Noxon sophomore Ricky Williams during a game between the two teams in Hot Springs. Both players were recently named to the District 14C all-star team. (Chuck Bandel/VP-MI)
Previous
Next
by
CHUCK BANDEL
Valley Press
|
March 15, 2023 12:00 AM
Four players from the 14C basketball conference, two all-state selections from the boys and two from the girls, highlight this year's 2022-23 recently released post-season honors.
Sharpshooter Thomas Spotted Eagle, who led the Two River Eagles' boys in scoring most of the time this year, along with Charlo's all-around standout forward Stetson Reum were named to the boys All-State team.
Two high-caliber seniors, Isabella Pereira from Superior and Noxon's Emily Brown, were named to the girls All-State team.
Pereira, who led the Superior girls to a spot in the Western C Divisional tournament and who recently signed a track scholarship with Whitworth College in Spokane, was also named to the 14C first team, all conference roster.
The same honors went to Brown, the all-everything forward who guided the Lady Devils to third place in the District and who scored 40 of her team's 47 points in a Noxon win in the District Tournament, was also a first team 14C selection.
Superior's Lady Bobcats landed four players on the District all-star first and second teams, as did Charlo's boys.
Joining Pereria on the 14C first team were senior teammates Payton Milender and Darby Haskins, who recently signed a rodeo scholarship to attend the University of Montana this Fall. The Cats also placed junior forward Lanie Crabb on the team.
Charlo's boys, meanwhile, had three seniors and one junior on the all-District teams. Joining Reum on the first team was senior forward Keaton Piedalue. Senior Viking guard Tucker Love was a second team 14C selection, as was 6-6 junior post Wesley Anderson.
St. Regis, which finished second to Charlo's boys in the regular season standings, then came back to win the District 14C tournament, had a pair of players, including senior Caleb Ball, make the 14C first team. Ball established a new all-time career scoring record this season for the Tigers.
He was joined on the first unit by junior teammate John Pruitt, who shook off a late season hand injury to help secure the District tourney title for the Tigers.
The Tigers also were represented by sophomore guard Ayden Rael, who was named to the District's second team.
Hot Springs players named to the boys team included first teamer Garth Parker, a 6-3 240 forward. Parker was joined by junior Quincy Styles-Depoe, who made the second team.
Noxon also had two players who earned all-District honors, sophomores Ricky Williams and 6-4 Shane Murray, both of whom were named to the second team.
St. Regis energetic guard Macy Hill, a senior who scored more than 1,000 points during her time as a Lady Tiger, was named to the first team, while Lady Tiger's teammate Shylah Dalka, a speedy sophomore play-making guard was named to the second unit.
Charlo's girls, who advanced to the Western Division Tournament in Butte along with Superior, had three players chosen to the District honor roll, led by senior guard Hayleigh Smith, who was a first team choice. She was joined on the first team by Lady Vikings teammate Sheadon Kain, a ninth grader. Also representing Charlo's girls was Sidney Bauer, a second team pick.
Hot Springs had three girls named to the District squad, including second team picks Lily Detienne (senior), Josie Uski (senior) and 6-0 junior Lauryn Aldridge.
Two Eagle River's girls were represented by senior guard/forward Sarah Gardipe, who was named to the second team.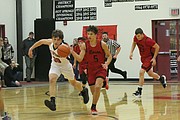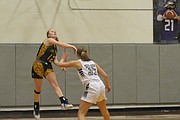 Recent Headlines
---