Sidney Kuhl wins Energy Share art contest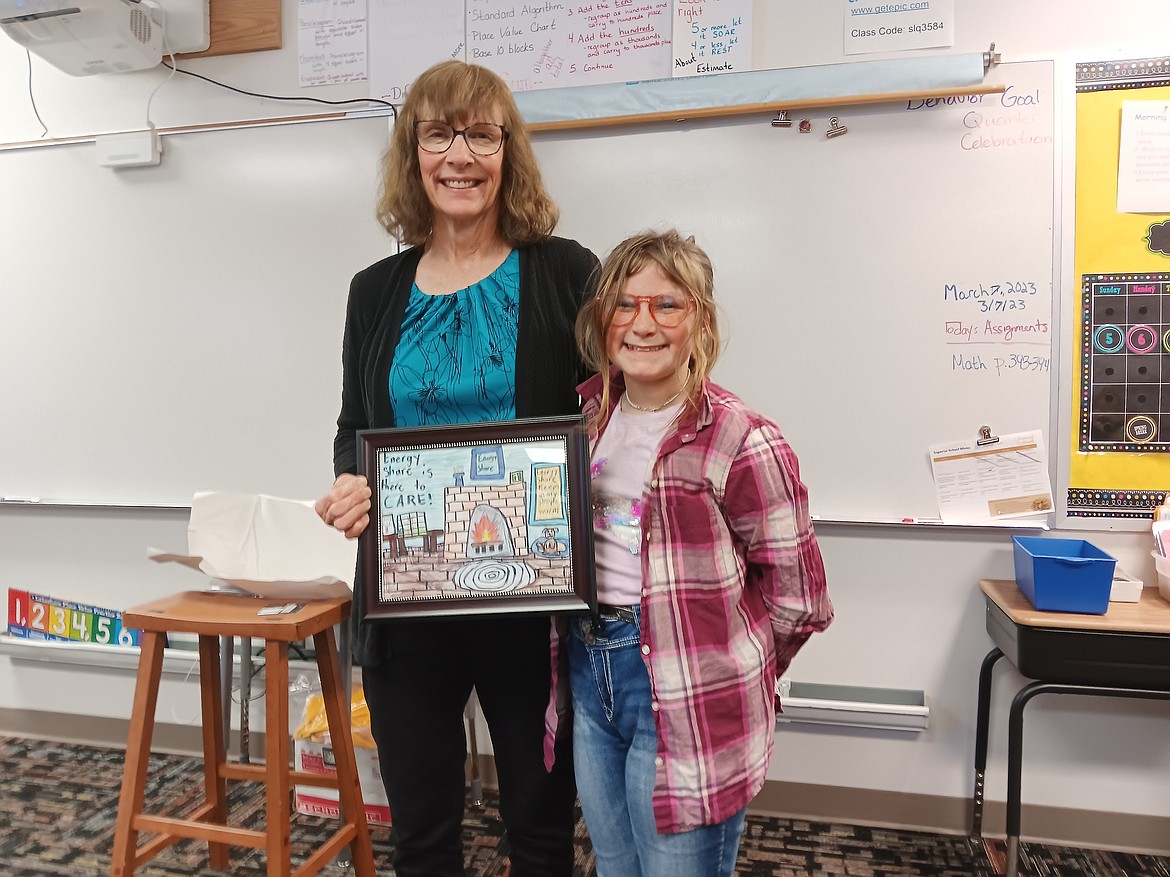 Hilary Bush with Energy Share out of Missoula presented Sidny Kuhl with her framed picture that won secon place in their annual statewide art contest along with $50. Kuhl is in Stacy Crabbs 4th grade class and was very surprised and delighted. Crabb also received a $50 Amazon gift card to purchase supplies for her class. Energy Share also brought 3 pizzas from the 4-Aces for the entire class to cap off the celebration. (Monte Turner/Mineral Independent)
by
MONTE TURNER
Mineral Independent
|
March 15, 2023 12:00 AM
A fourth-grade student from Superior Elementary School won second place in Energy Share of Montana's statewide art contest.

On Tuesday, March 7, Sidney Kuhl received a $50 check from Energy Share. Hilary Bush, Energy Share representative from the Human Resource Council, presented Sidney with her prize. Her teacher, Stacy Crabb, received a $50 Amazon gift card to use for classroom supplies.
Additionally, Energy Share bought pizza for the 14 students in Crabb's class as a "congratulations" for all their fine artwork.
Using the medium of art, Crabb taught her students about their Montana neighbors who sometimes need a little additional help with keeping warm in the winter. Per Energy Share's contest guidelines, the drawings by her students depict what Energy Share means to them. This ceremony was all a big surprise to Kuhl.
"This is all really cool, and amazing," she beamed. When asked what the best part of the day was, Kuhl could have given a multitude of answers.
"Helping people."
She said that she doesn't know of any family that is having a difficult time paying their heating bill, personally, but knows there are some in the area.
First and third places this year went to Riley Allhands in Sheridan and Kannin Crawford in Kila. Allhands' drawing will be used on Energy Share's thank you cards statewide beginning July 1.
The art contest is part of Energy Share's overall efforts to educate the public on energy needs across the state. Donations from individuals and businesses including Missoula Electric Cooperative, NorthWestern Energy, and the propane industry, make it possible for Energy Share to help Montanans who face emergency, no-heat situations when they encounter temporary financial difficulties.

The last two heating seasons working with District XI HRC in Missoula, Energy Share helped nearly 560 families in Mineral, Missoula and Ravalli Counties. Statewide, Energy Share helped 4,491 families during the same time period.
Recent Headlines
---