Craftsman turns horns into functional art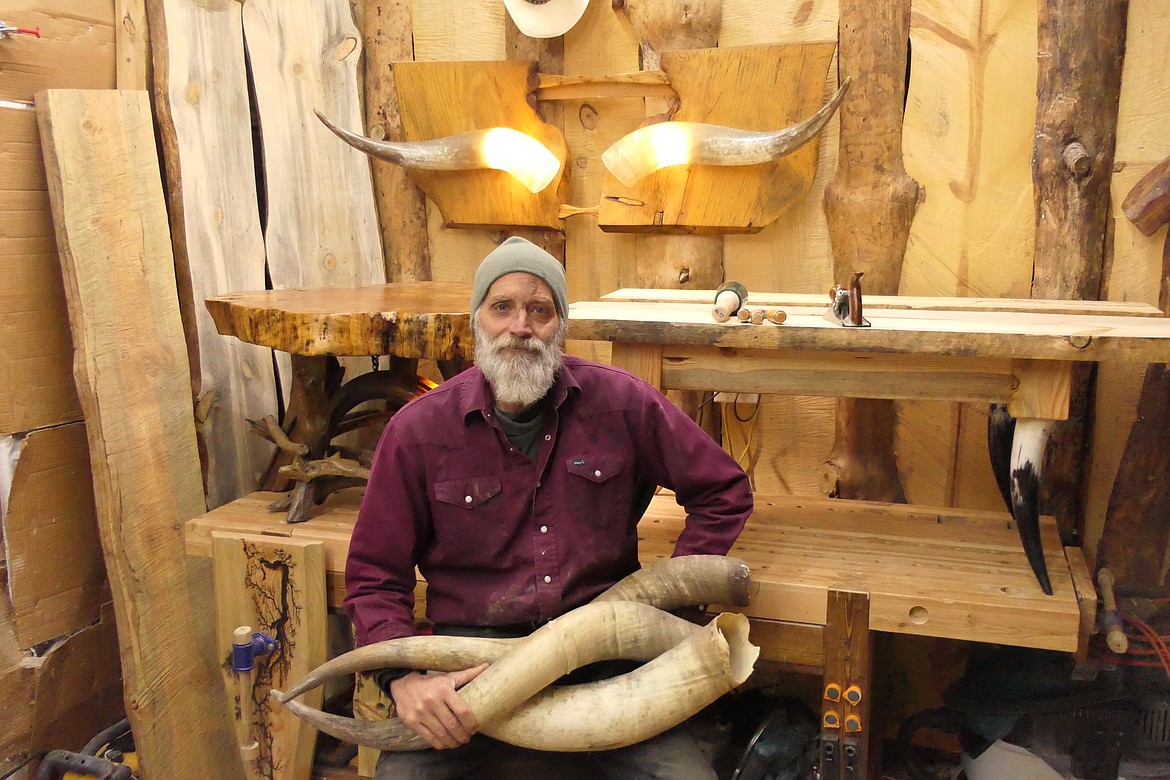 Charles Vogliardo shows a tangle of steer horns which will one day be crafted into a table or other decorative and useful item. (Chuck Bandel/VP-MI)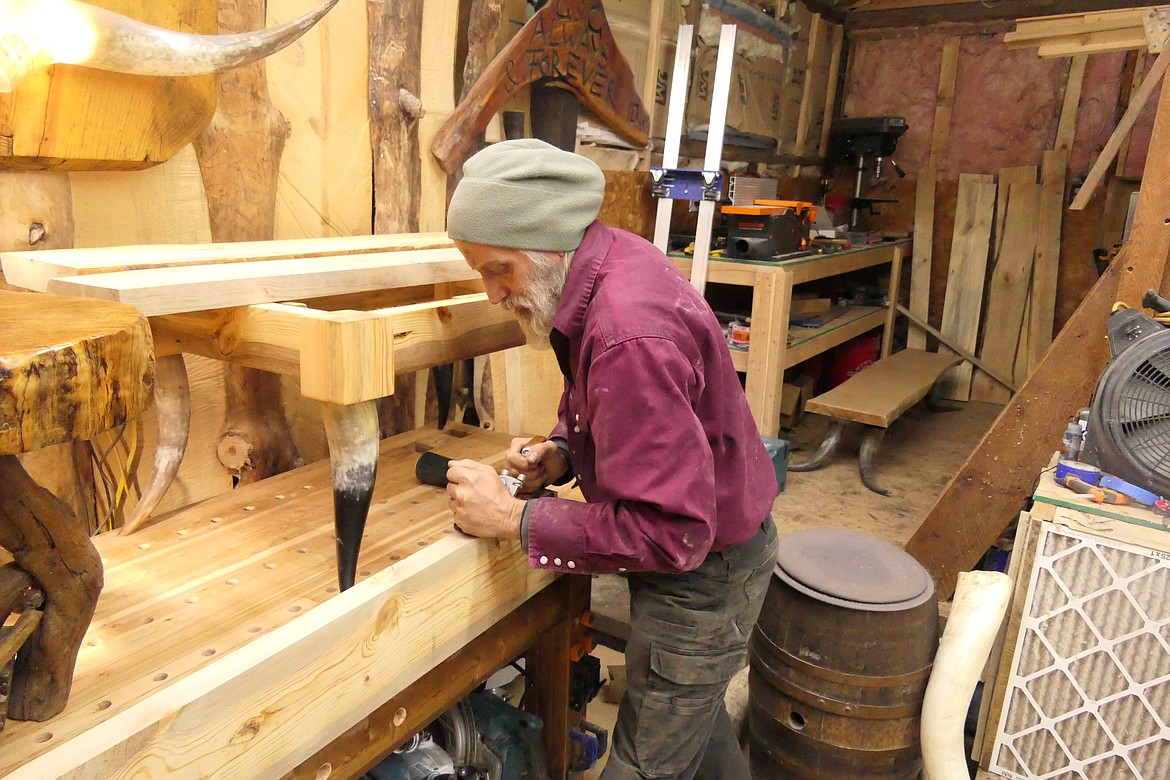 Sanders County artisan Charles Vogliardo hand-plans a piece of wood that will be part of a table with steer horn legs. (Chuck Bandel/VP-MI)
Previous
Next
by
CHUCK BANDEL
Valley Press
|
May 3, 2023 12:00 AM
Artisans and craftsmen can see things in a different way than most people.
They tend to be on the lookout for potential works of art in everyday and unusual natural mediums.
Sanders County's Charles Vogliardo is certainly no exception.
"I like to look at things and see what I can try to create out of them", he said recently from the inner sanctum that is his mountaintop studio. "I'm always looking to see things that others might not. I like to work with my customers to see and learn what they envision and take it from there".
That is the basis behind Vogliardo's signature works of art, making furniture and other items with steer and bull horns as the centerpiece of a mind that clearly takes in all that is around him.
A native of Texas who now calls a mountain top in Sanders County home, the former long-range recon member with the Army's 82nd Airborne fell into the business of turning horns into exquisite works of art in the form of tables, chairs, lamps and other pieces, was making a delivery to a Texas craft exhibition when the light of creativity went off in his head.
"I was bringing them a pair of bulls that were crafted out of a natural material," he said of the unusual delivery in the back of his truck. "It just dawned on me while looking around the exhibit that no one was doing anything with horns. It took off from there".
A family trait, he said, is responsible for the ability he has to make what many people would classify as "something out of nothing".
"My Dad is artistic and my sons are into out of the mainstream sports activities", he said. "I guess we just see things differently and work with that".
Vogliardo said he stayed at the Texas event for several days when he noticed no one was taking the spot he set up in. It was there his desire to do something different was fueled.
"No one was doing anything with the horns," he said. "They can be made into amazing works of art if you look at what you have and try to picture what it can become".
Crafting the horns into stable pieces of art such as a chair or table requires patience and an ability to create an end product that is different from the original concept".
"It took me about 18 months to figure out how to make table legs out of steer horns," he said. "They can be like working with a really big, hollow fingernail."
Vogliardo said turning the horns into part of a finished product requires lots of careful sanding, polishing and treating the bone-like material, which can be crafted and incorporated into the piece on which he is working.
The horns are expensive and are not like working with antlers, as several craftsmen in this part of the country like to do. Before deciding he was ready to move out of Texas and head to the mountain of Montana, Vogliardo stocked up on the horns, which take up a large corner of his studio.
"They are definitely not cheap," he said. "I brought a bunch of them with me and am always looking to find more".
Other materials he uses in the works he crafts include a variety of wood species, which are in abundance on the property.
"There's a lot of wood on the property," he said. "I spend a lot of time looking at what is on the ground, trying to visualize what I can make of the things I see. Sometimes I pick up a piece of wood thinking it would be good for one idea and two years later it ends up being incorporated in a totally different way than what I first saw".
Another factor in his work, he says, is being able to listen to the customer and what they are expressing as a means of getting a feel for what they may be envisioning. Creating horns that light up from the inside are a classic example, he said, of adapting and changing as the piece takes shape.
"Most of these things," he said with a laugh, never come out as originally planned.
A lifelong builder and carpenter, Vogliardo likes meeting with potential customers for his artworks. He often gets some of his best ideas for his next creation from listening to what others are seeing.
Prices for the horn works can range from $50 for a small wall mounted lamp to several thousands of dollars for large projects in homes and businesses. He also donates some of his art to local charities and causes as a means of being part of the community in which he lives.
"This isn't a rich place," he said, looking around his mountain top property. "I've done several things for free, things that get auctioned off to raise funds for good things. I'm doing what I really like to do".
In the days ahead, Vogliardo, who likes working with a variety of tools such as planers and wood chisels, said he is hoping to learn more about working with metal and incorporating that element into his designs.
"I just basically like to build things," he said. "I'm always challenging myself to do the next thing. I like to make the things that I designed in my head. I like to think of new ideas and hear about ideas from others".
Folks who would like to contact Vogliardo can reach him at 406-242-0356.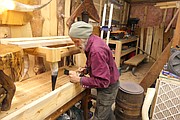 Recent Headlines
---