New sawmill fill custom orders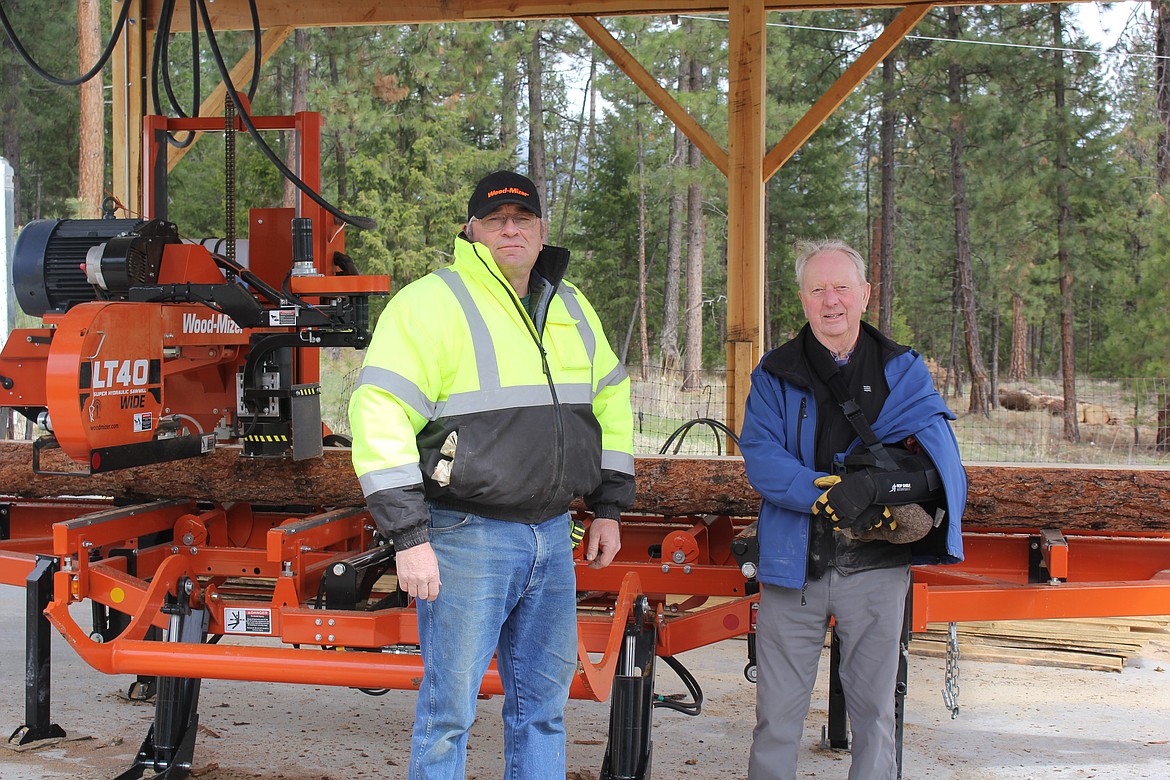 Ron Denn (left) and Don Felstet stand next to the saw that is the heartbeat of Felstet Corporation Bandsaw Sawmill that can handle logs up to 21 feet in length and 36 inches in diameter. This fills a niche for customers to have specialty cuts from their own timber in smaller quantities and faster turnaround time. (Monte Turner/Mineral Independent)
by
MONTE TURNER
Mineral Independent
|
May 3, 2023 12:00 AM
Ron Denn is a retired farmer from Minnesota where he grew corn, soybeans, hay and raised beef cattle. He hired loggers to harvest his oak, ash and especially box elder on the property and he knew his way around band saws, but not at the level he's at today.
On Thursday afternoon, the brand-new sawmill was slicing up a Ponderosa Pine that was beautifully marbled from beetle kill making it blue pine finish lumber.
"This sawmill is kind of like the entry level of the commercial models they make, as it's got the super hydraulic kit in it so it's very high speed," said Denn. "The company, Wood-Mizer, is in Indiana and have an outfit in Basin (Montana) for the northwest so they ship them there and you have to go pick them up," he explained.
This sawmill is larger and more deluxe than the one Denn purchased when he moved to Lozeau four years ago and became a neighbor and friend with Don Felsted.
"When Don said that he wanted to buy a big one I said, 'Well you know what, I'll come and run it for you.' I got a lot of different experiences, and this is just one of them," he smiles.
Felstet has his left wing in a sling from shoulder replacement surgery so he's mighty glad to have Denn taking the lead in this new venture. Like Denn, Felstet is familiar with wood processing equipment and the two of them hatched this plan to open Felstet Corporation Bandsaw Sawmill which is in full operation at 386 Quartz Road off I-90 at Exit 55.
The plant is for custom-cut lumber orders that should make it easier for spring work such as remodeling, building decks or projects smaller in scale that would require a semi-truck load of wood. The lumber is made from the logs that the customer has delivered to the site and specific cut orders are taken from that point.
Felstet said that they do expect to have some milled that will be for sale but not to consider them as a retail location for large needs. "Janet (Felstet's wife) said I have to do this as a hobby otherwise she'll get upset," he chuckled.
Customers are welcome to call or visit weekdays from 9 a.m.-6 p.m. Call (406) 822-4616 or (406) 822-2257 or email felstetoffice1@blackfoot.net.
Recent Headlines
---