Baxter sisters headed to state golf tourney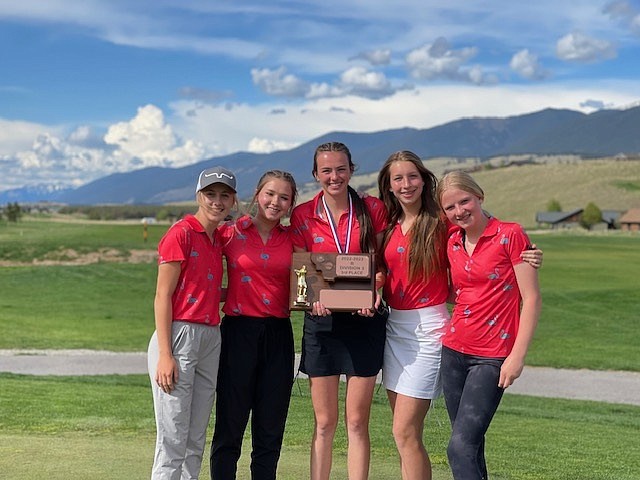 Thompson Falls girls golfers qualified for the state tournament set for May 16-17 in Shelby. In the middle is senior Ellie Baxter, who finished second and advanced to state along with her sister, Aubrey (far right), who finished 15th. The girls team took third and qualified for team play. (Courtesy photo)
by
CHUCK BANDEL
Valley Press
|
May 17, 2023 12:00 AM
The first state championship of the 2023 Montana high school sports season gets underway today (May 16-17) as a pair of Thompson Falls Lady Blue Hawks head to Shelby, joined by the Lady Hawks team in quest of a state title.
Thompson Falls senior Ellie Baxter finished tied for second at last week's Divisional tournament in Eureka, giving her a third straight spot in the state championship tournament.
She will be joined by her younger sister, Aubrey, who came in 15th, which is the cut-off for Divisional players to qualify for the state tournament.
Ellie shot an 83, as did Bigfork's Keni Wade, with both players advancing to the state finals. Aubrey meanwhile, carded an 18-hole score of 112, allowing her to nose out Broadwater's Kayla Kraft for the final spot from the West.
Celi Chapman, golfing for Jefferson High in Boulder, won the tournament with a 74.
No other women's golfers advanced to the B tournament from this area.
However, the Thompson Falls team finished the Divisional round with a composite score of 447. First place went to Jefferson High, which had a team score of 398, followed by runner up Florence-Carlton, which shot a 438.
Three Forks girls were fourth with a score of 452, while Bigfork finished fifth via a team total of 457.
In the boys competition, Jefferson came in first with a total of 308 strokes, comfortably ahead of second place Anacona (327). Florence-Carlton's boys were third at 338.
Thompson Falls boys recorded a 408, which placed them tenth among the 12 teams competing for the team title. Plains boys were in the number twelve position with 428 points.
No golfers from Plains boys or girls, as well as no boys from Thompson Falls qualified for the state final.
Jefferson took the top two individual spots in the Divisional round, with Tyson Lee and Colin Field tied for the lead with 75s.
Thompson Falls junior Cael Thilmony tied for 29th with three other golfers, all carding 94. Theo Nygaard shot a 97 for the Blue Hawks. A total of 61 boys and 20 girls golfers took part in the Divisional Tournament, which was held at Indian Springs golf course near Eureka.
Kort Kraft of Plains had the lowest score among Horsemen golfers with a 112.
Thompson Falls head coach Doree Thilmony was proud of and encouraged by the play of both the lady Hawk girls and Blue Hawks boys.
"Ellie was strong off the tee yesterday," Thilmony said of Baxter's performance during the tournament. "She plans to work on putting this week and hope to lower the short game (score) for state. I was very proud of our girls team and look forward to how they compete at the State Tournament".
Recent Headlines
---