Lady Hawks 2nd at 7B championships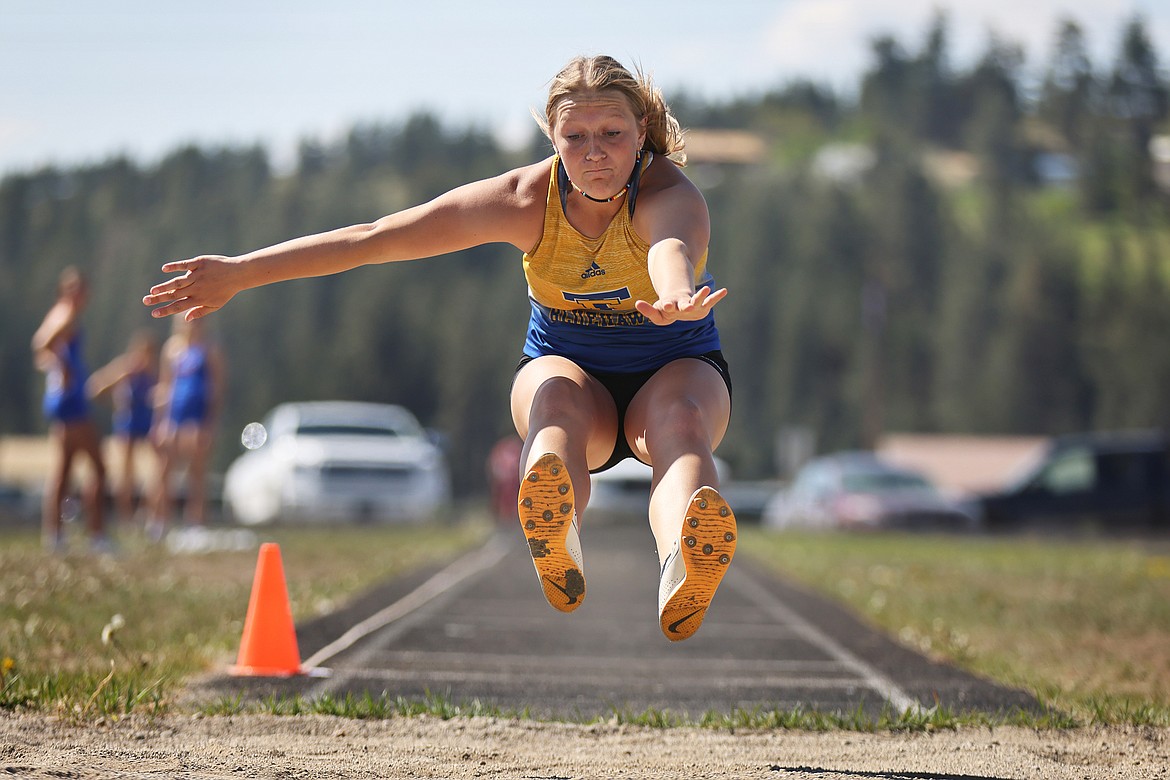 Chesney Lowe of Thompson Falls flies through the air in the long at the 7B District Meet in Eureka Saturday. Lowe's leap of 14 feet, 10 inches propelled her to a third-place finish. (Jeremy Weber/Bigfork Eagle)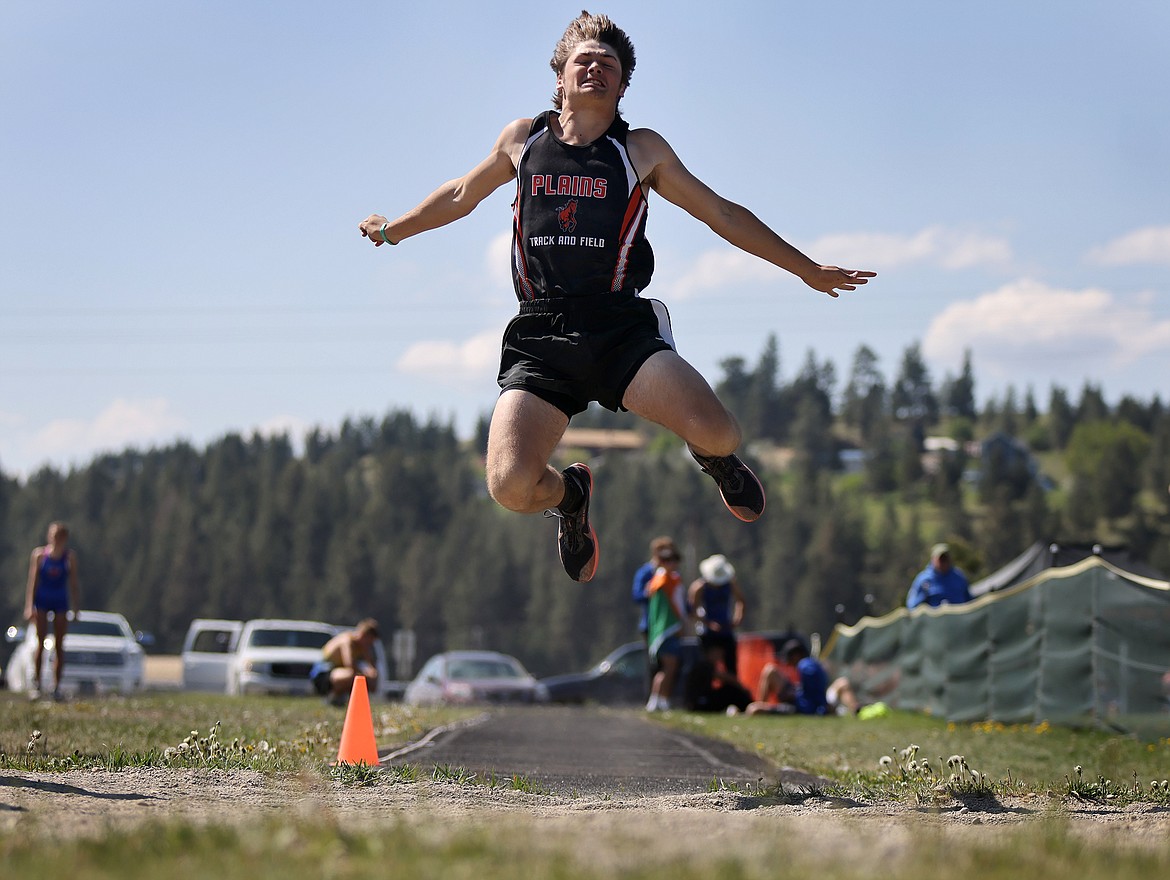 Brenden Vanderwall of Plains uses a leap of 18 feet to finish fifth in the long jump at the 7B District Meet in Eureka Saturday. (Jeremy Weber/Bigfork Eagle)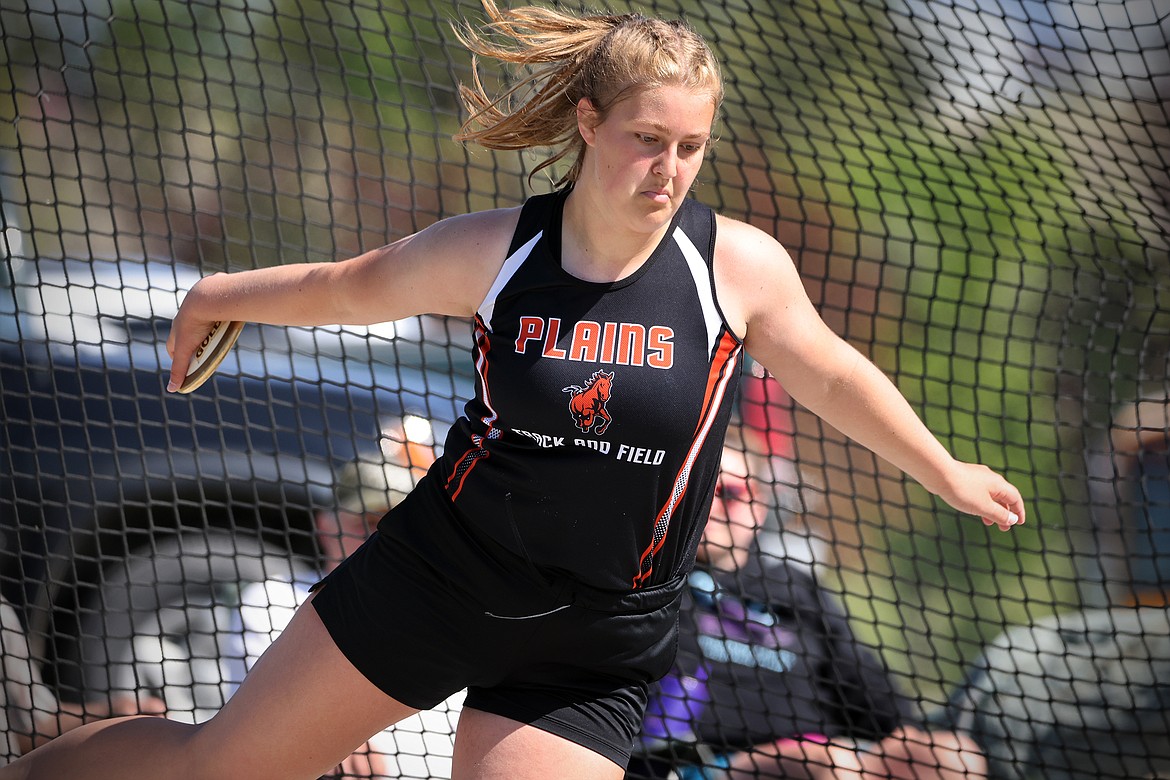 Alexis Deming of Plains set a new personal record of 124 feet, 4 inches to win the discus at the 7B District Meet in Eureka Saturday. (Jeremy Weber/Bigfork Eagle)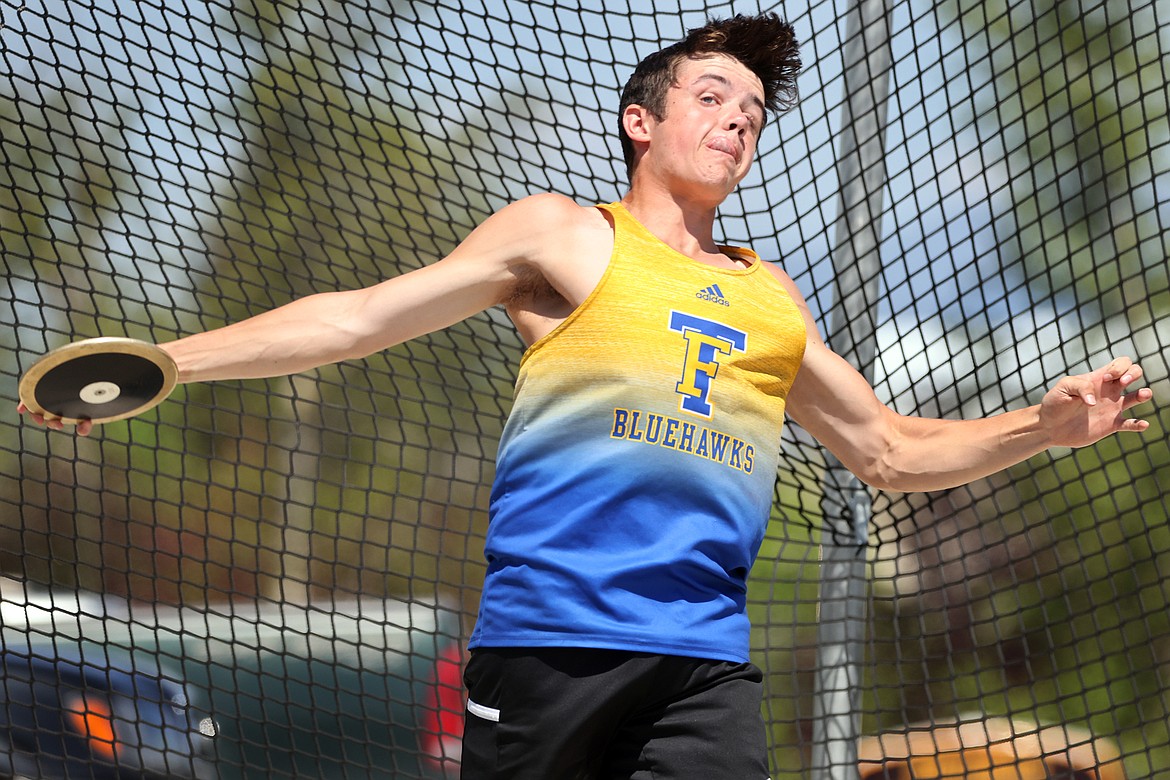 Ellie Baxter of Thompson Falls runs to a win in the 1,600-meter race at the 7B District Meet in Eureka Saturday. (Jeremy Weber/Bigfork Eagle)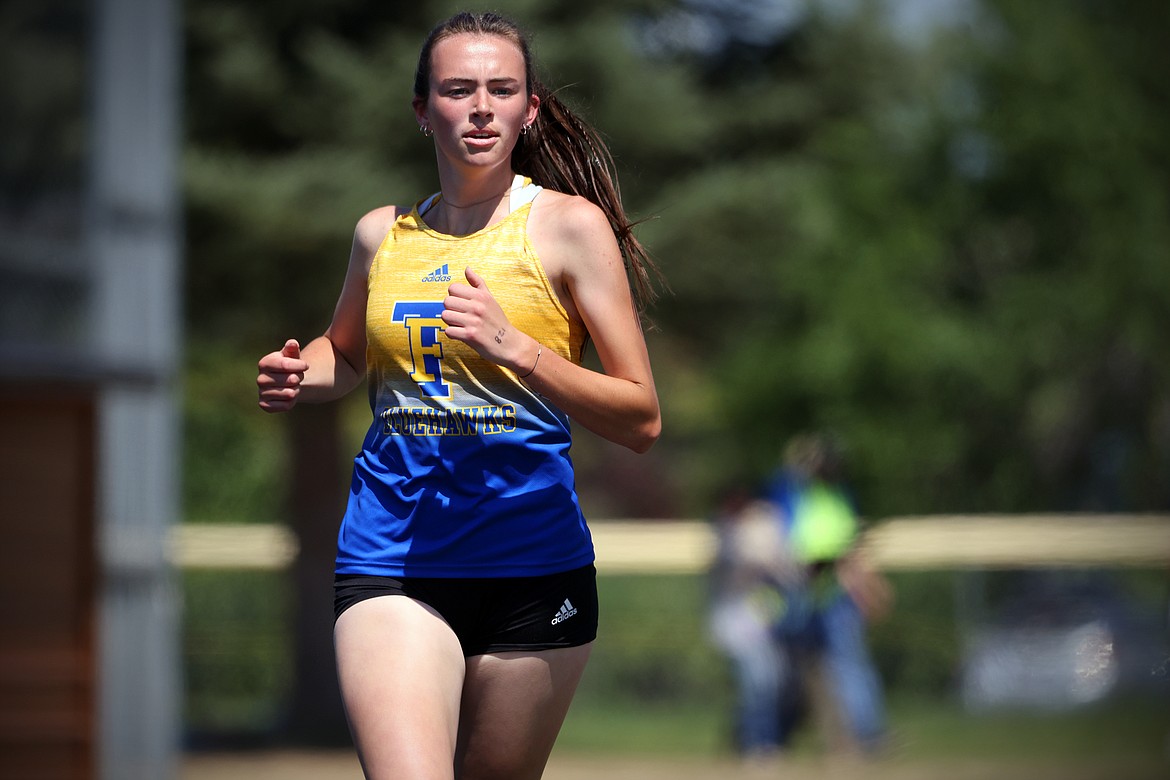 Ellie Baxter of Thompson Falls runs to a win in the 1,600-meter race at the 7B District Meet in Eureka Saturday.
Previous
Next
by
CHUCK BANDEL
Valley Press
|
May 17, 2023 12:00 AM
This has been the year of the Bigfork.
The Valkyries and Vikings added to their successful athletic school year with big wins in the team title chases during this past week's District 7B track and field Championships in Eureka.
The women's team (Valkyries) piled up an impressive 239 points to easily outdistance second place Thompson Falls despite Lady Hawks senior Ellie Baxter's impressive individual performance.
The Lady Hawks finished with 110 team points, while the host Eureka Lady Lions were third with 98. Plains' women were fourth with 53 points, while Troy finished fifth out of five teams with 13 points.
In the men's competition, the team title pursuit was not quite as lopsided as the women's, but the Vikings made it a Bigfork sweep when they amassed 187.5 points. St. Ignatius, which did not field a full team on the women's side, was second with 112 team tallies.
Host Lincoln County (aka Eureka) was third with 82.5 points, while Plains took fourth with 66 points. T Falls came in fifth (41) and Troy was sixth (37).
The top competitors in each individual event advance to this weekend's Western B Divisional in Missoula.
"I cannot say enough about the quality of athletes we have," said T-Falls head track coach Trenna Ferris. "We have five individual girls who scored 110. We also had 14 personal records and for those who did not move on, they went out on season bests!"
As has been the case all season, Lady Hawk senior Ellie Baxter was a bright spot for T Falls, dominating the middle and long distance running events, and running the anchor leg on their second place 4X400 relay team. Bigfork won both relay events during the Eureka meet.
Baxter's first win of the meet came in the 800 meter run where she posted a first place time of 2:32.15, well ahead of runner up Afton Lambrecht from Bigfork, who was timed in 2:37.94.
Plains distance standout Payton Wasson was third in the 800, while T Falls freshman Katelyn Subatch finished fourth with a personal best time of 2:39.72. The Trotters' Alexis Helterline rounded out the top five, coming home fifth.
Next up for Baxter was the 1600 meter run, which she also dominated, crossing the finish line first with a time of 5:35.69. Bigfork's Claire Jensen was second, while T Falls junior Faith Palmer claimed third. Plains' runner Wasson finished fourth.
In the grueling 3200 meter run, Baxter and Palmer gave the Blue Hawks a 1-2 sweep, as Baxter won her third race of the meet in 12:48.63. Palmer crossed the finish line at the 13:52.01 mark.
One of the best competitions of the day, as it has been most of the season, was the women's shot put finals. Bigfork's Scout Nadeau, out-dueled Plains sophomore Alexis Deming, in a continuation of their year-long weight event battles.
Nadeau recorded a throw of 39-09.50 to claim the shot put title ahead of Deming, who was second with a personal best put of 36-02.50 feet. Bigfork claimed the next two spots.
Then, as has been the situation most of the year, Deming got a measure of revenge when she once again won the discus event, unleashing a personal best throw of 124-04 feet. Nadeau was a distant second with a throw of 108-04.
Thompson Falls picked up some more team points in the javelin on the strength of senior Chesney Lowe's third place finish. Bigfork throwers took the top two places in the javelin event. Lowe continued her solid day with a second place finish in the pole vault and a third place medal in the women's long jump where she had a leap of 14-10. Bigfork jumpers won the top two spots in the long jump.
Subatch finished third in the women's triple jump, behind jumpers from Bigfork and Eureka.
Trinity Riffle was also a solid contributor for the Lady Hawks, placing second in the women's 400 meter run and third in the 100 meter sprint.
The Bigfork tidal wave continued on the men's side, beginning with Joseph Ferrier's first place finish in the 100 meter event. Plains junior John Thurston was third in the 100 with a personal best time of 11.71, while T Falls senior Breck Ferris came in sixth. Nicholas Hill took seventh for Plains.
Thurston also finished second in the 200 meter sprint, which was won by Bigfork's Tayden West in 23.89. Thurston crossed the line at 24.11.
Mason Elliot was a bright spot for the Plains men, winning the 400 meter run with a personal best time of 53.04. Elliot added second place finishes in both the 110 meter and 300 meter hurdles. Fellow Horseman Joseph Martin was seventh at 800 meters and eighth in the 1600 meter run.
Thompson Falls junior Cael Thilmony picked up a second in the 3200 and a seventh place finish in the 1600 for the Blue Hawks.
St. Ignatius senior Canyon Sargent won the men's shot put with a throw of 41-10, while Plains' putter Caleb Lakko was fourth. Lakko also had a third place showing in the discus and was third in the javelin for the Horsemen.
T Falls sophomore Braedon Ferris finished second in the discus, while his brother Breck Ferris was seventh in the high jump and second in the long jump with a leap of 19-09.50. Nick Tessier of T Falls was fourth in the long jump.
Next up for the area's Class B track and field contestants in the Western B Divisional meet this Friday and Saturday at Big Sky High School in Missoula.
Recent Headlines
---