Ellie Baxter 3rd at State B golf tourney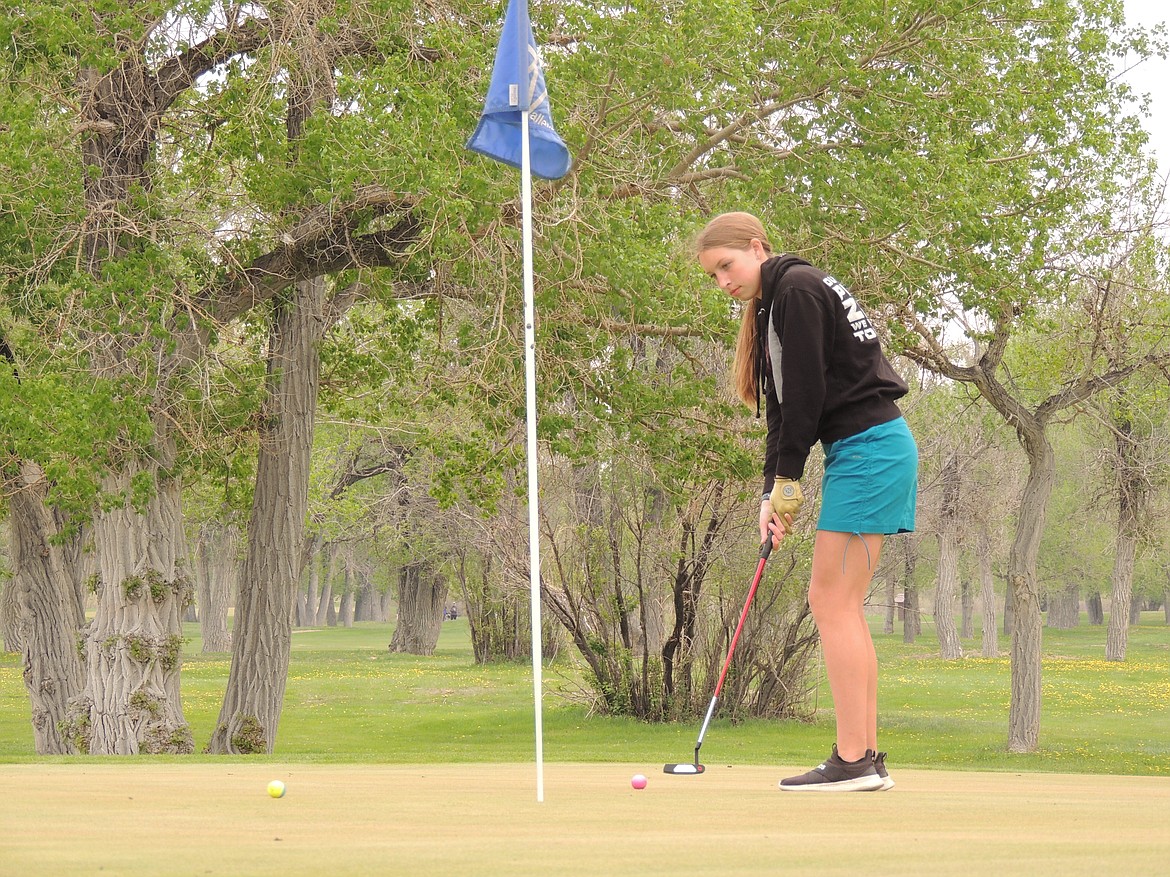 Thompson Falls eighth grader Aubrey Baxter taps a putt at the Class B tournament in Shelby. (Courtesy photo)
by
CHUCK BANDEL
Valley Press
|
May 24, 2023 12:00 AM
The present has been really good for the Thompson Falls women's high school women's golf team.
And the future is looking pretty good too.
Senior Ellie Baxter wrapped up her outstanding golf career for the Lady Hawks last week by finishing third in the state Class B tournament in Shelby.
Baxter shot a two-day, 36-hole total of 166 to help lead the Lady Hawks to a third place tie in the team standings, starting her tournament with a birdie on the first hole she played.
Bigfork's Keni Wade, who was the Western Divisional champion two weeks ago, finished number one in the state with a 36-hole score of 161. Last year's champion, Celi Chapman of Jefferson High in Boulder was the runner up with a score of 164. That's a difference of five strokes over 36 holes separating the top three finishers.
Tournament host Shelby was the B team champion with a +223 total, while Malta came in second among the girls at +254. T Falls and Three Forks tied for third with scores of +270 each.
In the boys' Class B competition, Anaconda was crowned the team champion with an aggregate score of +68, three strokes better than runner up Jefferson (+71). Columbus was a distant third in the boys title chase with a +102 total.
Lady Hawk eighth grader Aubrey Baxter, younger sister of Ellie, posted a 112 on the first day of competition, while freshman Addi Pardee shot a 117. Both young golfers improved their scores on the second day of the tournament.
Another T Falls freshman, Emma Claridge began the tournament with a par on the first hole on her way to a day one score of 120. And another underclassman, Addy Deal also had a good tournament for the Lady Hawks, shooting a 116 on the second day of play.
T Falls coach Doree Thilmony said that while Ellie Baxter will leave a huge hole to fill on next year's team, the young players appear eager and willing to improve their games as they learn more about the sport.
"Ellie is such a competitor, but with her relaxed and fun demeanor, it makes for the perfect golfer," Thilmony said. "Her leadership this season was so beneficial for our young girls on the team, she gave them a great start to the game. We will miss her tremendously and she will leave a large hole in our program".
Thilmony had high praise for the young players, saying all of them appear to want to play the game and want to get better.
"They are all excited to play the game and we look forward to a bright future with this group," she said.
No Thompson Falls boys and no boys or girls from Plains made it to the state finals this year, but both schools return some promising golfers for next year.
Also this weekend, Great Falls hosted the State Class C tournament with the Highwood boys team capturing the first place team trophy with a +90 score, and Manhattan Christian finishing first among the girls with a +161 total.
No local golfers made it to the top 15 on the girls side, which was won by Lone Peak golfer Cat Leydig, who carded a two-day score of 171.
Ari Nichols of Seeley-Swan was the Class C individual champion, putting together back to back rounds of 78 for a two-day total of 156.
St. Regis golfer Jack Connolly was the top finisher among local golfers, placing sixth with a 36-hole total of 171. Connolly fired an 80 on the first day of the tournament. Superior High's Carter McLees also had a top 15 placing, winding up 14th with a two-day score of 179 on rounds of 85 Tuesday and 94 Wednesday.
Recent Headlines
---