Thompson Falls tops Plains in Western B volleyball rematch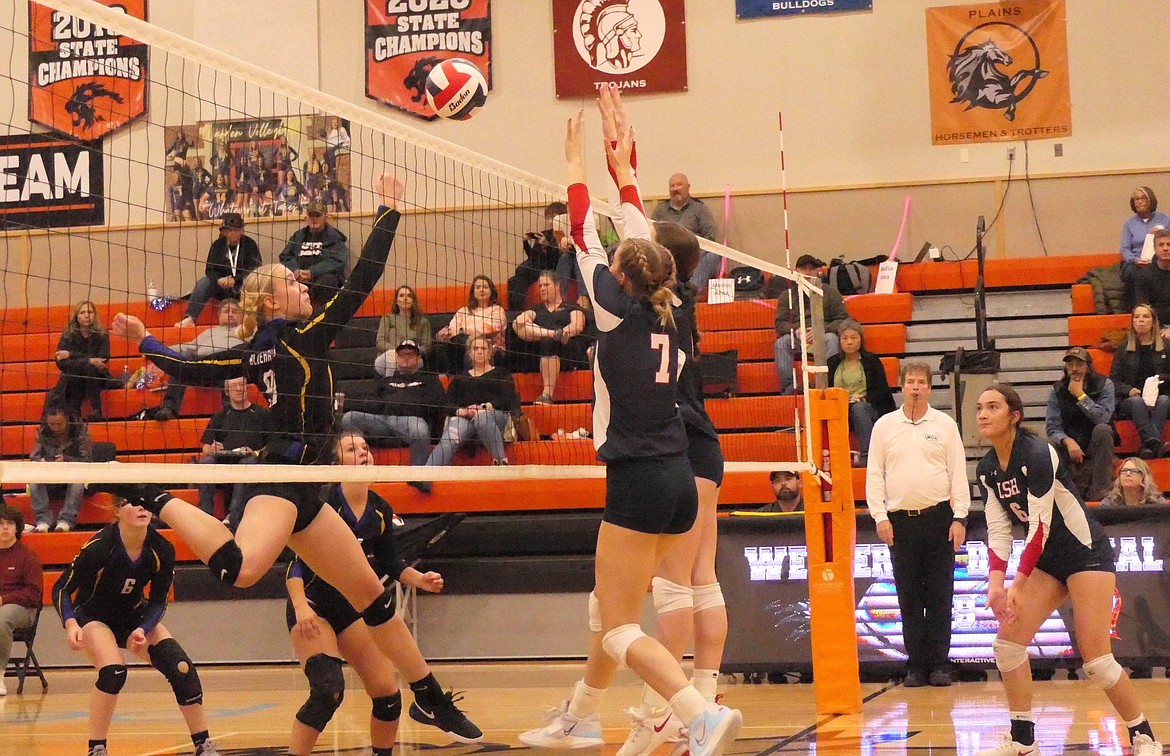 Thompson Falls sophomore Gabi Hannum tips back a shot by a Loyola player during first round action of the Western B Divisional volleyball tourney last week in Eureka. (Chuck Bandel/VP-MI)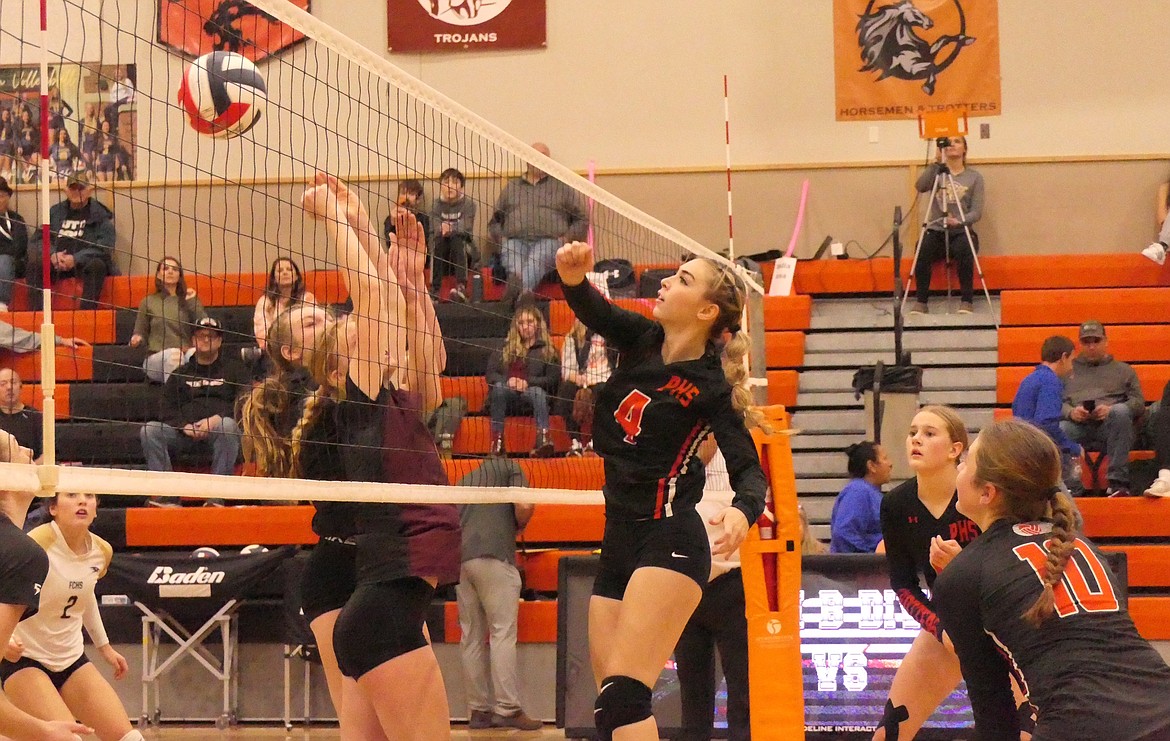 Plains senior Marissa Young (4) swats at a Florence-Carlton shot during their first round match of the Western B Divisional volleyball tournament in Eureka this past week. (Chuck Bandel/VP-MI)
Previous
Next
It was not really a rubber match.
The meeting between Plains and Thompson Falls in the Western B Divisional volleyball tournament was actually their fourth meeting of the season, with T Falls ahead 2-1 in games played prior to that.
But it was one for all the marbles. Winner moves on through the consolation round, loser heads home with two losses in the tournament held this year in Eureka.
Plains had earlier in the year ended a drought against T Falls, coming away with a 3-2 win during the regular season in October.
But Thompson Falls bounced back from that loss with a win in the 7B District tournament in Plains a week later.
So the best the Trotters could hope for in the Divisional encounter with their Sanders County rival was a split of the season's four games.
But it was not to be as the Lady Hawks jumped to an early lead and cruised to a 3-0 sweep of Plains that, combined with a tournament opening loss to eventual Divisional champ Florence-Carlton (3-0) last Thursday, eliminated Plains and ended their season with a 9-8 overall record.
T Falls took the opening set of the match 25-10, then ran their match advantage to 2-0 with a 25-13 set two victory. The Lady Hawks clinched the sweep by winning the third set 25-15, keeping their tournament hopes alive.
The Hawks, who had lost in their opening round to Missoula Loyola, 3-0, moved on to face Anaconda, whom they beat 3-1, then lost an elimination game with Deer Lodge Thursday evening to end the T Falls season with a 13-11 overall record.
Sophomore Gabi Hannum led the Lady Hawks with 11 kills, five digs, and three blocks against the Trotters. Junior Olivia Fitchett had a match high 29 assists for T Falls while teammate Sarah Koskela contributed four digs and seven kills to the Hawks victory.
Plains opened the tournament Wednesday afternoon battling Florence all the way, but they could not overcome the height and experience of the Lady Falcons, who eventually defeated 7B champ Eureka 3-1 in the finals.
In the match with the Trotters, Florence took a 25-15 lead after one set, then stretched their match advantage to 2-0 with a 25-7 set two win. They sewed up the sweep with a hard-fought 25-17 win in set number three.
Maggie Scheiter led Florence with 25 assists in their win over Plains.
Thompson Falls also lost their Wednesday opening round match, falling to Loyola 3-0. The Breakers grabbed a 1-0 match lead with a 25-16 first set win, then won the next two sets by identical 25-19 scores to drop Thompson Falls into the consolation round.
In the Loyola match, Fitchett led the Lady Hawks in assists with 18 and digs with 10. Hannum topped T Falls with 11 kills.
The win over Plains moved T Falls into a Thursday afternoon consolation game versus Anaconda. The Lady Hawks won the opening set of their match with the Lady Copperheads, 25-16, but Anaconda bounced back and took the second set 25-18.
T Falls then won the third set 25-20 and clinched the match win with a down-to-the-wire 25-23 win in set number four, giving them a 3-1 match win.
Fitchett had a match high 31 assists against Anaconda, while Hannum had a team high 12 kills and eight blocks. Koskela chipped in 9 kills for T Falls, while teammate Addi Pardee had eight kills and a team-best five service aces.
The win over Anaconda sent the Hawks into a second match Thursday evening, this one against Deer Lodge, which wound up third in the tournament.
T Falls won the opening set 25-19, but Deer Lodge took the next three sets by scores of 25-21, 25-22 and 25-20 to eliminate the Lady Hawks while Deer Lodge stayed alive in the bid for a state tournament berth.
Fitchett and Hannum once again had solid performances against Deer Lodge, with Fitchett getting a team high 25 assists and six digs, while Hannum again led the team with 13 kills and four blocks. Koskela added nine kills to the T Falls effort.
Recent Headlines
---