Alberton students honor local veterans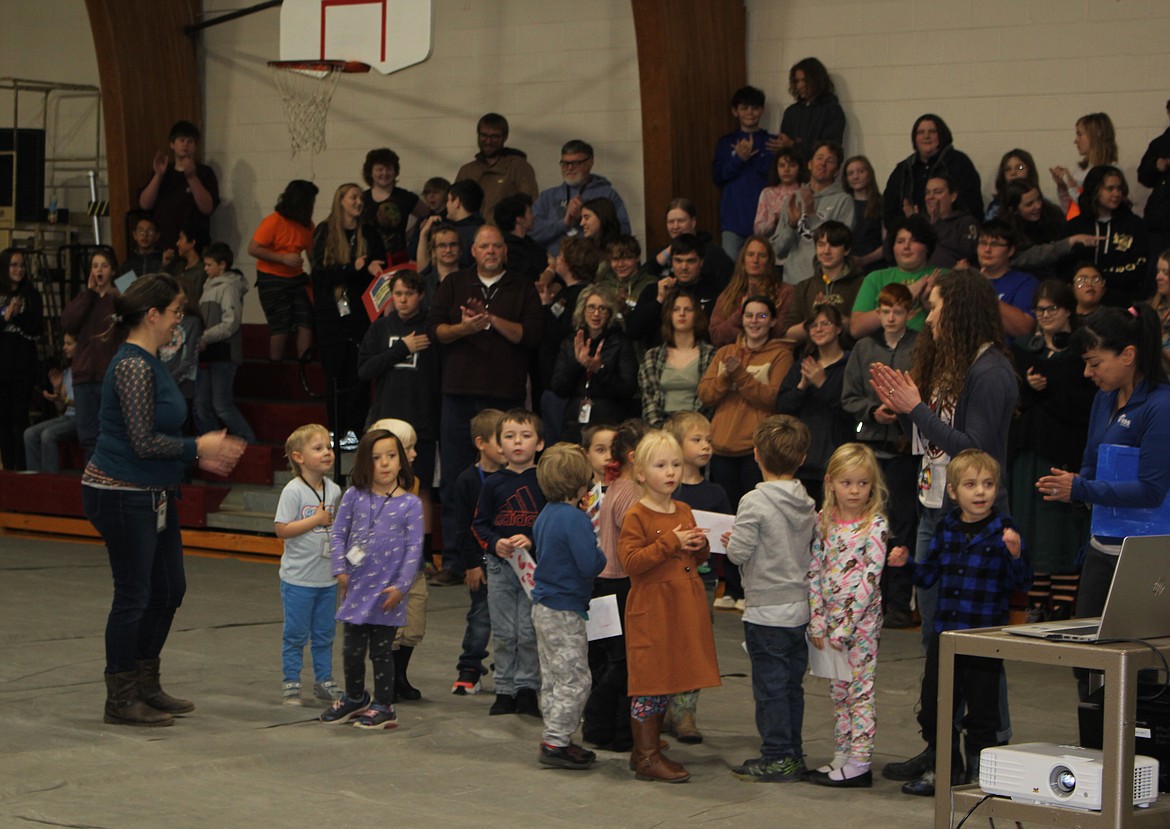 Each class at Alberton School read or recited a message of thanks to the veterans who had assembled in their gymnasium. Some gave thank you cards and even hugs were seen at their Veterans Ceremony. (Monte Turner/Mineral Independent)
by
MONTE TURNER
Mineral Independent
|
November 15, 2023 12:00 AM
The entire student body of Alberton School held a special Veterans Day ceremony last Thursday in their gymnasium.
"Our TK through 12 graders have all prepared a class presentation or poems or thank you notes. Our band is going to perform as just a way to say thank you to the amazing veterans in the Alberton community and across the nation," explained Alberton Principal, Chris Whiteman. "We didn't do this last year and it wasn't done during Covid, but I was involved in them when I taught in Darby. It's a great thing and small schools do the best job of it; I'll just say that." 
Superintendent Damian Droessler welcomed the students, veterans, school administration and parents visiting with a heartfelt message of what veterans have done to protect and defend our country through war and during peace. Everyone rose for the Star-Spangled Banner while the tuba played a part that was unexpected but enjoyed by everyone.
And then it began. The TK students were first and with their teachers' help, lined up in front of the veterans who were sitting in their own seating section. 
Holding the microphone, each one of them recited a portion of a poem that may have been their first time speaking in public, but they crushed it! Then grade by grade a performance thanking them in their own words or as a class. 
Applause came from everyone as each class went back to the stands and the next one came down until the student body had shown their appreciation. 
Among the seated veterans were four men wearing the Mineral County Sheriff's Office uniform. The undersheriff and three deputies, all veterans, attended the ceremony not to receive recognition, but to show their gratitude to the school for this ceremony. 
"Team Effort. Complete team effort," Whiteman said on organizing the event. "Just another way to get families engaged in our school. We've had several events and will have a few more this year. Next Thursday, we're having a Thanksgiving lunch for the whole community just inviting everyone to come see our awesome school and what we're doing." 
The assembly started at 10:45 a.m. and ended at 11:15 a.m. and then it was back to business and school, as usual. But there were vets leaving and talking about how much they enjoyed the ceremony and glad they had decided to attend.
Recent Headlines
---